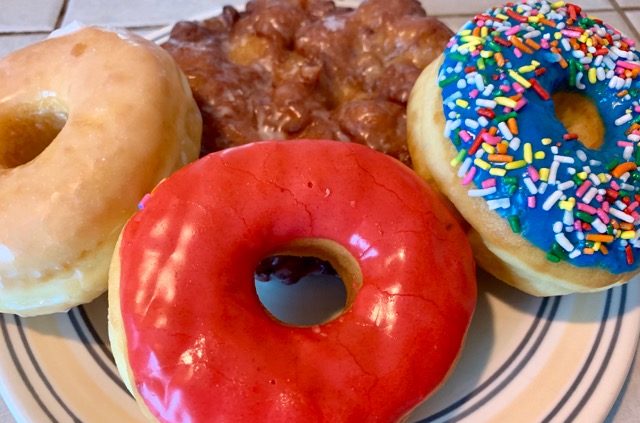 Review No. 169: Love's Donuts
317 West Oak Street
(501) 781-8888
75.7 Percent finished reviewing  Conway restaurants
The Situation
She Said:I needed some real motivation for my Wednesday-morning workout, so I promised myself doughnuts from a newer purveyor of this perfect food in Conway. After I put down my weights, I jumped in the car to make good on my promise.
He Said: I was busy and did not go along on the doughnut run. Hence, I was not responsible for the types of doughnuts brought home, and so can only comment on what was placed before me.
Ambience:
She Said: Love's is cute, bright and friendly. You can get breakfast sandwiches and sausage rolls (kolaches) here, too, and you can also use the drive-up window for your order. I wanted to see all my choices, so I went in. This, by the way, is a little bit of a hassle because you need to park in back and walk through the drive-up lane to get to the store entrance. In the future, I will probably just roll on up.
Drinks
She Said:We did not sample their liquid wares. I was laser-focused on my doughnut mission.
Food
She Said: Well, waiting until after my workout meant that a lot of the pretty or special doughnuts had already gone to good homes in other people's bellies, and I wasn't even able to fulfill He Said's order for a chocolate glazed doughnut. I did see that there were still apple fritters in the display case, so I knew I'd be just fine. To make it up to He Said, I got a glazed doughnut and two more frosted ones, a strawberry and a blue one with sprinkles.
The apple fritter was very good, satisfying and sweet, with the fried dough cradling the apple chunks very pleasingly. The glaze was just right. I will get this again. And even though I was craving it and had worked up a sweat for it, I couldn't finish it, as it was pretty filling. I saved the rest for another day… and then He Said ate it!
He Said:Doughnut lovers are well aware that there are two chief types of doughnuts: the yeast doughnut and the cake doughnut. I don't know whether they have cake doughnuts at Loves, because She Said only brought home samples of yeast doughnuts. Also, doughnuts can be filled with cream or custard or jelly, and again I don't know whether such types are available here or not, since none were brought home to me.
Apparently, as She Said said, no chocolate doughnuts of any kind were left in late morning when she swung by, and she brought home a yeast doughnut with pink (strawberry), another yeast doughnut with a kind of bluish frosting and sprinkles or "jimmies," a glazed doughnut (also yeast, as glazed doughnuts invariably are), and that apple fritter. I did end up eating both the frosted doughnuts and the glazed doughnut over the next couple of days, and I admit I finished the apple fritter as well.
The glazed doughnut was OK as glazed doughnuts go. The two frosted doughnuts just seemed pretty dry to me—the frosting wasn't very generous and the yeast doughnut was not particularly undry (I avoid the "m" word because She Said can't stand it). The best of the lot was indeed the apple fritter, as She Said asserts. If I were to go here again, that's what I would order.
Now I admit it is possible that their cake doughnuts are more undry, or that any cream or jelly doughnuts they have would be more to my liking, so I might need to give them another chance, go early, and get something chocolate and/or filled. It's also possible that the gourmet sandwiches are worth a look.
Service
She Said:The service was great! The woman who waited on me was very friendly and patient as I made my choices. My favorite aspect of the whole visit was when I was leaving, she called out, "See you tomorrow!" (Isn't it pretty to think so…)
What We Got and What We Paid: One apple fritter, one glazed doughnut, one strawberry frosted doughnut and one frosted doughnut with sprinkles for $3.62.
Elapsed Time from Our Arrival to Food Arrival: 2 minutes from walking in the door to walking out with doughnuts!
Rating:
She Said:I thought the apple fritter was worth the trip, and next time I'll go earlier to try find some more variety in the display cases.
He Said:I've definitely had better doughnuts in town, but I concede there may be better ones here if I get here early enough.
Is Love's Donuts and Gourmet Sandwiches good at what it's good for? It was good enough with the fritter and is worth another trip to sample more of their breakfast goodies.
NOW AVAILABLE!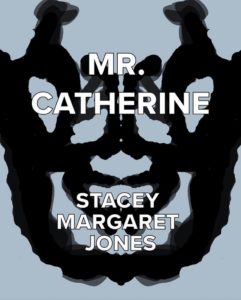 Stacey Margaret Jones's novel, Mr. Catherine, is available online from the following sellers (ebook only through June 24, ebook and paperback as of June 25, 2019): Amazon, Barnes & Noble, Google Play and Apple Books.
Where is Catherine? Catherine has gone missing, a year after confessing to having an affair. Her husband, a marriage and family therapist, hides her infidelity from the police to protect her reputation—and to shelter his pride.
As the secrets begin to pile up, Mr. Catherine, the unnamed husband of the missing woman, is plunged into a world of underground dealings, kidnappers, ex-lovers and drug running in Little Rock, Arkansas, all while grappling with his part in the highs and lows of the life they led together.
With each passing day, a sleepless Mr. Catherine grows more frantic, drinking and popping pills, which stir up painful visions and remembrances that hold a mirror up to the narrator as he comes to terms with his own emotional betrayals.
Mr. Catherine is a fast-paced domestic noir that explores the dangerous secrets between a husband and a wife, as well as a deeper meditation on marriage, connection and honesty.
Comments
comments
http://jayruud.com/wp-content/uploads/2019/08/IMG_7706.jpg
424
640
Jay Ruud
http://jayruud.com/wp-content/uploads/2014/08/JayRuud.png
Jay Ruud
2019-08-26 11:45:44
2019-08-26 11:45:44
Love's Donuts