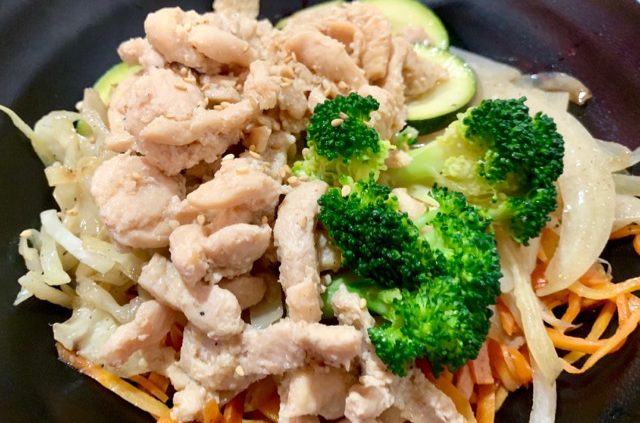 Review No. 156: Bulgogi Korean BBQ
317 Oak Street, Suite 1
(501) 358-5923
72.2 percent finished reviewing Conway restaurants
The Situation
She Said: It was time for lunch and I was hungry. I had heard this place was open, so we thought we'd risk it, even though it was a very new establishment.
He Said: I wasn't even sure what Korean barbecue was, but I go where She Said tells me to, and so I showed up in the full flush of my ignorance at Bulgogi's door.
Ambience:
She Said: We didn't know what to expect when we arrived, and as we entered, we found that it is a quick-serve restaurant in which you order at the counter and find a seat while you wait for your order. It's a small space, though open with red and white on the walls. We ended up at a bistro table toward the back because it was the only one left when we arrived. (Again, I ask, who likes to sit at bistro tables? What is the point of sitting up so high your feet can't touch the ground?)
He Said: Somebody must like them, Jones, or they wouldn't have them. But like you, I am not one of those people. It did seem an area too small for the business, but I guess that's a good problem to have if you're going to rank problems. A lot of the traffic here is for take-out orders, so they may not have thought they needed as much space. But the tables were almost full when we got there at lunchtime.
Drinks
She Said:While I was tempted to sample the Korean coffee on offer, I chose the unsweetened iced tea, which was tasty and nicely brewed.
He Said: I had a Jarritos soda, lemon-lime flavored. I didn't actually order it myself, but She Said got if for me because I was holding the last available table as she ordered the food. She ordered it because it came in a bottle while the Dr. Pepper I told her to get me was a fountain drink. And I have made my preferences known about that. I did think it a little strange for a Mexican soda to be sold at this Korean place, but why not? We live in a global society. And it was pretty good soda.
Food
She Said: The menu isn't big, but it's varied, and I had trouble choosing, and as I waited my turn at the counter, I kept switching until I arrived at the cash register and just blurted out what was the current front runner. We split the egg roll and the fried spring roll with sweet and sour sauce, and they were tasty, the egg roll with its pork, and the spring roll with the salad inside. My entrée choice was the gim appetizer (crispy dried seaweed) and the Korean street tacos with chicken. They arrived together, and this was good, because the seaweed was better with the tacos—it tastes pretty ocean-y (fishy), so it's better with other things. I folded up the little sheets and ate them with bites of the soft tortillas, grilled chicken and onions. The tacos were also tasty. The sauce was VERY spicy, so I used it sparingly, and by the final bites I skipped it altogether. This was plenty of food for lunch, and I left a bit of the second taco as I was full.
He Said:I agree that the spring roll and the egg roll, which we went halfsies on, were tasty. Fairly typical of what you get at most decent Chinese restaurants. For my entrée I had the Fried Rice Bowl with Chicken. (You can also get Steamed Rice Bowls, and you can get either with beef, pork, chicken, or a combination. Since the chicken would naturally be lower in fat, I went for that). This was quite good, with generous amounts of tender, tasty chicken, with a good portion of broccoli and other vegetables, and very flavorful fried rice. It all tasted really fresh. And there was plenty of it. Unlike She Said, though, I ate all of mine, and would probably order it again.
Service
She Said: The service at the counter was friendly and helpful, and other employees were also nice and upbeat. Our single issue was likely related to the newness and popularity of the place: Our food took a long time to arrive after we ordered: 37 minutes (from arrival, or 32 minutes from ordering) for the appetizers and then 4 more minutes for the entrees. We did finally ask about our order, and it wasn't long then that it began arriving. They apologized for the wait.
He Said:Yes, people were friendly enough, but the wait was long. They did just have their ribbon-cutting/Grand Opening here on April 30, so they have not been open long. I'd say you might not want to count on this for lunch if you've got limited time, at least not until they are broken in (or unless you do take-out).
What We Got and What We Paid: 1 egg roll, 1 fried spring roll, 1 gim (Korean style dried seaweed), fried rice bowl with chicken, 2 chicken tacos, 1 bottle Jarritos soda and 1 unsweetened iced tea for $22.15.
Elapsed Time from Our Arrival to Food Arrival: As noted above, 41 minutes from arrival to entrée.
Rating:
She Said: I thought the food was tasty, fresh and healthy, so I'm interested in returning, once they refine the process and can get the orders out faster.
He Said: I'd definitely come back here. I liked what I had, and they also have noodle bowls, soup bowls, and salads, all of which may be worth a try.
Is Bulgogi Good At What It's Good For? If you're looking for fresh Korean offerings, it is indeed, but not if you're in a hurry (for now).
Just named a finalist for the INDIE award for best Mystery novel of the year:
Jay Ruud's most recent novel, Lost in the Quagmire: The Quest of the Grail, IS NOW a finalist for this year's INDIE award for books by independent publishers. You can order your copy direct from the publisher (Encircle Press) at http://encirclepub.com/product/lost-in-the-quagmire/You can also order an electronic version from Smashwords at https://www.smashwords.com/books/view/814922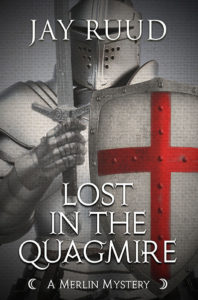 When Sir Galahad arrives in Camelot to fulfill his destiny, the presence of Lancelot's illegitimate son disturbs Queen Guinevere. But the young knight's vision of the Holy Grail at Pentecost inspires the entire fellowship of the Round Table to rush off in quest of Christendom's most holy relic. But as the quest gets under way, Sir Gawain and Sir Ywain are both seriously wounded, and Sir Safer and Sir Ironside are killed by a mysterious White Knight, who claims to impose rules upon the quest. And this is just the beginning. When knight after knight turns up dead or gravely wounded, sometimes at the hands of their fellow knights, Gildas and Merlin begin to suspect some sinister force behind the Grail madness, bent on nothing less than the destruction of Arthur and his table. They begin their own quest: to find the conspirator or conspirators behind the deaths of Arthur's good knights. Is it the king's enigmatic sister Morgan la Fay? Could it be Arthur's own bastard Sir Mordred, hoping to seize the throne for himself? Or is it some darker, older grievance against the king that cries out for vengeance? Before Merlin and Gildas are through, they are destined to lose a number of close comrades, and Gildas finds himself finally forced to prove his worth as a potential knight, facing down an armed and mounted enemy with nothing less than the lives of Merlin and his master Sir Gareth at stake.
Order from Amazon here: https://www.amazon.com/Lost-Quagmire-Quest-Merlin-Mystery/dp/1948338122
Order from Barnes and Noble here: https://www.barnesandnoble.com/w/lost-in-the-quagmire-jay-ruud/1128692499?ean=9781948338127
Comments
comments
http://jayruud.com/wp-content/uploads/2019/05/IMG_4918-1.jpg
480
640
Jay Ruud
http://jayruud.com/wp-content/uploads/2014/08/JayRuud.png
Jay Ruud
2019-05-13 13:12:18
2019-05-13 13:12:18
Bulgogi Korean BBQ