Review No. 104: Church's Chicken
500 W. Oak St.
(501) 513-4700
51.9 percent finished reviewing Conway restaurants
The Situation
He Said: I know I like to harp on how many Mexican restaurants there are in Conway. It's no secret that there are a lot of pizza places and a lot of barbecue places as well. But it's hard to swing a cat without hitting a fried chicken place in this town either.Just sayin'. And we haven't been hitting many of them yet in our reviews, which means there are quite a few of them in my future—and yours, dear reader, if you continue to read this blog.
Church's Chicken was born on April 17, 1952, the first store opening in San Antonio, Texas, just across the street from the Alamo. And we managed to visit them for the first time the week of their franchise's 66th birthday. At this point the company has some 1,700 locations in 30 countries, and it is the third largest chicken chain in the world after KFC and Popeye's.
She Said: I had no idea Church's was such a big deal. I've been driving by the Conway location without paying much attention for years. And because of our goal of dining in every single restaurant in our fair city, I finally noticed it and decided it was a good day for fried chicken!
Ambience
He Said: I think the vast majority of lunchers will go through the drive-through here, or perhaps will pick their meals up to-go. But there is a small dining area. It's painted in bright colors but is pretty bare-bones, though not really uncomfortable. Still, I think it likely that in the future we'll drive through when we come back.
She Said: Yeah, the dining area is probably not the draw for this location, and it was untidy when we arrived, crumbs on an empty table and the floor, etc. And, of course, the industrial hum of the refrigerators gets to my noise sensitivities. But it was perfectly fine to eat in there, and if you weren't going home and just had to have chicken, it's better, maybe, than your car.
Drinks
He Said: They have Coke products in the fountain drink category here, which include Barq's Root Beer, which I had. Then grabbed a refill to go on my way out the door. It was properly root beery.
She Said: I treated myself to a Diet Coke, and it was delicious. I even grabbed myself a refill to go, which you can't do at the drive-through.
Food
He Said: I ordered a No. 1 combo, which included a leg and a breast fried with a crispy coating. This of course is not a low-fat option, but I didn't notice any particularly low-fat dishes on the menu. I traded my leg for She Said's breast (I'm talking about the chicken here) because she inexplicably likes dark meat (in gustibus non est disputandem) and I enjoyed the chicken immensely—it's just what you expect southern fried chicken to be. Crispy on the outside, tender on the inside. Salt to taste.
For my side, which came with the meal, I ordered French fries, mainly because they didn't really have a green vegetable as an option. The fries were crinkle cut and were crispy enough, though they got a bit cold by the time I was done—the staff here seem to make up a large supply of food in advance of the lunch rush, and so I'm guessing the fries had been sitting for awhile before I got there.
The best part of the lunch was actually the honey-butter biscuit that came with the meal. This is kind of a signature part of lunch at Church's, as I understand it. In any case, it was worth the price of admission, very sweet and tasty.
When I looked online at the nutritional information about Church's products, I noticed that the biscuit, in fact, had more fat than anything else I had for lunch—12 grams, I imagine mainly from the butter, not the honey. No wonder it tasted so good. The breasts had 11 grams each—this is in the skin, of course. The fries contained only 6 grams of fat, but that brought the total for lunch to 40 grams. Not terrible, but about two-thirds of my daily allotment. Still, for fast food, this was not bad on the fat-o-meter.
She Said: I, too, ordered the No. 1 meal option, and they don't give you the choice of white or dark meat, it's just called "mixed," though I probably could have asked for both dark-meat pieces and paid for the choice. Once we negotiated our trade at our table, and I had all dark meat, I found myself with the perfect fried-chicken meal, with the leg and the thigh. As you write, the chicken was very pleasing, crispy coating, tender, tasty meat. I liked how ungreasy it was, which I don't always expect from chicken joints. I chose the mashed potatoes for my side, which come with gravy in the Styrofoam ramiken. The potatoes were very creamy, but I didn't like the gravy as much, as it was too peppery for my taste (which means there was pepper in it). Overall, the two-piece meal with one side and a biscuit was plenty of food for me, and I couldn't finish any of the elements except for the biscuit, of course. (That thing was a fast-food delight!)
Service
He Said: They have, as I mentioned before, stuff made in advance, so that when we ordered, the server just grabbed some chicken from the shelves behind her and put our meal together. It's definitely fast food. But this may be the fastest food ever. So the service was really quick and the woman at the counter was quite friendly and pleasant, and said to let her know it we needed anything. The service was very good for a fast-food counter.
She Said: Yes, the chicken staffer was on it when we came through the doors, quickly choosing our food from the waiting warmers and serving us our fast food fast. During the time we were there, she came through the little dining area and straightened up some things when she wasn't staffing the drive-through or waiting on someone at the counter.
What We Got and What We Paid: Two No. 1 Combos, which included for each of us two pieces of original chicken (one dark, one white), a 22-ounce glass of Coke product (one root beer, one diet Coke), and one side (one mashed potato and one French fries), plus a biscuit each, all for $13.30. Definitely one of the cheaper places to eat in town.
Elapsed Time from Our Arrival to Food Arrival: One minute.
Rating
He Said: For fast food it's not bad and for fried food it's not too fatty. So it's all good.
She Said: The chicken was tasty, the service was quick and friendly and that biscuit was amazing.
So… He Said and She Said: Go here for tasty fast-food chicken, or maybe just for the honey-butter biscuit!
NOW AVAILABLE:
If you like these reviews, you might enjoy Jay Ruud's most recent novel, now available from the publisher at https://encirclepub.com/product/the-bleak-and-empty-sea/. Also available from Amazon or Barnes and Noble.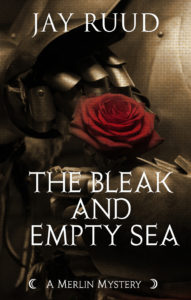 When word comes to Camelot that Sir Tristram has died in Brittany of wounds suffered in a skirmish, and that his longtime mistress, La Belle Isolde, Queen of Cornwall, has subsequently died herself of a broken heart, Queen Guinevere and her trusted lady Rosemounde immediately suspect that there is more to the story of the lovers' deaths than they are being told. It is up to Merlin and his faithful assistant, Gildas of Cornwall, to find the truth behind the myths and half-truths surrounding these untimely deaths. By the time they are finally able to uncover the truth, Gildas and Merlin have lost one companion and are in danger of losing their own lives.
Order from Amazon here: https://www.amazon.com/Bleak-Empty-Sea-Tristram-Mystery/dp/1893035735/ref=sr_1_1?s=books&ie=UTF8&qid=1503328086&sr=1-1&keywords=Bleak+and+Empty+Sea
Order from Barnes and Noble here: https://www.barnesandnoble.com/w/the-bleak-and-empty-sea-jay-ruud/1126958139?ean=9781893035737
Comments
comments
http://jayruud.com/wp-content/uploads/2018/04/IMG_9512.jpg
3024
4032
Jay Ruud
http://jayruud.com/wp-content/uploads/2014/08/JayRuud.png
Jay Ruud
2018-04-21 11:38:42
2018-04-21 11:38:42
Church's Chicken