Review No. 116: Cicis
1250 Old Morrilton Hwy
(501) 764-0600
57.1 percent finished reviewing Conway restaurants
The Situation
He Said: Cici's Pizza, now formally known as just "Cicis," is a chain of pizza-based buffet restaurants headquartered in Irving, Texas, with about 500 restaurants in 35 different states. There are eight Cicis locations in Arkansas, including restaurants in Fayetteville, Hot Springs, Russellville, Rogers, North Little Rock, Jonesboro, Fort Smith and, of course, the one in Conway on the Old Morriton Highway in that little restaurant-heavy mini-mall next to Fuji, Firehouse Subs and Burrita's.
She Said: Any day I get to eat pizza is a good day, and after a morning of heavy report writing and working out on my office treadmill, I decided it was time to try this pizza buffet we'd never been to before.
Ambience
He Said: It's not the coziest looking place. The buffet is right there as you enter, the lights are pretty bright, and inside it looks and feels pretty much like any fast-food place (the seats are pretty hard), but with three TV sets hanging from the ceiling, none of them showing a sporting event, which is about the only thing one could follow without sound. The buffet begins with a salad bar, then has some pasta dishes and soups, then several kinds of pizza, and finally a few desserts, in our case a lemon bar and cinnamon bread.
She Said: Yeah, it's brightly colored, but it's utilitarian, with the cash register as you enter—pay up and then you're free to go food-wild. There are some brightly lit games in the back, a little arcade. There is the industrial hum white-noise of refrigerators that I don't enjoy, but it's white noise for the TVs, some of which were tuned to Fox News. I am not a fan of any news channels in restaurants. I'm here for pizza and chillaxin', not issues. If I wanted that, I'd eat at my desk in front of Facebook. Tune your TVs, business owners, to happy channels, like my nail salon does to the Food Network, and get me addicted to Ina Garten, not enraged over today's headlines. It's not good for digestion.
Drinks
He Said: They have iced tea and also Coke products from a fountain here. And yes, to my great delight, they actually did have Barq's Root Beer (I keep telling you it's a Coke product), and I was glad to have a glass of that.
She Said: I chose unsweetened iced tea, and it was well brewed, not too strong or weak.
Food
He Said: I had a salad first. You have a choice of a plain lettuce salad, spinach greens, or a Caesar type salad with cheese. I took some of each, and then dropped in some broccoli and cucumbers. You could also put in carrots and tomatoes if you wanted, or croutons. That was about it, so it wasn't a terribly imaginative salad bar. There was a choice of dressing, including, ranch, thousand island, blue cheese, Caesar and Italian. Cicis does you a favor and tells you the calories in each of these dressings. I did think there could have been more choices (French perhaps?), and especially a low-fat choice (Italian was low calorie, but is oil-based, and so is not really low fat; a vinaigrette would be nice). I picked the Italian.
Next came a choice of a chicken and pasta soup, or the actual pasta with a tomato or a cream sauce. The pasta was a Calamaretti—a short, ring-shaped pasta. I was tempted by the soup, but went with the pasta and red sauce, which was not bad at all, the sauce tasting pretty genuinely Italian. As for the pizza choices, there were several, from a plain cheese to pepperoni to a meat-lover's pizza, to a barbecued pork or a chicken pizza. I decided to try the unusual spinach alfredo pizza, along with a slice of pepperoni. The pepperoni was pretty good, tasting like pepperoni pizza pretty much anywhere. The spinach alfredo was not bad either, a kind of surprising taste for a pizza. But for my taste, the crust was just too chewy, too dough-y. This was far from being my favorite pizza in Conway.
She Said: Yes, I agree with you on the crust, Ruud. We share our love of thin, crispy pizza crusts, and while this was relatively thin, it wasn't crispy at all and drooped when you held up the slice. But the pepperoni was crispy, which I thought was perfect. I too tried the spinach alfredo slice, and it was tasty, with a real spinach taste in the wilted greens. I also had two small pieces of the garlic cheese bread, which was tasty and a little addictive. Finally, I tried the lemon cream bars they were touting, but I found these disappointing. I expect lemon desserts to be sweet to offset the tartness of the lemon, but if you can actually taste the sugar itself, they are too sweet. I left some of my bar and had more pizza for dessert, even with the less-than-ideal crust.
Service
He Said:Well, there's not much to say about service at a buffet. We paid the guy when we came in, and then served ourselves. Apparently, it is possible to order a pizza for your table of your own choosing, if you're not content to go with what's on display on the buffet, in which case you might have a server. But ordering the buffet, we did not expect any service, and we were not disappointed.
She Said: The man who greeted us was friendly. And then we never talked to anyone again.
.
What We Got and What We Paid: Two pizza buffets and two drinks, for $17.74. The pizza buffet is advertised at $5.99 per person.
Elapsed Time from Our Arrival to Food Arrival: 4 minutes.
Rating
He Said: The food is fairly average, but if you happen to like bready crusts, or you're looking for something fast and cheap, this may be the place for you.
She Said (Or Was It Worth the Weight I Gained): I don't think I'd be willing to gain too much for this pizza, but since I lost half a pound, that seemed fair.
So… He Said and She Said: Go here for fast pizza and an efficient buffet if you like a softer crust and all-you-can-eat slices.
NOW AVAILABLE:
If you like these reviews, you might enjoy Jay Ruud's most recent novel, now available from the publisher at https://encirclepub.com/product/the-bleak-and-empty-sea/. Also available from Amazon or Barnes and Noble.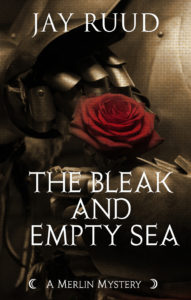 When word comes to Camelot that Sir Tristram has died in Brittany of wounds suffered in a skirmish, and that his longtime mistress, La Belle Isolde, Queen of Cornwall, has subsequently died herself of a broken heart, Queen Guinevere and her trusted lady Rosemounde immediately suspect that there is more to the story of the lovers' deaths than they are being told. It is up to Merlin and his faithful assistant, Gildas of Cornwall, to find the truth behind the myths and half-truths surrounding these untimely deaths. By the time they are finally able to uncover the truth, Gildas and Merlin have lost one companion and are in danger of losing their own lives.
Order from Amazon here: https://www.amazon.com/Bleak-Empty-Sea-Tristram-Mystery/dp/1893035735/ref=sr_1_1?s=books&ie=UTF8&qid=1503328086&sr=1-1&keywords=Bleak+and+Empty+Sea
Order from Barnes and Noble here: https://www.barnesandnoble.com/w/the-bleak-and-empty-sea-jay-ruud/1126958139?ean=9781893035737
Comments
comments
http://jayruud.com/wp-content/uploads/2018/06/IMG_1970.jpg
3024
4032
Jay Ruud
http://jayruud.com/wp-content/uploads/2014/08/JayRuud.png
Jay Ruud
2018-07-08 17:45:32
2018-07-08 17:45:32
Cicis