Review No. 127: Cracker Barrel Old Country Store
525 Skyline Drive
501-327-6107
57.6 percent finished reviewing Conway restaurants
The Situation
She Said: Before The Pancreas, we used to frequent Conway's Cracker Barrel, or the "Barrel of Crack" as our family refers to it, because the food is so starchy, comforting and satisfying. I'm also a big fan of breakfast any time of day, which is one of the chain restaurant's strengths, but since we've both become more health conscious, we've stayed home or made other restaurant choices where we won't be as tempted by the foods we love there that aren't as good for us. But, My Mom was in town and we thought that would be a fun place to treat her to before she ended her annual visit, so off we went.
He Said: I used to come here and wolf down their Chicken Fried Chicken with extra sawmill gravy every chance I got. That's 40 grams of fat in itself, then I'd get the cheesy hashbrowns (another 17 fat grams) and pile on two more sides on top of that. No wonder a post-Cracker Barrel bout of pancreatitis nearly landed me in the hospital four years ago. But it was time to go back and see if I could put together a tasty low-fat option at the Cracker Barrel. Was I successful? Read on and find out!
Ambience:
She Said: If you've been to a Cracker Barrel restaurant, then you know what this restaurant looks like, and this one Cracker Barrels hardin the country store area, with a lot of homey, kitchy, Americana merchandise, from holiday decorations, to sweets, to Razorback baby clothes. We've bought Christmas ornaments here before as they have a variety of these all year long. The restaurant itself is very Manufactured Rustic, and it has a relaxed vibe and friendly feel with the Old-Timey signage, wood chairs, tables and paneling.
He Said: Yes, I've always thought Cracker Barrel décor, wherever you visit one, is pretty homey, even down homey. It tells you pretty directly what it's not: a high-priced restaurant where you should dress for your gourmet dinner; and fairly clearly what it is: a place with simple American fare and plenty of it.
Drinks
She Said:As there is no bar at Cracker Barrel, I went with my other usual: unsweetened ice tea. Our server asked if I wanted lemon, which I did, and my first sip was a perfect mix of citrus and cool tea. The mix here is good, and holds up well to the ice.
He Said: They had root beer in a bottle, which was music to my ears. And my palate.
Food
She Said: Although I am a big fan of Cracker Barrel's breakfast-all-day menu, I decided to forego that option in favor of anything on their menu that lit my fire. I'd had a double work-out morning with a run and a ballet lesson, so I was hungry, but was trying to stop the birthday weight-gain train. I poured over the extensive menu, considering burgers, chicken-fried chicken, fried-chicken salad, weekly specials, etc. Finally, I settled on a promotional menu item, a deconstructed chicken pot pie with a pecan encrusted biscuit "crust." But our friendly waitress made a sad face when I ordered it, informing me that at that moment, they were out of that "and broccoli." (One of those outages made me much sadder than the other.) But, they still had the regular chicken pot pie, so I went with that. It came with no sides, but since I was "trying to reduce," I was glad not to have to turn down the temptations—and besides, everything is in the pot pie, so you don't need sides. Except biscuits.
The biscuits here are undry and tasty, even without butter or jelly to top them off. I indulged in half of one, and it was delicious. The pot pie came baked in an oval ramekin, and has a crust on top only, covering a thick, creamy chickeny yellow gravy, bites of chicken as well as potatoes, peas and other veggies. I confess, I do love a good frozen pot pie as a comfort-food treat, and this was clearly the superior of those, with a buttery crust, thick and tasty pie innards and—this is key—not too much pepper. I ate half and brought the other half home for later (or for My Mom, who ate all of hers at lunch).
He Said: Determined to find a low-fat Cracker-Barrel option, I noticed the lemon-pepper Rainbow Trout dinner. This, dear readers, is only 160 calories containing just 7 grams of fat. It was light and delicious, nicely seasoned with the lemon and pepper, and quite satisfying—it didn't feel like I was "settling" for this in order to "be good." With this you get two sides, and I had the Hashbrown Casserole, which has to my way of thinking the perfect hashbrown flavor and has another 7 fat grams, and the Country Green Beans, which had only 2.5 fat grams and are one of Cracker Barrel's most popular sides, because they are tender and flavorful and well-cooked.
I did make one mistake, which was ordering the cornbread muffin instead of a biscuit. The muffin actually has 11 grams of fat, so more than anything else on my plate. It wasn't bad, but there's a reason the biscuits are the most popular thing on Cracker Barrel's menu, and it turns out they have less fat.
Altogether, then, I had consumed a full meal with only 27.5 grams of fat. That's about half my daily allowance, but this was my big meal of the day, so it was perfectly in keeping with a low-fat diet. Had I skipped the muffin, I'd have been home free. I then figured I could splurge on a slice of no-sugar-added All American Apple Pie. If you have his without the scoop of ice cream, it has only 2 grams of fat. (The ice cream adds another 22. I did not have the ice cream). This by itself is delicious! It has all natural ingredients and gets its sweetness from the apples themselves and added apple juice and cinnamon. Just like my Mom used to make. I let She Said and She Said's Mom have a bite, and they pronounced it delicious as well. Though She Said's Mom said it wasn't as good as sheused to make.
Service
She Said: One reason we used to frequent CB years ago was because the service was consisted consistently professional and efficient. This visit was no different. I like the embroidered names on the aprons, too. It's nice that their employees are "on brand" when it comes to the friendly country store vibe.
He Said:  Yes, our server was friendly, attentive, prompt, professional, and good-humored. And she also clued us in to the sugar-free apple pie, which there was significant interest in at our table but which none of the women was bold enough to order.
What My Mom Thought: She did like the pot pie and biscuits a lot, and though she admitted the sugar-free apple pie was good, she thinks her version is better!
What We Got and What We Paid: Two chicken-pot-pie lunch entrees, one rainbow trout lunch plate with two sides, one iced tea, one bottled root beer and one sugar-free apple pie for $32.27 (for three meals).
Elapsed Time from Our Arrival to Food Arrival:17 minutes from arrival to food delivery.
Rating
She Said (Or Was It Worth the Weight I Gained): I lost .2 pounds by eating only half my entrée (and half a biscuit) and skipping supper, but this pot pie was worth that and the experience was pleasant and chill.
He Said: I may have to put Cracker Barrel back into our rotation now that I realize it can be pancreas-friendly as well.
Is Cracker Barrel Good at What it's Good For? YES! Go here for comfort food served in a friendly, kitschy, Americana-by-mail atmosphere.
COMING SOON!
Jay Ruud's most recent novel, Lost in the Quagmire: The Quest of the Grail, will be available from the publisher on OCTOBER 15. You can preorder your copy direct from the publisher (Encircle Press) at http://encirclepub.com/product/lost-in-the-quagmire/You can also order an electronic version from Smashwords at https://www.smashwords.com/books/view/814922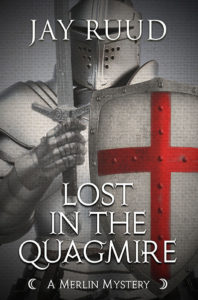 When Sir Galahad arrives in Camelot to fulfill his destiny, the presence of Lancelot's illegitimate son disturbs Queen Guinevere. But the young knight's vision of the Holy Grail at Pentecost inspires the entire fellowship of the Round Table to rush off in quest of Christendom's most holy relic. But as the quest gets under way, Sir Gawain and Sir Ywain are both seriously wounded, and Sir Safer and Sir Ironside are killed by a mysterious White Knight, who claims to impose rules upon the quest. And this is just the beginning. When knight after knight turns up dead or gravely wounded, sometimes at the hands of their fellow knights, Gildas and Merlin begin to suspect some sinister force behind the Grail madness, bent on nothing less than the destruction of Arthur and his table. They begin their own quest: to find the conspirator or conspirators behind the deaths of Arthur's good knights. Is it the king's enigmatic sister Morgan la Fay? Could it be Arthur's own bastard Sir Mordred, hoping to seize the throne for himself? Or is it some darker, older grievance against the king that cries out for vengeance? Before Merlin and Gildas are through, they are destined to lose a number of close comrades, and Gildas finds himself finally forced to prove his worth as a potential knight, facing down an armed and mounted enemy with nothing less than the lives of Merlin and his master Sir Gareth at stake.
Pre-Order from Amazon here: https://www.amazon.com/Lost-Quagmire-Quest-Merlin-Mystery/dp/1948338122
Pre-Order from Barnes and Noble here: https://www.barnesandnoble.com/w/lost-in-the-quagmire-jay-ruud/1128692499?ean=9781948338127
Comments
comments
http://jayruud.com/wp-content/uploads/2018/09/IMG_5946.jpg
1790
3214
Jay Ruud
http://jayruud.com/wp-content/uploads/2014/08/JayRuud.png
Jay Ruud
2018-09-24 07:39:59
2018-09-24 07:41:08
Cracker Barrel