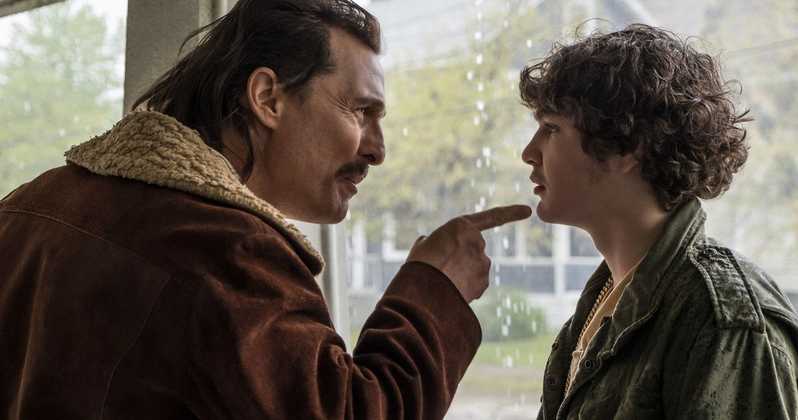 White Boy Rick
Yann Demange (2018)
Rick Wershe, Jr., the protagonist of the new film White Boy Rick, was a Detroit drug dealer and FBI informant who as a minor (aged 17) was sent to prison on a life sentence for the possession of eight kilograms of cocaine. The sentencing took place in 1988 under a controversial Michigan law, and as of 2018 Wershe is the longest-serving nonviolent offender in Michigan prisons. This film, directed by Yann Demange (known previously mainly as a television director on such programs as Dead Set and Criminal Justice), seems intent on making us feel some sympathy for the boy. Unfortunately, it fails to do so.
Don't get me wrong: The way that crooked police officers and crooked FBI agents and crooked politicians and even more crooked skilled and hardened criminals than Rick get away scot free or get lighter sentences than he does is certainly enough to make you angry. For that matter the absurdity of Michigan's "650-lifer law" is quite clear by the end of the film: This is a law dating from 1978 that requires a life sentence without the possibility of parole for anyone found guilty of the possession, sale, or manufacture of at least 650 grams of cocaine or other specified opiate. The law, later imitated in New York State's Rockefeller laws, was the product of America's obsession with drug crimes, to the point of ignoring, the film suggests, far worse.
One of the reasons the film doesn't quite hit its target is the script. Andy Weiss (TV's Scrappers), Logan Miller and Noah Miller (both of Sweetwater) weave together a tapestry of poverty and drudgery of the Detroit underworld of the mid-1980s that feels not unlike the world of The Wire, but with much dumber people. Rick Jr. and his family seem to be going nowhere, and so does the script. For the sake of realism, it seems to wander about, with a number of small subplots that really don't end up going anywhere, and a protagonist whose relationships are not really explained. He apparently feels strong friendship with "Boo" (RJ Cyler of TV's Vice Principals), one of the gang that he ends up working with, but I have no idea why, since I was never shown any scene that made me think they were bonding. He has a brief relationship with a girl he knows from school named Brenda Moore (Kyanna Simone Simpson of TV's Black Lightning), but since we see very little of it it's hard to tell how he feels about her. Rick also seems particularly close to his sister Dawn (Bel Powley of Diary of a Teenage Girl) but it's hard to see why since we seldom see her as anything but high or complaining (not unreasonably) about what a lousy father they have. As for newcomer Richie Merritt, who plays Rick Jr., yes, he kind of looks the part of a very average lower-class teenage delinquent, and maybe it would have been a mistake to put some pretty-boy Hollywood type in the part, but Merritt has little charisma and his lack of acting experience is evident at times. Much of the time he is expressionless and the rest of the time he acts like a white kid trying to act like a black kid, but there's not a deep reservoir of character here that we can relate to in order to sympathize with.
But the chief reason we lack sympathy for Rick even after his excessive sentence is that he never once betrays any regret for his crimes or any remorse for harm that his crimes may have caused. At one point, when he sees a television report that a young boy in his neighborhood has been killed by a gun that he almost certainly sold to the killers, he nearly blinks. But that is it. He never makes any connection between his profession as a drug dealer and his sister's nearly fatal drug habit. And when he is arrested and brought up on drug charges, he accepts no culpability or responsibility for any of his actions. Everything is somebody else's fault.
The plot begins in 1984 focused on Rick's father, Rick Sr. (Academy Award winner Matthew McConaughey), a licensed firearms dealer who scrapes a living together by manufacturing his own illegal silencers for the AK 47s he sells to drug dealers in a Detroit that looks like a bombed-out Beirut (the movie was shot in Cleveland). Rick Jr. has left high school and works as a kind of errand boy for his dad, which brings him into contact with local drug lord Johnny "Lil Man" Curry (Jonathan Majors of TV's When We Rise). When a pair of FBI agents (Jennifer Jason Leigh and Rory Cochrane) threaten to run Rick Sr. in for those illegal silencers, Rick Jr. ends up working for them, and for the Detroit police department in the person of detective Jackson (Brian Tyree Henry of TV's Atlanta). As part of his cover, Rick begins to sell cocaine himself, at the behest of his handlers, the drug supplied by the Detroit police.
Things go terribly wrong for Rick when, after he has contributed to the arrests of the gang members he had partied with (and is shocked, shocked that the FBI has arrested Boo, whom he says "didn't do nothing!"), he convinces his father that the family would be a lot better off if he continued to sell drugs, since they can't seem to get out of the poverty pit through Rick Sr.'s gun dealing. What could possibly go wrong? The FBI couldn't possibly arrest him, could they?
I have to say that Matthew McConaughey almost saves this movie. His portrayal of Rick Sr., with a greasy mullet and an optimism that his family is going to be all right and that someday he's going to put aside enough money to open a video store, and then the money would come rolling in, is as pathetically believable as it is intense. It's even darkly humorous at times, such as when he is debating with his son about how bad drugs are while justifying his own illegal gun dealing because hey, it's protected by the Constitution! Rick Sr. is also the only person in this film who even suggests the possibility that a person might have an actual job—i.e., owner of a video store—by which he might make a living.
Although many of the other characters don't rise above one-dimensionality, a few of the other actors on the screen do turn in creditable performances. Leigh, Cochrane, and Tyree are worth watching as the unscrupulous, mendacious, and occasionally incompetent law enforcement agents. Bruce Dern and Piper Laurie appear unexpectedly as the grandparents of White Boy Rick, who live next door to Rick Sr. and his family (we're never quite sure what happened to Mom). Dern and Laurie are a bit of a distraction, fun to watch but completely tangential to the plot. They seem to be here merely to provide the gravitas of their distinguished careers to the comic "old codger" roles. They have almost nothing to do and add nothing to the story. Perhaps the idea is to show that this family's inability to rise above their poverty is a generational problem. Or that Rick Jr. really has no healthy adult role models. If that's the intent, I'm not sure it works. Ultimately, what we feel at the end of the film is a kind of raw anger at the injustice—or perhaps we should say the absurd imbalance of justice, caused largely by a stupid law (the "650-lifer" law) that allows the bigger criminals to go free and punishes the smaller criminals. But in the end, they are still criminals. Two Jacqueline Susanns for this one.
COMING SOON!
Jay Ruud's most recent novel, Lost in the Quagmire: The Quest of the Grail, will be available from the publisher on OCTOBER 15. You can preorder your copy direct from the publisher (Encircle Press) at http://encirclepub.com/product/lost-in-the-quagmire/You can also order an electronic version from Smashwords at https://www.smashwords.com/books/view/814922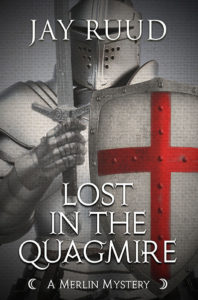 When Sir Galahad arrives in Camelot to fulfill his destiny, the presence of Lancelot's illegitimate son disturbs Queen Guinevere. But the young knight's vision of the Holy Grail at Pentecost inspires the entire fellowship of the Round Table to rush off in quest of Christendom's most holy relic. But as the quest gets under way, Sir Gawain and Sir Ywain are both seriously wounded, and Sir Safer and Sir Ironside are killed by a mysterious White Knight, who claims to impose rules upon the quest. And this is just the beginning. When knight after knight turns up dead or gravely wounded, sometimes at the hands of their fellow knights, Gildas and Merlin begin to suspect some sinister force behind the Grail madness, bent on nothing less than the destruction of Arthur and his table. They begin their own quest: to find the conspirator or conspirators behind the deaths of Arthur's good knights. Is it the king's enigmatic sister Morgan la Fay? Could it be Arthur's own bastard Sir Mordred, hoping to seize the throne for himself? Or is it some darker, older grievance against the king that cries out for vengeance? Before Merlin and Gildas are through, they are destined to lose a number of close comrades, and Gildas finds himself finally forced to prove his worth as a potential knight, facing down an armed and mounted enemy with nothing less than the lives of Merlin and his master Sir Gareth at stake.
Pre-Order from Amazon here: https://www.amazon.com/Lost-Quagmire-Quest-Merlin-Mystery/dp/1948338122
Pre-Order from Barnes and Noble here: https://www.barnesandnoble.com/w/lost-in-the-quagmire-jay-ruud/1128692499?ean=9781948338127
Comments
comments
http://jayruud.com/wp-content/uploads/2018/09/White-Boy-Rick-Movie-Review-Matthew-Mcconaughey.jpg
420
798
Jay Ruud
http://jayruud.com/wp-content/uploads/2014/08/JayRuud.png
Jay Ruud
2018-09-25 17:33:58
2018-09-25 17:33:58
White Boy Rick