Review No. 118: David's Burgers (Lewis Crossing)
1200 Amity Road
(501) 703-0571
56.5 percent finished reviewing Conway restaurants
The Situation
He Said: David's Burgers has been in Conway for several years, and the company also has restaurants in Little Rock, North Little Rock, Bryant and other central Arkansas towns, ten in all, according to their Website. They recently opened a new store in the Lewis Crossing shopping area in south Conway, and we decided to review that one rather than the original place on Skyline, since it was, after all, new. All we had to do was negotiate the life-threatening roundabout maze that some psychotic planner installed to prevent people from ever reaching this new Conway shopping area.
 David's tries to evoke the feel of an old-fashioned butcher's shop selling quality meats, a kind of homage to the original Dave Sr. They do make an effort to use quality meats and vegetables, something that comes through in the tastes of their products.
She Said: Yes, what I call the "Flatlandia" in that part of Conway is definitely intimidating, Ruud, but every time we make fewer trips around the round-abouts, so we're learning! I was in the mood for David's because after our trip to Portugal and Morocco, I had been post-vacation dieting (seven days of no meat, bread or potatoes!) and nothing sounded better to me than a delicious burger and fries.
Ambience
He Said: Two things in particular stand out about the atmosphere of the place: First, there are large black and white pictures that line the walls. These are family pictures of Dave's family dating back to the '50s and tend to give the place a kind of comfortable family feel. Second, that throwback feeling is reflected in the soundtrack of '50s and '60s singles that hits you even before you walk in the door. For me, it was the soundtrack of my youth and I had some difficulty refraining from singing along. However, the music was a bit loud for anybody trying to have a conversation. It could be turned down a touch.
She Said: The music is on the loud side, but it does contribute to the mid-century diner feel with the bright red booths and red and white décor. I also noticed the information on the walls about where David's gets the ingredients for their restaurants, including signage of a field with the message that this is the actual farm where they buy their greens. It's cute, clean and casual and relaxing.
Drinks
He Said: Part of the décor here involves Coca Cola chandeliers hanging above the tables along the outer walls, so, you can expect Coke products. They have these as fountain drinks; however, they also have a cooler when you come to the counter that contains bottles of Coke and Dr. Pepper (as well as water), and you can grab one of these instead of a fountain drink for an extra 89 cents or so. Since I have an unreasonable aversion to fountain drinks, having had too many over the years that were not mixed correctly and tasted weird, and since I don't like ice anyway because it just waters down the drink, I took a bottle of Dr. Pepper. It was mixed precisely right.
She Said: I chose unsweetened iced tea, and it too was mixed precisely right. It was refilled for me by our waitress, who asked if I wanted more ice so that I would enjoy the refill she brought—and I did.
Food
He Said: This place is a local favorite for hamburgers, which we knew going in. But I had some trepidation as to whether they'd have anything my pancreas could tolerate. I checked online to see whether there were any nutritional analyses of David's dishes, but there was only information posted on two of the burger items, and these ranged from 524 calories and 27 grams of fat in the quarter-pound cheeseburger, to 836 calories and 49 grams of fat in the double cheeseburger. This did not bode well for my low-fat diet. But there is one nonhamburger item on David's rather limited menu, and that was a grilled-chicken sandwich. I had no nutritional information about this, but it seemed a good bet that this was going to be more pancreas-friendly. I ordered the single grilled-chicken combo. You get to choose the toppings you want on your sandwich from a selection including free toppings of mayonnaise, mustard, onions, pickles, lettuce, tomato and "David's Sauce" (or, for an extra charge, you could get bacon, grilled onions or grilled mushrooms, etc.). I know that mayonnaise is a disguise for a massive addition of fat, so I skipped that. I asked about the David's Sauce and was told it is kind of like a Thousand Island, and I was afraid that might have a fatty cream base so I skipped it as well. And I didn't relish onions with the chicken, but I got all the other free toppings.
When the chicken sandwich came, it was really pretty delicious—it almost made me forget how much I miss thick, juicy hamburgers since my low-fat diet. The chicken seemed to be ground and made into a patty, though it tasted quite fresh, and She Said will be glad to hear that it was moist and tender. I would definitely order it again.
As for the French Fries, they also seemed very fresh, and were crispy and very tasty. Probably (being fried) not the best thing for my diet, but I risked it because they were just so danged good.
She Said: I'd be happier to hear that your chicken was "undry," Ruud. I chose the single burger with mayonnaise, lettuce, onions and pickles as part of my combo with the tea and fries. I liked very much how a wait-staffer brought fries to the table while we waited for our sandwiches and more fries. They were obviously freshly cooked and very tasty. I thought the fries in my basket with my sandwich were too salty though, and I imagine that's a product of who makes the batches of potato goodness. They were still very good in any case, crispy outside and tender flaky inside. This is an improvement, as the last time I had David's fries, I didn't like them as much because they were softer, wilted, one might say. I'm happy they've changed their French fry methods!
I also really enjoyed my burger. These patties are thin, and you can taste the grill char on the meat, which definitely gives them a handmade, diner flavor. The bun was tasty (I miss bread, y'all!) and well-proportioned with the thin patty and dressings, and the accompaniments I chose were also applied in the right amount, and the onions tasted fresh. This is a solid burger offering in Conway, and I was pleased.
Service
He Said:The woman who took our order was in training (David's at Lewis Crossing is newly opened) and a couple of our ordering quirks (like my grabbing the Dr. Pepper bottle!) were a surprise for her but she maintained her smile and friendly attitude as she got it figured out. While we waited for the food to be brought out to us, a server with a large bowl came around to all the tables and spread fries around to everyone while they were waiting for their order, which was a cute touch. We also had a server who kept checking back with us to see if we needed anything, refilling drinks, clearing dishes away, bringing us free samples of ice cream, always with a smile. The manager walked by as well to check on us. I thought at first somebody may have recognized us and so we were getting special attention because they knew we were reviewing them, but we looked around and everybody was getting the same treatment. So I have to say that the service here was really excellent.
She Said: I never have any issues with ordering from a trainee, and ours was very friendly and told us she was new as she asked her colleague or boss for assistance with the computer. We've all gotta learn sometime—what's so much worse is when someone doesn't tell you they don't know how to do something and gives you the wrong order or charges you the wrong amount. I also liked that those who helped her were good-natured and interested in teaching her, which indicated a positive environment for the employees. Everyone who talked to us (and there were many) was friendly, helpful and welcoming. Service all around was excellent.
What We Got and What We Paid: One single beef combo (hamburger, fries and drink), one single chicken combo with bottled soda sub, for a total of $18.75.
Elapsed Time from Our Arrival to Food Arrival: Five minutes from arrival to fries on the table, seven minutes until our burger baskets arrived at our table.
Rating
He Said: All in all, the food here is really a cut above your run-of-the mill fast-food or burger place. It's a little more expensive than most of them, but not so's you'd notice.
She Said (Or Was It Worth the Weight I Gained): I gained 1 pound, and it was worth every ounce!
So… He Said and She Said: Go here for delicious burgers and fries served in a friendly, happy environment.
NOW AVAILABLE:
If you like these reviews, you might enjoy Jay Ruud's most recent novel, now available from the publisher at https://encirclepub.com/product/the-bleak-and-empty-sea/. Also available from Amazon or Barnes and Noble.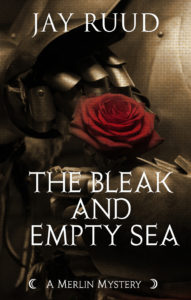 When word comes to Camelot that Sir Tristram has died in Brittany of wounds suffered in a skirmish, and that his longtime mistress, La Belle Isolde, Queen of Cornwall, has subsequently died herself of a broken heart, Queen Guinevere and her trusted lady Rosemounde immediately suspect that there is more to the story of the lovers' deaths than they are being told. It is up to Merlin and his faithful assistant, Gildas of Cornwall, to find the truth behind the myths and half-truths surrounding these untimely deaths. By the time they are finally able to uncover the truth, Gildas and Merlin have lost one companion and are in danger of losing their own lives.
Order from Amazon here: https://www.amazon.com/Bleak-Empty-Sea-Tristram-Mystery/dp/1893035735/ref=sr_1_1?s=books&ie=UTF8&qid=1503328086&sr=1-1&keywords=Bleak+and+Empty+Sea
Order from Barnes and Noble here: https://www.barnesandnoble.com/w/the-bleak-and-empty-sea-jay-ruud/1126958139?ean=9781893035737
Comments
comments
http://jayruud.com/wp-content/uploads/2018/07/IMG_4792.jpg
2074
3095
Jay Ruud
http://jayruud.com/wp-content/uploads/2014/08/JayRuud.png
Jay Ruud
2018-07-23 08:06:31
2018-07-23 08:06:31
David's Burgers (Lewis Crossing)