Review No. 87: Firehouse Subs
1240 U.S. 64
(501) 513-2410
44.3 percent finished reviewing Conway restaurants
The Situation
He Said: Well, I was between performances of Miracle on 34th Street with the Red Curtain Theatre on Friday, and had time to have a quick bite to eat. She Said told me Firehouse Subs was our next reviewing target, so I met her there between shows on opening day for sustenance to get me through the evening performance.
Firehouse is a chain that's been around for more than 20 years and that has more than 1,050 stores nationwide. Since the founders came from a background of firefighters and first responders, they established a corporate foundation that donates a portion of their profits on every item to safety equipment for first responders.
She Said: We had been by this location probably hundreds of times, but somehow I never noticed it, but I was looking for a place I could get a good salad, since I'm pre-dieting for the holidays (you know, when you try to lose the weight in advance you know you're going to gain later). I've learned that sub places usually offer salads, so I notified He Said, that this was our destination. Once I Google-mapped it, I realized I knew exactly where it was, due to my Fuji obsession.
Ambience:
He Said: The place feels like a sub shop. It has a counter where you order and the dining area is somewhat roomier than any of the Subways in town.
She Said: It's bright and colorful, and a pleasant enough place to eat, though I probably wouldn't hang out here for a long time working (like at Starbuck's, etc.). There were two conflicting televisions going with sound up, which we sat in between, so that was a little distracting to me, but the décor was energizing, tidy and engaging.
Drinks
He Said: I had an unsweetened iced tea. They also had do-it-yourself fountain drinks of the Coke persuasion. I did not see any bottled sodas. It's possible I missed them, but I don't think so.
She Said: I also had unsweetened iced tea. It was nicely brewed, not too strong, but could hold up against lots of ice.
Food
He Said: So you can get large, medium, or small subs here. The large is 12 inches, the medium is 8, and the small is 4 inches, which is probably as much as anyone really needs. You have a choice of two kinds of bread: white or wheat. (This strikes me as a bit unimaginative). They do have a great variety of subs—specialty subs or build your own. They also have five kinds of salad as well as a side of chili and different kinds of chips.
I grabbed some baked Lays chips and ordered a small turkey sub on wheat bread toasted. I skipped he cheese, but could have had one of several varieties. I added lettuce, tomatoes, banana peppers and chopped dill pickles. The sandwich also came with a pickle. Pickles for everyone! Then I had the honey-mustard sauce to top it off. The sandwich was pretty tasty. The wheat bread was much tastier than the white would have been, and the turkey was tender. The honey-mustard dressing was sweet and flavorful. I can't say the sandwich was necessarily outstanding—it's pretty much what I would have expected at any other sub place. But no worse. And the four-inch sub was plenty to eat combined with the chips (these baked chips are lower in fat than the originals, of course, but what you gain in fat you lose in taste. So it goes. That's not the restaurant's fault).
As you know, gentle reader, I am on a strict low-fat diet, and Firehouse, being a large chain, has nutritional information readily available online. So the small turkey sub, which is about the lowest fat you can get, weighed in at a respectable 17 grams of fat. Not bad for a restaurant meal, I thought, until I glanced at their condiments: the honey-mustard dressing here comes in at an astounding 28 grams of fat. Now when you consider that there is no fat at all in honey, and no fat at all in mustard, the only explanation for this is that they have bulked up the honey-mustard dressing with mayonnaise, which is one of the fattiest concoctions ever foisted on an unsuspecting consumer. If you're going to do this to honey-mustard dressing, you need to call it honey-mustard-mayonnaise dressing instead of misleading people on diets. The end result was the instead of 17 grams of fat I had consumed 45 grams—that is, three-quarters of the fat I am limited to in a full day's eating, blown on that one sandwich. Thus endeth the rant of the day.
She Said: That blows, Ruud. They burned you in hidden fat grams. It's often true in restaurants that you think you're ordering something healthy, but it isn't really that good for you because they think added calories (sugar and fat) are necessary for enjoyment. I looked ahead online (due to my pre-diet restrictions) and found the Italian with grilled chicken salad option. This is 500 calories, which includes the dressing, and since I hardly used any of it, and didn't finish it, I'm thinking I came in safely under that. But for a salad that has "grilled chicken" in its name, 35 grams of fat coming along for the ride seems a little high. This was from, I'm sure, the salami that was included. It was definitely tasty, and I don't watch fat as you do (I'm more on the carb-police side of things). I liked that I could customize this chopped salad by removing the peppers. It was good, but I got bored with the salad before I finished it. I picked out most of the chicken and salami, though, before I abandoned my eating task. I probably ate around 480 calories of it.
Service
He Said: Unlike other sub places where you kind of have the servers build it as you move own the assembly line, at this one you order at the counter and they work on it and then bring it to your table. There's something to be said for this. It gives the impression they've taken a little more time with it. Even if they actually haven't.
She Said: Yes, I liked the lower-customer-maintenance aspect of the ordering model, and I kept waiting for them to call my name, but they brought it to us, instead. Everyone was very friendly, and though we were new to the franchise, the server was patient and helpful every step of the way.
What We Got and What We Paid: One small turkey sub, one bag of baked Lays, one Italian chopped salad with grilled chicken, and two iced teas, all for $18.35.
Elapsed Time from Our Arrival to Food Arrival: 9 minutes.
Rating
He Said: The subs are OK. Next time I'll use a vinagrette dressing, I guess.
She Said: The salad was tastier than the other sub chain in town's offerings, and the service was friendlier.
So… He Said and She Said: Go here for salads and subs when you want something familiar,  but different.
NOW AVAILABLE:
If you like these reviews, you might enjoy Jay Ruud's most recent novel, now available from the publisher at https://encirclepub.com/product/the-bleak-and-empty-sea/. Also available from Amazon or Barnes and Noble.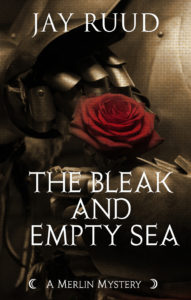 When word comes to Camelot that Sir Tristram has died in Brittany of wounds suffered in a skirmish, and that his longtime mistress, La Belle Isolde, Queen of Cornwall, has subsequently died herself of a broken heart, Queen Guinevere and her trusted lady Rosemounde immediately suspect that there is more to the story of the lovers' deaths than they are being told. It is up to Merlin and his faithful assistant, Gildas of Cornwall, to find the truth behind the myths and half-truths surrounding these untimely deaths. By the time they are finally able to uncover the truth, Gildas and Merlin have lost one companion and are in danger of losing their own lives.
Order from Amazon here: https://www.amazon.com/Bleak-Empty-Sea-Tristram-Mystery/dp/1893035735/ref=sr_1_1?s=books&ie=UTF8&qid=1503328086&sr=1-1&keywords=Bleak+and+Empty+Sea
Order from Barnes and Noble here: https://www.barnesandnoble.com/w/the-bleak-and-empty-sea-jay-ruud/1126958139?ean=9781893035737
Comments
comments
http://jayruud.com/wp-content/uploads/2017/12/FullSizeRender-4.jpg
2257
2976
Jay Ruud
http://jayruud.com/wp-content/uploads/2014/08/JayRuud.png
Jay Ruud
2017-12-10 21:42:44
2017-12-10 21:42:44
Firehouse Subs