Lady Bird
Greta Gerwig (2017)
I can't say I was dying to see this movie, which as far as I could tell was just another teen angst movie about a high school senior coming of age. Seems like I've seen something like that before—like in every other movie that gets made these days, unless it's a superhero movie intended to appeal mainly to those adolescents that all the other movies are about. But Greta Gerwig's Lady Bird turns out to be the year's best-reviewed movie, judging by the 100 percent rating it had on Rottentomatoes.com, at least up until this morning, when some curmudgeon seems to have finally taken aim at it after waking up on the wrong side of bed or something. And it was just nominated for three Golden Globes, including one for Best Motion Picture, Musical or Comedy. But with reviews like that, I figured I really needed to see it, and have been waiting patiently for three weeks for Cinemark to bring it to Conway. And of course, I'd still be waiting if I hadn't decided to see it in Little Rock. Cinemark hasn't seen fit to bring a single new movie (aside from the abominably reviewed Just Getting Started—9 percent on Rotten tomatoes) to Conway for those three weeks. So for Lady Bird—or Three Billboards Outside Ebbing, Missouri, or The Man Who Invented Christmas—you'll have to go to Little Rock. I suspect it will be the same with the Golden Globes' darling The Shape of Water when it finally arrives in this flyover state. Hey Cinemark, we've got 60,000 people and three colleges here, one of which has a graduate degree in film. I think there must might be an audience for actual decent movies here!
But I digress. This is Gerwig's first time alone in the director's seat, (she is credited with co-directing the indie Nights and Weekends with Joe Swanbeg in 2008). She's appeared in front of the camera in several films, including Noah Baumbach's Francis Ha and Mistress America, and she is credited with co-authoring the screenplays for those two films with Baumbach, but Lady Bird is her first solo credit as author of the screenplay. It's a screenplay based largely on Gerwig's own life: Gerwig was born in Sacramento, California, and attended an all-girl Catholic school. Her mother was a nurse and her father a loan officer in a credit union and a computer programmer. She came to New York to attend Barnard College upon graduation from high school. This film's protagonist, Christine McPherson, is a senior at Immaculate Heart high school in Sacramento in 2002, and she wants to make her friends and family call her "Lady Bird." When asked if "Lady Bird" is her given name, she declares, "It is my given name! It's a name I've given to myself." Oh, by the way, Christine also wants to shake the dust of Sacramento from her sandals and head for college in New York, or at least somewhere on the east coast.
Lady Bird is played with remarkable genuineness and dexterity by the very compelling Saoirse Ronan, who, at 23, is not far removed from the high school senior she plays, but she comes to the role with two Oscar nominations already in her back pocket (one for playing the Irish immigrant protagonist in 2015's Brooklyn and one for playing the young sister in Atonement), and this role may garner her another, as it has already earned her a Golden Globe nomination.
The film's plot is somewhat episodic, taking us through the ups and downs of Lady Bird's final year of high school: her audition for the fall musical, in which her best friend, the brilliant and witty Julie (Beanie Feldstein of Neighbors 2: Sorority Rising) gets the lead opposite her new crush Danny (a very sympathetic Lucas Hedges of Manchester by the Sea); her attempts to get into a private east coast college despite her mediocre performance in high school; her breakup with Danny and fling with the Howard Zinn-reading too-cool-for-school guitarist of a local rock band, played to smarmy perfection by Timothée Chalamet (who is nominated for his own golden Globe for Best Actor in this year's Call Me by Your Name); her subsequent dropping of the somewhat dowdy Julie in order to join the "cool kids" clique of which Kyle is a member, and her taking up with the school's reigning popularity queen, Jenna (Odeya Rush of Goosebumps), who's nice enough but shallow and dumb as a rock. And of course we wait to find out who Lady Bird is going to prom with and whether she gets in to that highly valued east coast school.
But what actually raises this film above the level of the genre is not the plot, which is pretty typical, nor the acting, which is not, but rather the treatment of the adult characters—those creatures from the other side of the Great Divide whose main purpose in films like this is usually to act as straight man to the jokes, or obstacles to the achievement of the New Society that the kids are striving for, or to act as impotent bystanders while the we-know-better kids save their world. But here the adults are real people who have lives and feelings of their own that do not simply revolve around the teenagers as the center of the universe. Veteran actress Lois Smith, whose film career dates back to East of Eden with James Dean in 1955, is wonderful as Sister Sarah Joan, the school's guidance counsellor, who thinks it's hilarious when Lady Bird puts a sign on her car saying "Just Married to Jesus." Stephen McKinley Henderson (Fences, Manchester by the Sea) plays Father Leviatch, the troubled director of the fall musical, leaves us aching to know what is troubling him, but it's not his story so we are not privileged to follow that thread. To some extent this is also true of Lady Bird's father, Larry (Tracy Letts of The Big Short and Elvis and Nixon), who is wildly sympathetic as Lady Bird's calm, philosophical, and indulgent parent, who helps her with her college applications behind her mother's back. Larry is unemployed and depressed and the family is struggling, and that backstory is, again, not up front in Lady Bird's consciousness, and therefore not something that the film delves deeply into. One of the movie's themes, apparently, is that every individual is the hero of his or her own story, and how unaware we are of those stories when we are caught up in our own egos—a condition particularly characteristic of, though not exclusive to, adolescence.
Most significantly, there is Lady Bird's mother Marion. Played by another veteran actress, Laurie Metcalf. Best known for her television work, particularly for her ten years as the sister on Roseanne, for which she won three Emmy awards, Metcalf has been nominated for a Golden Globe for this film, for playing a demanding, loving, frustrated and passive-aggressive mother to perfection. Like the other adult, she has a life of her own, a life troubled by overwork and financial worries. Marion's relationship with Lady Bird is truly the core of the film, providing the glue that holds the episodic school year together. Gerwig knows exactly what kind of power mothers can exert over daughters with passive-aggressive comments that prick at their psyches  and get them worked up like spurs in a horse's side, and Metcalf delivers the perfect tone and expression. This is the relationship that has to work itself out in the film, and I won't provide any spoilers about exactly how that happens.
Like another of this year's best movies, Three Billboards Outside Ebbing, Missouri, this film recognizes that life does not contain great moments of closure when all questions are answered and the participants' fates are settled. So don't expect a compete resolution. This is a film that rises to transcend its genre. I'm giving it three Tennysons and half a Shakespeare.
NOW AVAILABLE:
If you like these reviews, you might enjoy Jay Ruud's most recent novel, now available from the publisher at https://encirclepub.com/product/the-bleak-and-empty-sea/. Also available from Amazon or Barnes and Noble.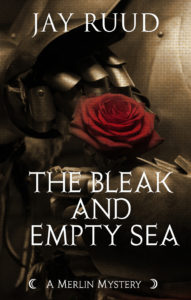 When word comes to Camelot that Sir Tristram has died in Brittany of wounds suffered in a skirmish, and that his longtime mistress, La Belle Isolde, Queen of Cornwall, has subsequently died herself of a broken heart, Queen Guinevere and her trusted lady Rosemounde immediately suspect that there is more to the story of the lovers' deaths than they are being told. It is up to Merlin and his faithful assistant, Gildas of Cornwall, to find the truth behind the myths and half-truths surrounding these untimely deaths. By the time they are finally able to uncover the truth, Gildas and Merlin have lost one companion and are in danger of losing their own lives.
Pre-order from Amazon here: https://www.amazon.com/Bleak-Empty-Sea-Tristram-Mystery/dp/1893035735/ref=sr_1_1?s=books&ie=UTF8&qid=1503328086&sr=1-1&keywords=Bleak+and+Empty+Sea
Pre-order from Barnes and Noble here: https://www.barnesandnoble.com/w/the-bleak-and-empty-sea-jay-ruud/1126958139?ean=9781893035737
Comments
comments
http://jayruud.com/wp-content/uploads/2017/12/MV5BMjQ5ODM5OGUtNzZmNi00MWVlLWFkOTctYzljYzYxY2QwYzU3XkEyXkFqcGdeQXVyNTAzMTY4MDA@._V1_.jpg
1080
1920
Jay Ruud
http://jayruud.com/wp-content/uploads/2014/08/JayRuud.png
Jay Ruud
2017-12-13 09:07:31
2017-12-13 09:07:31
Lady Bird