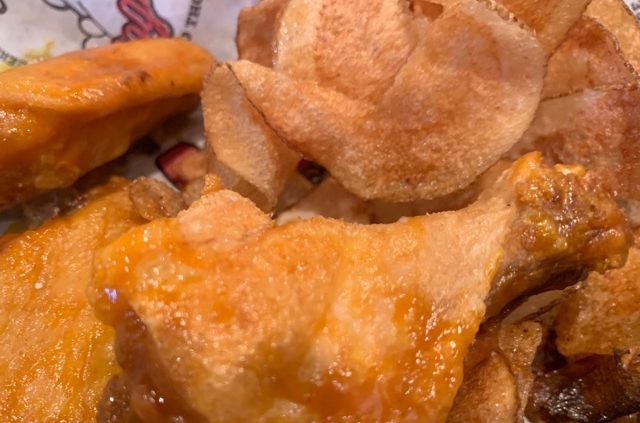 Review No. 154: Foghorn's
2310 Sanders Road
71.6 percent finished reviewing Conway restaurants
The Situation
She Said: One of our friends hipped us to this new restaurant on the Conway scene, so on a weekday, we arrived for lunch a little after 1 p.m. to try it out.
He Said: Foghorn's is in a location that has not proved especially fortuitous for previous restaurants—Outback moved from here to a more visible location on Oak Street. The nearby location which housed Ruby Tuesday's did not work out so well for that franchise. I suspect the fact that these restaurants are hidden away from areas of major traffic flow and, in fact, are difficult or inconvenient for Conwegians to find, might have something to do with this, but there are, if I'm counting right, five hotels back in this area, so Foghorn's might do fine just relying on the just-passing-through traffic from those places. Foghorn's is a Springdale-based restaurant and sports-bar chain with five locations in Northwest Arkansas. For their 15th anniversary, they decided to expand into central Arkansas and chose Conway as their first location here.
She Said: Yes, the Flatlandia in this neighborhood can be a bit challenging to navigate, especially if you see the sign from the freeway whilst traveling through.
Ambience:
She Said: As He Said mentioned, this restaurant is in the former home of the original Outback Steakhouse, and it has a cozy pub feel, with the dining area divided up so you don't feel like you're seated in a great stuff-your-face hall. There are a lot of televisions (even in the men's and women's rooms) so you can catch what you're interested in, or just not talk to each other if you happen to find yourself out and about without a personal screen to distract you. It's comfortable and relaxing as even with the televisions, it's not loud.
He Said: It definitely has a sports bar feel. And yes, they do have wide-screen TVs hanging on the wall in the restrooms, so that if you're watching a game, you don't have to worry about missing anything if you have to make a pit stop. So, they got that going for them.
Drinks
She Said: Foghorn's has a full bar, and while I was tempted to enjoy a gin and tonic or a glass of vino, I had a long afternoon of work ahead, so I chose an unsweetened iced tea instead. It was really good; tasty without being overly strong.
He Said: They have Pepsi products here. So, Mountain Dew for me. It was a fountain drink with lots of ice, if you like that sort of thing.
Food
She Said: The menu is extensive with many choices of chicken wings (and 50 kinds of sauce!) and burgers, along with salads, etc., but I was in the mood for a burger and fries, so I chose the plain Foghorn's burger (no cheese) and home fries. This turned out to be a good fit for me, as the burger was tasty and satisfying without being too huge… just this no-frills serving was more than enough food for me for a mid-day meal. The burger comes with lettuce, tomato (no thanks!), onions and pickle and there is mayo on the table. While the burger was good, the fries were the stars of the show, with their perfect seasoning and crispiness. I would order this again.
I had one bite of the fried pie He Said chose for his dessert, and it was delicious. I love apple desserts, and this one was the real deal, with a flaky crust and lots of crisp-tender apples in the filling.
He Said: Yes Jones, you stole my thunder with your review of the fried pie, but it was quite good, as fried apple pie tends to be. I wouldn't call it better than the Fried Pie shop on Harkrider, but it will do.
The same can probably be said about the wings: I had six regular wings with the "gold" sauce (as She Said said, they have fifty sauces to choose from here). The "gold" was  combination of mustard and a sweet smoky barbecue sauce. The wings were fine, though I can't say they were any better than other wing places in town. The advantage here is the variety of sauces and rubs, I would think. You're bound to find something that you like here. The real stars of the show, though, were the home-made potato chips that I ordered with the meal (She Said was getting the fries, so I thought I'd try something different). These were like potato candy—I could have eaten about a ton of them. In the interest of full disclosure, though, I need to mention that I had a bit of a stomach pain a few hours after lunch, due, I'm pretty sure, from all the fried food I'd eaten here. So, you might keep in mind that most things here are fried.
The appetizer I ordered—the chips and salsa—was nothing to write home about. Personally, I like salsa that is mild and heavily flavored toward the tomato side. I asked the server if the salsa was hot, and she answered honestly that she had never had it (the place has only been open for a couple of weeks, so that's understandable), but she had a customer who told her that he wouldn't call it hot. Well, turns out that customer was lying—though I suspect he was probably flirting with her, trying to show her how manly he was by convincing her that nothing was too hot for a he-man like him. Not sure how that worked out for him, but in fact, the sauce was rather hot (not terrible, but hot enough) and not tomato-ey at all. All I could taste was hot and maybe a little pepper. I wouldn't recommend it. The chips, on the other hand, were really good! Light and crispy. I'd get them again with some other kind of sauce, like a cheese or guacamole (neither of which my pancreas will let me eat but you would probably be fine).
Service
She Said: Our server was prompt and attentive, professional and cheery, and for a new restaurant, this is definitely appreciated.
He Said: She was quite perky and just attentive enough. Gold star for the server.
What We Got and What We Paid: One chips and salsa appetizer, one 6-piece traditional wings with Gold sauce, one Foghorn's burger with a small fries, one apple fried pie and one iced tea for $34.14.
Elapsed Time from Our Arrival to Food Arrival:22 minutes from arrival to entrees.
Rating:
She Said: Foghorn's is a solid player in the pub/sports-bar scene in Conway, especially on the potatoes side.
He Said: Fried potatoes and fried pie are your friends here. If you have trouble digesting the fried stuff, you probably need to be careful at Foghorn's.
Is Foghorn's Good At What It's Good For? They may not be the best wings in town, but the burger is solid and the potatoes really shine, and as a pub, it's got great service and a relaxed vibe.
Just named a finalist for the INDIE award for best Mystery novel of the year:
Jay Ruud's most recent novel, Lost in the Quagmire: The Quest of the Grail, IS NOW a finalist for this year's INDIE award for books by independent publishers. You can order your copy direct from the publisher (Encircle Press) at http://encirclepub.com/product/lost-in-the-quagmire/You can also order an electronic version from Smashwords at https://www.smashwords.com/books/view/814922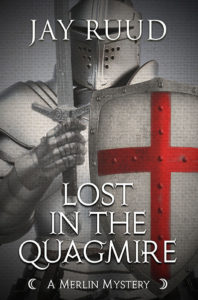 When Sir Galahad arrives in Camelot to fulfill his destiny, the presence of Lancelot's illegitimate son disturbs Queen Guinevere. But the young knight's vision of the Holy Grail at Pentecost inspires the entire fellowship of the Round Table to rush off in quest of Christendom's most holy relic. But as the quest gets under way, Sir Gawain and Sir Ywain are both seriously wounded, and Sir Safer and Sir Ironside are killed by a mysterious White Knight, who claims to impose rules upon the quest. And this is just the beginning. When knight after knight turns up dead or gravely wounded, sometimes at the hands of their fellow knights, Gildas and Merlin begin to suspect some sinister force behind the Grail madness, bent on nothing less than the destruction of Arthur and his table. They begin their own quest: to find the conspirator or conspirators behind the deaths of Arthur's good knights. Is it the king's enigmatic sister Morgan la Fay? Could it be Arthur's own bastard Sir Mordred, hoping to seize the throne for himself? Or is it some darker, older grievance against the king that cries out for vengeance? Before Merlin and Gildas are through, they are destined to lose a number of close comrades, and Gildas finds himself finally forced to prove his worth as a potential knight, facing down an armed and mounted enemy with nothing less than the lives of Merlin and his master Sir Gareth at stake.
Order from Amazon here: https://www.amazon.com/Lost-Quagmire-Quest-Merlin-Mystery/dp/1948338122
Order from Barnes and Noble here: https://www.barnesandnoble.com/w/lost-in-the-quagmire-jay-ruud/1128692499?ean=9781948338127
Comments
comments
http://jayruud.com/wp-content/uploads/2019/04/IMG_4441-1.jpg
432
640
Jay Ruud
http://jayruud.com/wp-content/uploads/2014/08/JayRuud.png
Jay Ruud
2019-04-29 11:27:13
2019-04-29 11:27:13
Foghorn's