Review No. 99: Golden Corral        
814 East Oak Street
50.5 percent finished reviewing Conway restaurants
(501) 327-2469
The Situation
She Said: I was on my way back from Pilates in Little Rock and was feeling pretty hungry. I've driven by Golden Corral daily since it opened, so I decided He Said should meet me there and we would finally try it out. Please note, dear reader, that I usually avoid buffet restaurants: If I'm going to pay to go out, I want to be waited on and have the food made for my plate (within reason). I don't eat a lot, so I prefer small dishes, deliciously flavored, freshly prepared from whole foods, to the all-you-can-eat presentation. Just know: I'm not Golden Corral's target market.
He Said: Neither, for that matter, am I, since there are such a great number of foods that I need to avoid or be very careful of, as I attempt to stay within my restrictive diet of 50-60 fat grams a day. I need to avoid eating large portions, fried foods and red meat, among other things. But the good thing about a place like the Golden Corral is that it has a huge variety, so I was confident I could find something to eat here.
Ambience:
She Said: I had a strong negative impression of the environment from the moment we walked in. I had never eaten at a Golden Corral before, so I was a little confused by the set up that shoots you into the drinks line and right at the cashier before you even get near the seating or food. They really want to nail down that commitment from you before you get to look at the buffet! It's not a welcoming scenario, however. The dining rooms are attractive, and I like all the plate colors, but the oppressive industrial hum emanating from the kitchens on par with David Lynch's Eraserhead got to me while we ate; I never got used to it, and it just seemed to grow louder and louder while we dined.
He Said:  It reminded me a lot of my old high school cafeteria inside. I can't say I had quite the negative reaction that She Said had, but it was not the most comfortable setting ever.
I would like to say something here about the experience of first coming into The Golden Corral. If you have never been here before, it can be a bit disconcerting—it's not particularly clear what it is you're supposed to do. You sort of figure it out for yourself—you get your drink first, and then take a tray, and then there's someone at a cash register that takes your money before you've ever seen what things are like on the inside. It could be a little more user-friendly for neophytes.
Drinks
She Said: I had an unsweetened iced tea and coffee with cream. The tea was a little weak, I thought. The coffee was good in the diner-coffee category.
He Said: They had Coke products as fountain drinks, and I got myself a Barq's root beer, which was perfectly fine root-beer wise.
Food
She Said: There is a great deal of variety on offer at Golden Corral, and if you're not sure what you're craving, this is the place for you! I was trying not to go too crazy after recently losing some vacation weight, but I wanted to try a variety of my favorite foods. I had golden roast chicken, fried catfish, steak fries, Brussels sprouts, baked beans and a roll for my first round. I was, as always, interested in the pizza, but the crust was a little thick for me, so I abstained. I also like shrimp, but what I saw on the buffet was fried, and I think it tastes better grilled. And so the process went for me, ducking in to each area—breakfast, burgers, salads, fish, etc.—and making choices of what to try. There was so much, I wanted to create the best plate I could.
For the most part, I chose well. The roast chicken was really tender and flavorful, and I found some dark meat in the tray to hunt and gather. I do really enjoy fried catfish, so I took one good-sized piece of that with tartare sauce, and that was also quite rewarding, with the mild meat well complemented with the crispy breading and tangy sauce. With light and flaky insides, the steak fries were appropriately crispy and a good size. The baked beans delivered the sweet and tangy flavors I hope for, and the roll had a slightly sweet glaze and made the simple carb investment worth it (well, until I got on the scale the next morning). The weak link here was the Brussels sprouts. I love these little pods of veggie goodness when I make them at home, but these were far too mushy and bland. I'll skip them next time.
I made another pass at the buffet after I finished this plate, thinking I would try other dishes that looked good, but I was getting full, so I made a strategic decision to go for the dessert bar before it was too late. After waiting in line behind several other patrons helping themselves to the many cakes, pies and cookies displayed (it would have moved faster if one of the women hadn't gotten to the head of the line and then paused for several minutes to check her phone and type on it while the rest of her us waited behind her), I took a nice piece of red velvet cake with thick, creamy icing. This was very good. The frosting was so sweet, it hurt my teeth, which is basically its one job. I couldn't finish the cake due to the amount of food I'd already eaten, but it was well worth the attempt.
He Said:  Without a doubt, if you can't find something you like here, you're not trying. Virtually every conceivable kind of food you might expect at an American buffet seemed to be on display here. I started with the salad bar, which I figured couldn't possibly be a problem for my low-fat diet. You can choose from at least three kinds of greens to mix as I did. Cucumbers, broccoli, cauliflower, tomatoes, beets, shredded cheese, croutons, etc. etc. etc. are all available, plus a number of kinds of dressing, so you can start off with a salad made to order.
I found smoked chicken, which turned out to be quite good and low in fat, plus I had some baked fish, though they didn't identify what kind of fish it was. I suspect it was catfish. But both these choices were flavorful and worthwhile. Sides abounded: I had baked beans, which were very good here, some Spanish rice, which was okay, and Brussels sprouts, which I rather liked, being more a fan of mushy than She Said. I also went for dessert, and had a delicious frosted brownie. All in all, I was pleasantly surprised by both the variety of choices here and the quality of the choices I did get.
Service
She Said: There's a hybrid model of service here, because you serve yourself at the buffet, but you have a designated waiter or waitress, who leaves you his or her card and checks on you and chats to you. Ours brought us refills and napkins, and another server, Mike, checked on us as well and told us about Golden Corral's weekend breakfast service and prime rib when he found out we were new to the restaurant. All staff were very friendly and helpful.
This does provoke an interesting quandary for diners, though: To tip or not to tip? Now, dear readers, I almost always tip in restaurants when I have the chance, even for take-out, because I know that restaurant staff are not paid very well and rely on tips as payment for their hard work dealing with the public. But I imagine some people may not think it's necessary in buffets. We left a tip that was around the usual size tip for a meal of that price even though we served ourselves because we had a lot of attention from the wait staff.
He Said: Yes, the servers were pretty attentive. But it is an odd model. Of course the servers must expect tips, and you can be virtually certain that, like all American restaurants, they are paid very little it being assumed by management that servers will make money on tips. But do you tip as much as you would when the server actually brings you the meal?
What We Got and What We Paid: Two drinks and two "all you can eat" buffet lunches for $24.99.
Elapsed Time from Our Arrival to Food Arrival: 7 minutes.
Rating
She Said: The food is good, the variety is outstanding and the service is great. But if you're sensitive to noise, you won't have a pleasant experience unless you can sit far away from the buffet in a closed room of the restaurant or you blast your earbuds with some dramatic Tchaikovsky.
He Said: If you enjoy buffets, you'll probably like the Golden Corral. If you don't like the cafeteria feeling maybe you won't like it as much. I expect I'll be back.
So… He Said and She Said: Go here for all-you-can eat goodness and friendly faces, but take noise-blocking headphones.  
NOW AVAILABLE:
If you like these reviews, you might enjoy Jay Ruud's most recent novel, now available from the publisher at https://encirclepub.com/product/the-bleak-and-empty-sea/. Also available from Amazon or Barnes and Noble.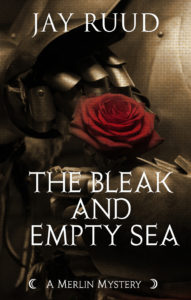 When word comes to Camelot that Sir Tristram has died in Brittany of wounds suffered in a skirmish, and that his longtime mistress, La Belle Isolde, Queen of Cornwall, has subsequently died herself of a broken heart, Queen Guinevere and her trusted lady Rosemounde immediately suspect that there is more to the story of the lovers' deaths than they are being told. It is up to Merlin and his faithful assistant, Gildas of Cornwall, to find the truth behind the myths and half-truths surrounding these untimely deaths. By the time they are finally able to uncover the truth, Gildas and Merlin have lost one companion and are in danger of losing their own lives.
Order from Amazon here: https://www.amazon.com/Bleak-Empty-Sea-Tristram-Mystery/dp/1893035735/ref=sr_1_1?s=books&ie=UTF8&qid=1503328086&sr=1-1&keywords=Bleak+and+Empty+Sea
Order from Barnes and Noble here: https://www.barnesandnoble.com/w/the-bleak-and-empty-sea-jay-ruud/1126958139?ean=9781893035737
Comments
comments
http://jayruud.com/wp-content/uploads/2018/03/IMG_8617.jpg
3024
4032
Jay Ruud
http://jayruud.com/wp-content/uploads/2014/08/JayRuud.png
Jay Ruud
2018-03-18 17:48:33
2018-03-18 17:48:33
Golden Corral