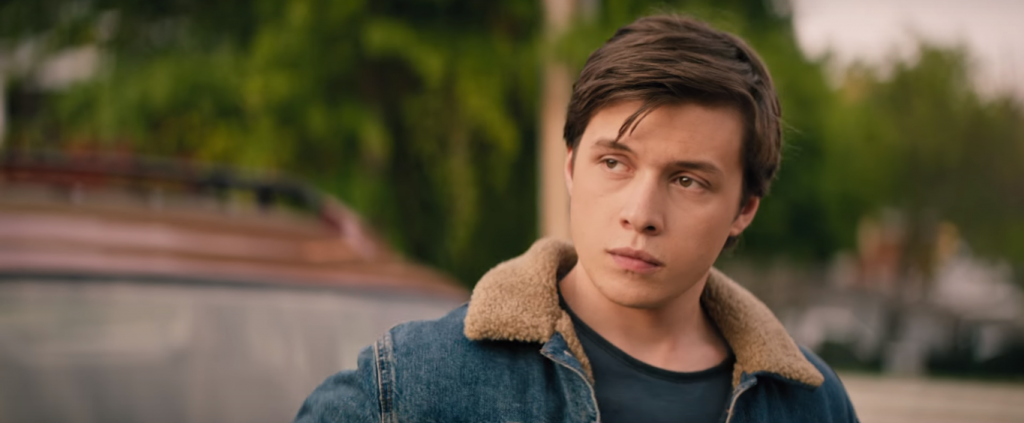 Love, Simon
Greg Berlanti (2018)
In a number of ways, the new teenage coming-of-age movie Love, Simon is a traditional comic story. No, it's not laugh-out-loud funny with crazy over-the-top high-jinks, which is what Hollywood generally thinks has to be in a comedy, but it is a story that conforms to the comic pattern in which a pair of young lovers are trying to get together but are blocked by some obstacle that stands in the way of their happiness. The "old society" in which the lovers live is governed by an older generation of figures intent on keeping the lovers apart. A reversal, often an unlooked for one, enables the lovers to overcome the obstacle and get together to form a new society, free from the constraints of the old one. The blocking figures can either be incorporated into the new society, like the Duke's brother at the end of As You Like It (or Jennifer Grey in Ferris Buhler's Day Off); or they can be expelled or rejected, like Malvolio at the end of Twelfth Night (or, well, Jeffrey Jones in Ferris Buhler's Day Off). Love, Simon has all of these features. But it also has a twist. The lovers are gay high-school-aged boys, and the obstacle is whether to "come out" to their parents and friends.
That last bit doesn't seem particularly new in the current climate—we've seen the topic in more serious recent indie films like Moonlight and Call Me By Your Name, and it's pretty commonplace to see such themes on television, so it may be something of a shock to learn that Love, Simon is actually the very first mainstream studio film to feature a closeted gay teenager as its protagonist. It took a veteran successful TV director, Greg Berlanti (Riverdale, Supergirl, The Flash) and TV screenwriters Elizabeth Berger and Isaac Aptaker (This Is Us) to bring Becky Albertalli's young adult novel Simon vs. the Homo Sapiens Agenda to the big screen for 20th Century Fox.
And Love, Simon has something of the feel of a modern TV romcom. Or perhaps of an updated John Hughes film from the '80s. Protagonist Simon Spier (Nick Robinson of Jurassic World) lives in a very John Hughes-ish family. His mother Emily (Jennifer Garner, who made her name on TV's Alias) is a therapist, and his father Jack (Josh Duhamel, a veteran of three different TV series plus the Stephen King based miniseries 11-22-63) live in an upscale Atlanta neighborhood with younger sister Nora (Talitha Bateman, another veteran of a number of TV movies and the series Hart of Dixie) who is close to her older brother and dreams of being a great chef sometimes to her family's gustatorial dismay. Simon is a senior in high school, counting down the days to his graduation. He chauffeurs his friends to and from school: Leah (Katherine Langford of 13 Reasons Why), who has been his best friend since he was four years old; Nick (Jorge Lendeborg Jr. of Spiderman: Homecoming), a soccer aficionado whom Simon has known almost as long; and Abby (Alexandra Shipp of X-Men: Apocalypse), a new transfer from Washington, D.C., whom Nick is hot for but hasn't had the nerve to ask out yet. Over all this white-bread exposition comes Simon's voiceover confession: "I'm just like you," he says, only "I have a huge-ass secret.
That secret, of course, is his sexual orientation. At first it doesn't seem like it should be so difficult for Simon to come out: His therapist mother is certainly going to be understanding, and his friends are progressive and like him enough that it shouldn't be a problem for them. But Simon is chiefly concerned with his life changing, afraid that people will begin treating him differently, that he won't have the same identity as he did before he came out. He looks forward to college, when, along with all of the other changes in his life, he can come out with his new sexual identity. And certain things in his environment suggest that he may be correct in assuming that people will treat him differently: his own father casually refers to certain men as "fruity' more than once. The one student in his high school who actually has come out, Ethan (Clark Moore of TV's Glee), is subject to continual insulting cracks from some of his less evolved classmates. And so Simon keeps his mouth shut.
But Simon is finally able to come out anonymously in an online friendship with a classmate who calls himself "Blue" and who has the same "big-ass secret" that Simon does. The entire relationship develops through online exchanges between Simon, calling himself "Jacques," and the unidentified "Blue" as they bond over their difficulties and their trepidations about expressing their true selves, encouraging one another and, in Simon's case at least, developing a real human attachment. It's essentially the plot line of You've Got Mail updated and less straight. Simon spends much of the movie trying to figure out the secret identity of his cyber-crush Blue: is it the popular Bram (Keiynan Lonsdale), the Waffle House waiter Lyle (Joey Pollari), or maybe the musician Cal (Miles Heizer)? One by one, Simon imagines himself with each of these candidates, only to be disappointed.
Things take a downward turn when a serious complication crops up. Simon's fairly creepy fellow student Martin (Logan Miller, another television actor from The Walking Dead and the TV version of Guardians of the Galaxy), a sadly un-self-aware actor who inexplicably has the lead in the high-school's production of Cabaret, comes into possession of Simon's online conversations with Blue. Martin, who is secretly infatuated with Simon's new friend Abby, threatens to publish Simon's secrets to the whole school if Simon does set him up with Abby. His back against the wall, not ready to come out himself and unwilling to expose Blue to any sort of public humiliation, Simon helps Martin as best he can, effectively messing up his own friends' love lives in the process.
Needless to say, things work out as they have a way of doing in a comedy. And as in most comedies, the problems encountered are relatively harmless. The obstacles in the story are the products of foolishness and vice, not pure evil. Even Martin, the chief blocking figure of the story, is ultimately absorbed by the New Society. A few critics have seen this light touch as a flaw in the movie, I suppose in the belief that as a groundbreaking film, it needed to be tackling very important questions in a very serious manner. Instead it makes a gay adolescent romance seem to be normal in a normal, typical romcom. Which, in fact, really is something very important.
Robinson is incredibly likeable and appropriately nonthreatening in the title role, kind of blandly nice and a bit oblivious to some of his peers' struggles, like Ethan's daily insults, or Nick's crush on Abby, or most significantly Leah's own secret. And as Leah, Langford is natural, convincing and notably sympathetic in a supporting role. Miller is appropriately smarmy as the villainous Martin and is even able to garner some sympathy from the audience despite his essential weaselness. Among the adults, Garner and Duhamel don't have a lot to do, but they hold down the parental roles believably. More notable is Tony Hale (from TV's Arrested Development), who is comically memorable as the school's vice-principal who wants to be everyone's pal, and Natasha Rothwell (of TV's Insecure), who is hilarious and stands out as the frustrated drama teacher trying to pull off a production of Cabaret with the world's worst Master of Ceremonies.
Setting aside the movie's sociological importance, as a film it's a pretty entertaining if unconventional conventional romantic comedy, earning it a solid three Tennysons. I'd go see it if I were you.
NOW AVAILABLE:
If you like these reviews, you might enjoy Jay Ruud's most recent novel, now available from the publisher at https://encirclepub.com/product/the-bleak-and-empty-sea/. Also available from Amazon or Barnes and Noble.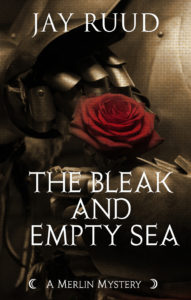 When word comes to Camelot that Sir Tristram has died in Brittany of wounds suffered in a skirmish, and that his longtime mistress, La Belle Isolde, Queen of Cornwall, has subsequently died herself of a broken heart, Queen Guinevere and her trusted lady Rosemounde immediately suspect that there is more to the story of the lovers' deaths than they are being told. It is up to Merlin and his faithful assistant, Gildas of Cornwall, to find the truth behind the myths and half-truths surrounding these untimely deaths. By the time they are finally able to uncover the truth, Gildas and Merlin have lost one companion and are in danger of losing their own lives.
Order from Amazon here: https://www.amazon.com/Bleak-Empty-Sea-Tristram-Mystery/dp/1893035735/ref=sr_1_1?s=books&ie=UTF8&qid=1503328086&sr=1-1&keywords=Bleak+and+Empty+Sea
Order from Barnes and Noble here: https://www.barnesandnoble.com/w/the-bleak-and-empty-sea-jay-ruud/1126958139?ean=9781893035737
Comments
comments
http://jayruud.com/wp-content/uploads/2018/03/love-simon-trailer-1024x425.png
425
1024
Jay Ruud
http://jayruud.com/wp-content/uploads/2014/08/JayRuud.png
Jay Ruud
2018-03-21 08:21:08
2018-03-21 08:21:08
Love, Simon