Review #91: Hog Pen BBQ
800 Walnut St,
46.2 percent finished reviewing Conway restaurants
(501) 327-5177
The Situation
He Said: There are almost as many barbecue places in Conway as there are Mexican restaurants (and, as I have occasionally pointed out very subtly in the past, there are an awful lot of those). But this particular one has been around for awhile, and we had heard some good word of mouth about it, but when we had tried to come here for lunch another time, we were denied. So here's an important tip about the Hog Pen: They are only open limited hours—11 a.m. to 8 p.m. on
Thursday, Friday and Saturday. I mention this here because you will not find the hours listed on their Website though they are listed on Yelp. So, if you don't want to get there and find the place closed, you might want to keep these times in mind. And here's important tip No. 2: They do not accept credit cards, so be sure you have cash or a checkbook (if you still carry such things) to pay for your meal. And tip No. 3: It's a little hard to find, on Walnut Street, which is a block east of Harkrider, just south of Hendrix.
She Said: Yes, all of these tips are good advice, especially since I drove to Hog Pen earlier in the week just to read its hours of operation on the door, where I also noticed the cash-or-check policy. Knowing that this place was on our short list, I abstained from other treats all week in order to fully enjoy what they had to offer, because dining on southern barbecue is not a calorie-lean activity.
Ambience:
He Said: The dining area looks like an old-time country diner, but cleaned up and tidy instead of kind of run-down chic. Anyway that's how it struck me. It was comfortable at any rate. They seemed to be doing a decent business but my impression was there were a lot of regulars eating there, so there was a kind of family feel to the place. This may be why neither the hours nor the "no credit card" policy appear online anywhere that I could see: Perhaps the attitude is that anybody who needs to know these things already knows them.
She Said: I thought the décor was "tidy dive," as it was a little dark, with some cute signage, etc., but it was all very neat and clean. It's a small dining area and very cozy. It might be a little too cozy if you've got a Loudy McLouderson sitting near you, as we did for a little bit, but it was homey and comfortable over all.
Drinks
He Said: Okay, so we both originally ordered unsweetened iced tea. The waitress brought us sweet tea, and at that point I changed my order to Mountain Dew. Which was fine.
She Said: I stuck with unsweetened tea, and it was tasty and light and went well with my heavy meal.
Food
He Said: I ordered the interesting sounding twice-cooked chicken dinner, which was smoked chicken that was then fried. This came with two sides, and I picked the baked beans and hush puppies. A delay in the order (see the "Service" section) had given me time to rethink my selections, and I had been thinking that the fried chicken plus fried hush puppies might be more fried stuff at one time than my pancreas could handle, so I switched to green beans instead of hush puppies. Yes, I was having beans with my beans.
Let me say first that the baked beans were to die for. I would probably rank these as the best baked beans in Conway—so surprisingly sweet and tangy that I wished there were more. The green beans were good, but were pretty basic green beans.
The chicken though, tasted as interesting as it sounded. It was not at all greasy—I assumed the smokng made it drier than it typically would have been if it were just fried. But the combination of the smoked interior flavor and the fried skin was really quite delicious. There were four pieces of chicken—wing, leg, thigh and breast—and I thought the dark meat was particularly tasty, being a bit more "undry" (my wife is making me use that word, since she cannot tolerate the "m" word.)
Because of the long wait for the meal, Hog Pen also threw in a free dessert, and we opted for a piece of chocolate cake. We shared a piece that was too big for even the two of us to finish. It would have been delicious melt-in-your mouth chocolate even without the frosting, but that chocolate frosting made my eyes roll back in my head.
She Said: I always peruse the menu at barbecue joints because, you never know, maybe I'll happen upon something like twice-cooked chicken that will change my life. But in the end my order is a done deal before I even roll up to the parking lot: a pulled pork sandwich, sides negotiable. And that's what I had at the Hog Pen. The sandwich comes with their sauce already on the meat, and it is tangy and tasty, not too hot or spicy, not too much and not too little. The meat itself is very tender and flavorful, so it doesn't need a ton of dressing up. I also opted for coleslaw in the sandwich, which makes a delightful mix of textures and tangs. The bun was not really up to the sandwich, as it was pretty soft, so I ate the whole thing with a knife and fork (I might suggest a heftier bun, but it's not a deal-breaker).
For my side dish, I chose the sour-cream potato salad (they also offer this mustard-based), which was also delightful, and wasn't too big of a portion (because I was practically licking the dish it came in, so it was for my own good that Hog Pen kept it real). I couldn't finish all of the sandwich, but I ate every molecule of that potato salad.
The cake was rich and sweet—I could feel the sugar on my teeth, but I'm not complaining. I wouldn't call it a piece of cake, I would call it a cake. It certainly hit the spot after the tasty, tangy flavors of our meals.
Service
He Said: Well, we waited for an unusually long time for our food and noticed that several people who had come in after us were all getting their meals, but we were not. I didn't see our waitress, but another server noticed we had been sitting for some time and had no food and asked us what we had ordered. We told her, and she checked and said that apparently they had lost the ticket. So she took our order again, and told us we'd have the meal on the house.
Well, I already mentioned that the drinks were wrong to begin with and then the ticket was lost. I did think that it said something positive that we did not have to complain about not getting our food, and that one of the restaurant employees noticed and did everything possible to make it right. So…there was good and bad in the service area.
She Said: I saw a sign on the wall that said the Hog Pen was not fast food and that making our dinners would take at least 15 minutes. I was really hungry, so I thought maybe I was just too hungry to judge the time right as the minutes ticked by, but when we saw neighboring tables getting their food and finishing their meals before ours arrived when they had been seated after us, I accused He Said of holding us up with his "twice-cooked chicken" order. We understand that mistakes happen in restaurants, and as we didn't even have to ask about or food or pay for it, I felt the restaurant went above and beyond in making the snafus up to us that night.
What We Got and What We Paid: One pulled pork sandwich with a side of potato salad, one double-cooked chicken dinner with sides of baked beans and green beans, one unsweetened iced tea and one Mountain Dew, and one large piece of chocolate cake. For all of which we paid nothing, which was very nice but not what you can expect. I believe that if we had gotten the check, this meal would have cost us around $22.
Elapsed Time from Our Arrival to Food Arrival: 40 minutes.
Rating
He Said: Despite some discouraging things (like the limited open hours, the cash-or-check only policy), this pace is well worth a visit because the food itself is delicious.
She Said: This might be my personal favorite barbecue restaurant in Conway. The food was delicious, the owner came around to say hi, and the service was excellent and made up for a mistake in the beginning.
So… He Said and She Said: Put this on your barbecue rotation, especially if you're going to crave some on a Thursday, Friday or Saturday.
NOW AVAILABLE:
If you like these reviews, you might enjoy Jay Ruud's most recent novel, now available from the publisher at https://encirclepub.com/product/the-bleak-and-empty-sea/. Also available from Amazon or Barnes and Noble.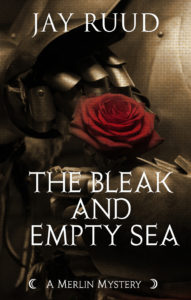 When word comes to Camelot that Sir Tristram has died in Brittany of wounds suffered in a skirmish, and that his longtime mistress, La Belle Isolde, Queen of Cornwall, has subsequently died herself of a broken heart, Queen Guinevere and her trusted lady Rosemounde immediately suspect that there is more to the story of the lovers' deaths than they are being told. It is up to Merlin and his faithful assistant, Gildas of Cornwall, to find the truth behind the myths and half-truths surrounding these untimely deaths. By the time they are finally able to uncover the truth, Gildas and Merlin have lost one companion and are in danger of losing their own lives.
Order from Amazon here: https://www.amazon.com/Bleak-Empty-Sea-Tristram-Mystery/dp/1893035735/ref=sr_1_1?s=books&ie=UTF8&qid=1503328086&sr=1-1&keywords=Bleak+and+Empty+Sea
Order from Barnes and Noble here: https://www.barnesandnoble.com/w/the-bleak-and-empty-sea-jay-ruud/1126958139?ean=9781893035737
Comments
comments
http://jayruud.com/wp-content/uploads/2018/01/IMG_6951.jpg
3024
4032
Jay Ruud
http://jayruud.com/wp-content/uploads/2014/08/JayRuud.png
Jay Ruud
2018-01-18 14:30:39
2018-01-18 14:30:39
Hog Pen BBQ