Review No. 89: IHOP
1161 Old Morrilton Hwy
(501) 764-4467
45.7 percent finished reviewing Conway restaurants
The Situation
He Said: It was a Friday morning, and one that promised a day of great things, as neither of us actually had to go to work. Great vistas of free time were beginning to open before me when suddenly She said: "Let's go out to breakfast! We need to review IHOP sometime anyway!" And thus the day began to fill up.
IHOP has been around for quite awhile—in 2018 they will be celebrating their 60th anniversary as a company that serves breakfast any time of day you might want it. They are the definition of a restaurant chain: As of 2015 IHOP had a total of 1,650 restaurants in all 50 states as well as Washington D.C., Puerto Rico, the Virgin Islands, and as the International House of Pancakes, in Canada, Mexico, Guatemala, the Philippines, Kuwait, Saudi Arabia, Bahrain, and the UAE also. IHOP is also a socially-conscious corporation that gives back to the community, tries to treat its employees fairly, and shows concern for the environment.
She Said: That's good to know about IHOP. I was pretty focused on eating down a cold before we bounced to Europe for the holidays, so I was looking for delicious calories. IHOP is a good delivery device for caloric intake, so when I woke up still sniffling, I knew what needed to be done.
Ambience:
He Said: The IHOP in Conway is roomy and fairly comfortable, at least as these kinds of chains go. It kind of looks like any other IHOP I've been in anywhere else.
She Said: I particularly enjoyed it on this visit because the restaurant was decorated for the holidays and felt very festive. Everyone we talked to was friendly, and we felt welcomed and relaxed.
Drinks
He Said: It was breakfast, so, orange juice. I can't imagine it was fresh squeezed here, but it did have pulp in it, which I avoided by sipping it through a straw.
She Said: The coffee is okay, pretty strong, though not too rich. It can, at least, stand up to a little cream.
Food
He Said: A place like this is sure to have all kinds of landmines for my low-fat diet, including eggs and bacon, fried hash browns, buttermilk pancakes with, say, pecans and chocolate, and whipped cream. The country fried steak and eggs, with sausage gravy and two scrambled eggs here would give you—hold on to your bloomers, Mabel—1,760 total calories and a whopping 117 grams of fat, or about what my diet allows me in two complete days of eating, i.e., six meals.
So I thought I'd be careful and check things out before making an uninformed mistake at the restaurant itself, and checked the online nutritional information for IHOP. There is a "simple and fit two-egg breakfast" on the menu, which consists of two scrambled egg whites, two strips of turkey bacon, some whole wheat toast and some mixed fruit. This choice has only about 400 calories and a mere 10 grams of fat, and would be perfect for me. But I was feeling a bit adventurous, and besides, this was the International House of Pancakes, wasn't it? Dang it! If I was coming here, I wanted pancakes.
Turns out there are only 14 grams of fat in the original buttermilk pancakes at IHOP, and most of the pancake choices aren't bad, if you have only two. Only the harvest grain and nut pancakes are a little dangerous, with 29 grams of fat, and that mainly from the nuts, which are sneaky in their fat content. The blueberry pancakes, or the strawberry-banana pancakes, have only 8 fat grams in a short stack of two. I went for the strawberry banana ones and never looked back. I decided to combine these with scrambled egg whites and hash browns, and then splurged with two slices of turkey bacon. Even with all this tasty goodness, my breakfast came in at perhaps 35 grams of fat altogether, and I could skip the rest of the day.
The strawberry banana pancakes were delicious, and I smothered them with syrup, which has plenty of sugar, of course, but no fat. The eggs were fluffy and light and the turkey bacon was not real bacon but tasted enough like it to satisfy my craving. It probably could have been slightly crispier. The hash browns were not particularly crispy, but that's because they weren't deep fried and so were healthier. And they were very tasty as well. Overall, it was a very satisfying breakfast, and didn't threaten to overwhelm my pancreas.
She Said: I like the variety of pancake foods IHOP offers—I usually have a few minutes of being frozen with choice when perusing the menu. But I always alight on the crepes (because I make tastier pancakes at home with spelt and buckwheat flour). I chose the Swedish crepes because they aren't too loaded with sweets (though the Nutella and banana crepes looked pretty appealing, as well). I asked for a side of eggs, and the waitress suggested I order the combo, which came with eggs, bacon and hash browns, and I agreed with her strategic counsel. These crepes are light, with lingonberries and lingonberry butter, without any other distractions. I don't put syrup on them, just spread the fruit about and enjoy.
The eggs were over easy and perfectly fried, and I'm always a fan of IHOP hash browns, which are crispy brown on top and softy and salty underneath. I wasn't a fan of the bacon. I didn't think I had to ask for turkey bacon to be crispy, but apparently, I should have. It was wilted and unenjoyable. I didn't eat more than a bite of it.
Service
He Said: Service was friendly, prompt and competent. The server did not even blanch when I give my rather complex low-fat order. So good marks for service.
She Said: Yes, the gentleman who seated us was friendly, and our waitress was very helpful and knowledgeable of menu options.
What We Got and What We Paid: One coffee; one large orange juice; one pancake combo with strawberry-banana pancakes, scrambled egg whites, hash browns and turkey bacon; and one crepe combo, all for $23.33 including tax but not including tip.
Elapsed Time from Our Arrival to Food Arrival: 24 minutes
Rating
He Said: A quick breakfast or brunch any time of the day, with a huge variety of choices and decent food.
She Said: A reliable breakfast for dinner or any other meal of the day restaurant, with friendly service and a relaxed vibe.
So… He Said and She Said: Go here for tons of breakfast options that are consistently tasty and served in a friendly atmosphere.
NOW AVAILABLE:
If you like these reviews, you might enjoy Jay Ruud's most recent novel, now available from the publisher at https://encirclepub.com/product/the-bleak-and-empty-sea/. Also available from Amazon or Barnes and Noble.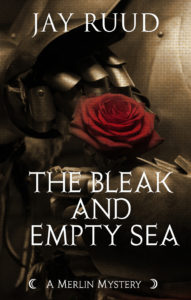 When word comes to Camelot that Sir Tristram has died in Brittany of wounds suffered in a skirmish, and that his longtime mistress, La Belle Isolde, Queen of Cornwall, has subsequently died herself of a broken heart, Queen Guinevere and her trusted lady Rosemounde immediately suspect that there is more to the story of the lovers' deaths than they are being told. It is up to Merlin and his faithful assistant, Gildas of Cornwall, to find the truth behind the myths and half-truths surrounding these untimely deaths. By the time they are finally able to uncover the truth, Gildas and Merlin have lost one companion and are in danger of losing their own lives.
Order from Amazon here: https://www.amazon.com/Bleak-Empty-Sea-Tristram-Mystery/dp/1893035735/ref=sr_1_1?s=books&ie=UTF8&qid=1503328086&sr=1-1&keywords=Bleak+and+Empty+Sea
Order from Barnes and Noble here: https://www.barnesandnoble.com/w/the-bleak-and-empty-sea-jay-ruud/1126958139?ean=9781893035737
Comments
comments
http://jayruud.com/wp-content/uploads/2018/01/IMG_4081.jpg
3024
4032
Jay Ruud
http://jayruud.com/wp-content/uploads/2014/08/JayRuud.png
Jay Ruud
2018-01-07 12:06:39
2018-01-07 12:06:39
International House of Pancakes