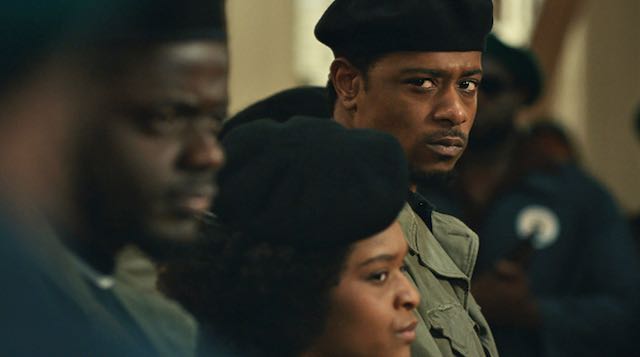 Judas and the Black Messiah
Shaka King (2020)
Facts for You:
Where to Watch: Rentable on Prime Video ($20), Vudu, Fandango Now
Length: 2 hour 6 minutes
Rating: R (Violence/Language)
Names You Might Know: Daniel Kaluuya, Lakeith Stanfield, Jesse Plemons, Martin Sheen
Language: English
He Said: The promoters and distributers of this film have done some strange things lately, not the least of which was removing it from streaming sites immediately after its six Oscar nominations. After an absence of a couple of weeks, the film returned to streaming venues two weeks ago, so we were able to catch it finally.
The other crazy thing they did—or perhaps it was the Academy itself—was to have the film's two lead actors, Daniel Kaluuya and Lakeith Stanfield—both nominated for Best Actor in a Supporting Role. Truly puzzled, I've got to ask—if these two guys are in supporting roles, who's the lead actor in the movie? J. Edgar Hoover? All I can guess is that they didn't want either of these actors to have to compete with the virtual lock for this year's Best Actor Oscar, Chadwick Boseman. But…that means they have to compete against each other. What sense does that make?
Anyway, Kaluuya has already won the Golden Globe, the BAFTA, and the Screen Actors' Guild awards in this category, so I'd say he's a good bet to take home the Oscar for his portrayal of Fred Hampton, Chairman of the Chicago chapter of the Black Panther Party in the late 1960s. Hampton, a sympathetic social activist whose Panthers sponsor free breakfasts for children and neighborhood clinics, and a charismatic political leader who is both an inspirational speaker and a canny politician who seeks to unite the Panthers with more violent Chicago gangs of Blacks, Puerto Ricans, and disenfranchised working class "rednecks."
But as far as the FBI is concerned in 1968, the Black Panthers are the greatest current threat to America—greater than Red China or the Soviet Union. At least that is the pronouncement of director J. Edgar Hoover, played convincingly in a creepy cameo by Martin Sheen. And so when Stanfield's character, a petty car thief named William O'Neal, is busted for impersonating an FBI agent in order to steal a car ("A badge," he says, "is scarier than a gun"), he is recruited by the real FBI to join the local Black Panthers and become an informant against Hampton—his other option being a long prison sentence.
His FBI recruiter and handler, Roy Mitchell (Jesse Plemons) is a veteran agent who has been involved in actions against the Klan in Mississippi, though under Hoover's influence, he believes the Panthers to be the African American equivalent of the KKK. And the essentially apolitical O'Neal begins his assignment convinced he is taking the better path. As he gets to know Hampton, however, he falls more and more under the Chairman's spell, so that when a disguised Mitchell attends a rally, he observes O'Neal hanging on Hampton's every word, and reflects "Either this guy deserves an Academy Award or he believes this shit."
The last time Stanfield and Kaluuya appeared together was in a little thing called Get Out! This is a much different movie—it certainly doesn't have the campy humor nor the popular appeal of the horror story, but it's a straight historical drama. But both actors here turn in impressive performances that help push this film into a deserved Best Picture category. Do you agree Jones?
She Said: I thought it was riveting, and I went into it knowing almost nothing about the movie and not really sure I wanted to watch it—sometimes Oscar nominees can be "good-for-you" movies. From my own recent reading of Angela Davis's Women, Race and Class, I knew more about the Black Panthers' community-building efforts. And of course we know that systemic racism in the United States produces organizations that fear and fight Black communities and their efforts to combat the destabilizing effects of racism among their people. I had never heard of Fred Hampton or his assassination at the hands of "law enforcement" at the tragic age of only 21. My privilege as a white person in America has kept from me the complications and nuance of the stories of the Black leaders who have fought for equality.
William O'Neal's part in the drama as the Judas is also nuanced: Yes, he informs on Hampton and his colleagues as they work to build a survivable community for themselves and their families, but he's also recruited by white law enforcement in lieu of a prison sentence. You can't take racism and power out of that equation, and to watch this character proceed in his dual arcs of freeing himself from the consequences of his run-ins with the law while he is awakening to the value of Hampton's work is truly mesmerizing. I felt myself rooting for him, until I realized I should not do so; in the end I was hoping O'Neal and Hampton would hoodwink the FBI—even while Plemons' character demonstrates the G-man's own inner grappling with the racist crimes of the government he serves. (I also recently learned that Plemons is engaged to Kirsten Dunst, she of Marie Antoinette fame. They have a son together, Ennis.)
What I loved about this film was the examination of the moral failings of authority and what that does in the end to those moral beings when they act against their values to save themselves…even while witnessing what it means to put yourself on the line to serve something greater. What'd you get out of it, Ruud?
He Said: I agree that Plemons' character was fascinating in itself, and he is remarkable in the role, though of course he's so overshadowed by the two main characters that you might miss him. In fact, Plemons is the actual supporting actor in this film, and maybe there should be an Oscar category for "Best Performance by an actor who genuinely IS in a supporting role." He has his own mental adjustments that he must make to allow him to justify in his own mind some of the clearly illegal machinations of Hoover's FBI. The film certainly is unflinching in its examination of power and systemic racism, and in a year when at least three other highly regarded films (One Night in Miami, Ma Rainey's Black Bottom, and Spike Lee's Da Five Bloods, which came out so early as to be nearly forgotten by Oscar season) deal with similar themes, this one is the most directly political, and may be the best of the lot.
Kaluuya is a virtual lock for an Oscar. If there is any knock on his performance, it may be that his character is not as complex or completely developed as Stanfield's. But lest you think that he is merely a two-dimensional Messiah, I would note that he does have his own Mary Magdalene, in the person of Deborah Johnson (BAFTA nominee Dominique Fishback from TV's The Deuce), who knows how to humanize Hampton and bring him down to earth, and who is nine-months pregnant with his child at the time of his murder (hope that's not a spoiler!). I'm going to go ahead and give this one four Hitchcocks. How about you, Jones?
She Said:
I'm with you, Ruud. ALL the Hitchcocks and lots of Oscars for this one!
This week's She Watched It And You Should Too
She Said: Babylon, a 2014 dramedy miniseries starring Brit Marling and James Nesbitt, purchased (not included) on Amazon Prime
Hot Take: As a public relations professional of some years, I was fascinated by this British miniseries starring American Brit Marling in her character's new role as director of communications for London's Metropolitan Police. Nesbitt, as police commissioner, hires her based on her TED talk about how social media and instantaneous broadcast from any random bystander has made complete honesty and utter transparency mandatory for all organizations seeking public trust. Inside the organization, she battles the die-hard old-school climbers, manipulators and suck-ups and faces farce and tragedy. I'm so glad my hunt for more Nicola Walker streaming content led me here! (Walker plays assistant commissioner).
NOW AVAILABLE
To the Great Deep, the sixth and final novel in my Merlin Mysteries series, is now available from the publisher, Encircle Publishing, at http://encirclepub.com/product/to-the-great-deep/
You can also order from Amazon (a Kindle edition is available) at https://www.amazon.com/Jay-Ruud/e/B001JS9L1Q?ref=sr_ntt_srch_lnk_1&qid=1594229242&sr=8-1
Here's what the book is about:
When Sir Agravain leads a dozen knights to arrest Lancelot in the queen's chamber, he kills them all in his own defense-all except the villainous Mordred, who pushes the king to make war on the escaped Lancelot, and to burn the queen for treason. On the morning of the queen's execution, Lancelot leads an army of his supporters to scatter King Arthur's knights and rescue Guinevere from the flames, leaving several of Arthur's knights dead in their wake, including Sir Gawain's favorite brother Gareth. Gawain, chief of what is left of the Round Table knights, insists that the king besiege Lancelot and Guinevere at the castle of Joyous Gard, goading Lancelot to come and fight him in single combat.
However, Merlin, examining the bodies on the battlefield, realizes that Gareth and three other knights were killed not by Lancelot's mounted army but by someone on the ground who attacked them from behind during the melee. Once again it is up to Merlin and Gildas to find the real killer of Sir Gareth before Arthur's reign is brought down completely by the warring knights, and by the machinations of Mordred, who has been left behind to rule in the king's stead.
Comments
comments
http://jayruud.com/wp-content/uploads/2021/04/Judas_Black_Messiah_Reviews4.jpeg
357
640
Jay Ruud
http://jayruud.com/wp-content/uploads/2014/08/JayRuud.png
Jay Ruud
2021-04-21 09:21:26
2021-04-21 09:21:28
Judas and the Black Messiah