Review No. 115: Katmandu Momo
1018 W Oak Street
501-205-8679
56.9 percent finished reviewing Conway restaurants
The Situation
She Said: We'd been seeing our friends check in to the restaurant for a few weeks, so we decided it was a good lunch spot on a hot day. I took a break from my desk, and He Said finished cleaning the house, and off we sped to get some dumplings!
He Said:  This restaurant originated as a food truck in Little Rock. The proprietors decided to open a brick-and-mortar concern, but to do so in the burgeoning food Mecca of Conway, following in the footsteps of another recent addition to the Conway scene, Wunderhaus.
So yeah, I was kind of wondering just what Nepalese food would be like. So I know what to expect if I should ever find myself in the real Katmandu—you know, to climb Mount Everest or something. Turns out it's pretty similar to some of the food of its better-known neighbor, China.
Ambience
She Said: I thought the restaurant was invitingly and appealingly decorated with the dark wood and exposed brick, nice contrasts for the natural light through the front wall of glass. It's not a big place, but it feels both spacious and cozy.
He Said: It is kind of small. But cozy. And you don't feel like you're on top of other tables. There's a dark-wood partition that divides the space in half lengthwise, so that we didn't even know who else was eating there until we saw them leave.
Drinks
She Said: I decided to have a local drink, the chai tea with milk. It was very nice, but took quite a while to be served, arriving after the food, so hot that I had to let it cool for a while before I drank it. The waiter brought me a gratis bottle of water for what he termed the "tea debacle" given the timing and the heat of it when served, so I was well taken care of in the end.
He Said: They have (some) Coke products here (no root beer). They do not yet have their fountain set up (or didn't yet on the day we came in for lunch), and when I ordered a Coke the server apologized that he had to bring it in a bottle. One of those glitches you have to expect with a new place. Personally, I prefer it in a bottle, since you don't run the risk of having a fountain that mixes the ingredients wrong, and you don't get a glass full of ice with half an ounce of Coke. So no apologies necessary. The fact that there was no glass to put it in, that was more of a problem for me.
Food
She Said: After I Googled "momo" and found out what it was, I came here for dumplings and I was going to get dumplings. I looked over the other offerings, and then our waiter told us that since we were there at lunch time, all that was available was, indeed, the lunch menu. This included momo combinations: dumplings in various numbers with one side or two. The smallest number is six and one side, so I chose that. Various kinds of momo are offered, such as pork, beef, chicken and vegetable, and you can have them pan fried or steamed. The waiter informed me that you can choose your number of dumplings and you can also mix and match the kind of dumpling and how they're cooked within that number. So I ordered three pan-fried pork dumplings and three steamed veggie dumplings. A bit later I was told they were out of pork, so I substituted chicken. For my side, I chose the egg rolls.
(There may still be a bit of a food-truck mentality here; they run out of things, still in these early days, and sometimes, we were told have to close for dinner or raid local groceries for dinner service supplies. Running a restaurant is different from a food truck in which you sell out and go home. I'm sure it will even out in time.)
The momo and egg rolls came with two sauces, sweet and sour and what the waiter called "momo sauce," which was tomato, garlic and cilantro, among other things. The steamed veggie momo were tasty enough on their own without sauce, but tasted great with both the offered accompaniments. The chicken momo, pan-fried, wasn't as tasty, and benefitted from both sauces to "spice" them up a bit. Next time, I'll get six steamed vegetable momo and happily apply them all to my face. The egg rolls were mostly fried rolls with a bit of stuffing, and they were delicious, if decadent. They were small, and I gave one to Ruud, so I didn't feel too guilty.
He Said: She Said was having a couple of different kinds of dumplings, but the menu has a lot of variety, so I thought for the sake of the review I'd try one of their other lunches, and ordered the Chicken Chow Mein.
Chow Mein—which literally translates as "stir-fried noodles"—is of course a popular dish in Chinese restaurants, but is apparently a very popular fast-food item in Nepal, where it was brought by Tibetans who settled in Nepal in the Kathmandu Valley.
What they (the restaurant servers, not the Tibetan refugees) brought was a dish piled high with brown noodles, deliciously fixed with the soy-sauce-based seasoning and stir-fried with thin pieces of chicken and onions and other vegetables, and a spice with just the right amount of a tang to it. This was an excellent lunch—but way more than I could eat. Apparently for two dollars more there is also a dinner portion which must be even larger than this one. But I had to stop eating after making what seemed only a small dent in the pile, and brought it home in a box—probably enough for two more meals. So that's a lot for your money, folks. I would not mind at all having this again, except that I intend to explore more things on this menu, especially if they turn out to be as tasty as this was.
Katmandu Momo does not have its menu online at this point, and since they aren't a large chain there is no way to look up nutritional information for any specific dishes. Chicken Chow Mein in general is analyzed online as having from 17 to 25 grams of fat (depending, obviously, on how it is prepared, and with what additives) in a portion of 600 grams, which may be about what I had. I'm hoping for the 17, which would be an average lunch for me, rather than the 25, which would be a bit high.
Service
She Said: There was a little confusion at the beginning when no one brought us menus after inviting us to sit wherever we liked. We were partly to blame, as we saw someone we knew and were talking to her for a few moments. Our server was helpful and attentive, answering questions and checking on us.
He Said: Yes, I can't really complain—I never mentioned the glass so maybe he would have brought me one. He did offer to bring a box for my uneaten food, which he did quickly. He also brought She Said that water. And he brought the check promptly without our asking, and mentioned that we had to pay at the counter rather than at our table. He covered all the bases.
What We Got and What We Paid: One chicken chow mein, one six-piece momo lunch including one side, one Coke and one chai tea. All for $23.61.
Elapsed Time from Our Arrival to Food Arrival: 22 minutes for food, 24 minutes for chai tea.
Rating
She Said: I will definitely be applying these dumplings to my face again!
He Said: I plan on going back, to try the dumplings and some of the other dishes—or if I feel like it, to have Chow Mein again! Because I can!
So… He Said and She Said: Go here for inventive, distinctive Asian cuisine from a different corner of the world for Conway. Don't go in a hurry, and be flexible, at this stage, with what they may be out of.
NOW AVAILABLE:
If you like these reviews, you might enjoy Jay Ruud's most recent novel, now available from the publisher at https://encirclepub.com/product/the-bleak-and-empty-sea/. Also available from Amazon or Barnes and Noble.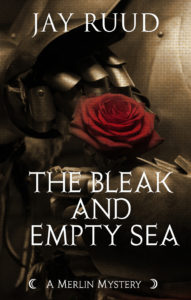 When word comes to Camelot that Sir Tristram has died in Brittany of wounds suffered in a skirmish, and that his longtime mistress, La Belle Isolde, Queen of Cornwall, has subsequently died herself of a broken heart, Queen Guinevere and her trusted lady Rosemounde immediately suspect that there is more to the story of the lovers' deaths than they are being told. It is up to Merlin and his faithful assistant, Gildas of Cornwall, to find the truth behind the myths and half-truths surrounding these untimely deaths. By the time they are finally able to uncover the truth, Gildas and Merlin have lost one companion and are in danger of losing their own lives.
Order from Amazon here: https://www.amazon.com/Bleak-Empty-Sea-Tristram-Mystery/dp/1893035735/ref=sr_1_1?s=books&ie=UTF8&qid=1503328086&sr=1-1&keywords=Bleak+and+Empty+Sea
Order from Barnes and Noble here: https://www.barnesandnoble.com/w/the-bleak-and-empty-sea-jay-ruud/1126958139?ean=9781893035737
Comments
comments
http://jayruud.com/wp-content/uploads/2018/06/IMG_1490.jpg
2579
3617
Jay Ruud
http://jayruud.com/wp-content/uploads/2014/08/JayRuud.png
Jay Ruud
2018-07-02 01:12:09
2018-07-02 12:31:10
Katmandu Momo