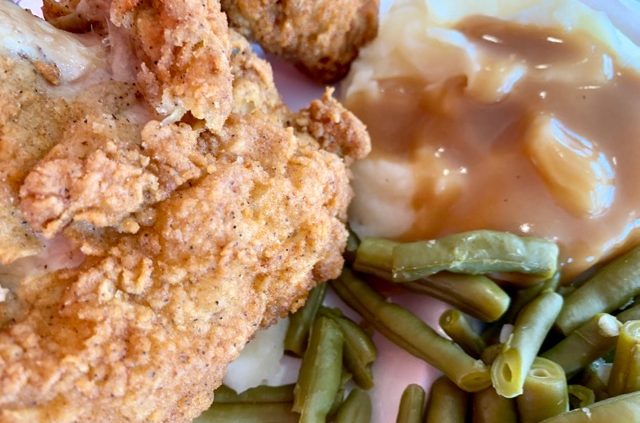 Review No. 174: KFC
2670 North Donaghey Avenue
(501) 336-8440
79.0 Percent finished reviewing  Conway restaurants
The Situation
She Said:We had a big-ol' day ahead of us on Sunday, so we decided to hit the local KFC's lunch buffet for efficiency and choice.
He Said: Colonel Sanders opened the first Kentucky Fried Chicken restaurant in North Corbin, Kentucky, in 1930, and 89 years later it's still headquartered in Louisville. But now KFC is the second largest restaurant chain in the world (after McDonald's), and has more than 22,000 restaurants in 136 countries. We've seen KFC restaurants in pretty much everyplace we've traveled in the world—in Prague, in Venice, in Xi'an, China, and in Kyoto, Japan, where the statue of the Colonel outside the door scared me, he looked so creepy with round staring eyes.
But we hadn't been to the KFC in Conway for years—maybe ten years? Because we had some bad experiences here in the past. I remember going there once when the air conditioning had broken down and suffering through a really uncomfortable meal. And another time when we walked in and were told they had run out of chicken (How does a KFC run out of chicken? Isn't that their whole raison d'être). Of course, we would still have paid the full amount for the buffet. So we left. And haven't been back.
But that's all water under the bridge. The Conway KFC is, I'm pretty sure, under different management than it was then. It's also been cleaned up and has a new look inside. So I was glad we were giving it another try.
Ambience:
She Said: It's bright and utilitarian in here, though not particularly cozy or comfortable. (Watch out for one of the biggest potholes I've ever seen in the driveway though! I was afraid if my car went into it, it wouldn't come out. I left via a different way.)
He Said: Yeah, that was one giant pothole. But the restaurant is bright and cheery and clean (something you couldn't say about it in the old days). It's definitely a fast food place, and there aren't a lot of pictures on the walls or anything. But it's not any more uncomfortable than most fast food places.
Drinks
She Said:I surprised myself and went for a Diet Pepsi here, and it was fine; the soda machine seemed well calibrated.
He Said: Yes, they have Pepsi products here, which means they have Mountain Dew, which I'll have when I can, if it's not too close to bed time.
Food
She Said: We both chose the buffet in order to sample the most things. The buffet is not large, and the first time we went through it was out of chicken and biscuits, but the clerk said she would bring some right away. By the time I got my drink and was seated, the chicken and biscuits had appeared. I had two legs. I like KFC chicken; it's really the code in my psyche for fast-food chicken, so I was happy to munch on these. I also tried a pasta salad, some macaroni and cheese, mashed potatoes (plain, no gravy) and a biscuit. I also helped myself to a scoop of peach cobbler.
The chicken is a little greasier than some of the chain chicken joints, but it was hot and tasty, and fresh out of the oven, apparently. KFC's mashed potatoes are quite good, as well, very creamy and tasty without gravy (restaurant gravies are often too peppery, so I just skip it usually), though they offer white and brown gravy on the buffet. I did not care for the pasta salad, which had a strong vinegar flavor I was not in love with—I only ate that first bite. The macaroni and cheese was very bland, so I stopped after one bite of that, as well. I did score a biscuit, and it was satisfying and flaky, and I also ate it plain. The peach cobbler had a nice, buttery crust and rich, peachy sauce, in a mass-produced kind of way, as well as a canned-peaches filling.
He Said: Yes, I had the buffet as well, which for me consisted of a wing and a breast, plus green beans and mashed potatoes and gravy. I wanted to get a biscuit when I saw that She Said had one, but when I went back to the buffet they were all gone again. And they never came back. So…that was a strike against them.
I agree that this is what southern fried chicken looks like for most of the world, because of KFC's huge reach. I enjoy it, though, as well. No other chain has quite that same flavor or the crispy skin. Online nutrition charts declare that a KFC breast has 390 calories and 21 grams of fat, so not the healthiest thing in the world but not nearly as bad as it could be, since it does tend to be a bit greasy and pretty well fried.
I would concur with She Said in her assessment of the mashed potatoes. They are deliciously creamy and with the chicken gravy are very, very tasty. I get visions of Thanksgiving dinner when I eat those potatoes. The nutrition guide claims there are only four grams of fat in these, a claim I have trouble believing. But I hope it's true.
The green beans were all right, but nothing to write home about. They tasted like they'd come out of a Green Giant can. As for the peach cobbler, this is normally not a dessert I'm particularly fond of. But it was sweet and creamy and fruity, and people who like peach cobbler will certainly like this dessert.
Service
She Said: Our counter attendant was friendly and helpful, and was also tasked with keeping the buffet stocked. As I said, the buffet was out of chicken and biscuits when we arrived, but was quickly restocked; however, the biscuits quickly ran out again and no more appeared.
He Said: I'll just say "ditto" to what She Said said. I'll tell you one thing: the service was miles ahead of what it was the last time we ate here, circa 2009.
What We Got and What We Paid: Two lunch buffets, which include drinks, for $18.14. Note: this includes one senior discount, which they give at KFC starting I believe, at 55. Can't kick about that.
Elapsed Time from Our Arrival to Food Arrival: 9 minutes from arrival to eating buffet food in a booth. Forever if you include He Said's getting a biscuit.
Rating:
She Said:The favorites here, fried chicken, mashed potatoes and biscuits are solid offerings, but you may have trouble scoring them at peak lunch-buffet time.
He Said:I was pleasantly surprised by how much the place had improved, and wouldn't mind catching a senior discount buffet here again sometime.
Is KFC good at what it's good for? The menu mainstays are still tasty, but the supply had trouble meeting demand on the buffet.
NOW AVAILABLE!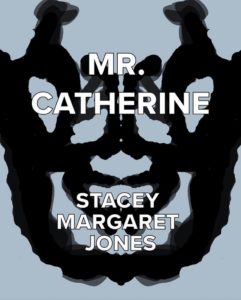 Stacey Margaret Jones's novel, Mr. Catherine, is available online from the following sellers (ebook only through June 24, ebook and paperback as of June 25, 2019): Amazon, Barnes & Noble, Google Play and Apple Books.
Where is Catherine? Catherine has gone missing, a year after confessing to having an affair. Her husband, a marriage and family therapist, hides her infidelity from the police to protect her reputation—and to shelter his pride.
As the secrets begin to pile up, Mr. Catherine, the unnamed husband of the missing woman, is plunged into a world of underground dealings, kidnappers, ex-lovers and drug running in Little Rock, Arkansas, all while grappling with his part in the highs and lows of the life they led together.
With each passing day, a sleepless Mr. Catherine grows more frantic, drinking and popping pills, which stir up painful visions and remembrances that hold a mirror up to the narrator as he comes to terms with his own emotional betrayals.
Mr. Catherine is a fast-paced domestic noir that explores the dangerous secrets between a husband and a wife, as well as a deeper meditation on marriage, connection and honesty.
Comments
comments
http://jayruud.com/wp-content/uploads/2019/09/IMG_9524.jpg
431
640
Jay Ruud
http://jayruud.com/wp-content/uploads/2014/08/JayRuud.png
Jay Ruud
2019-09-23 19:13:30
2019-09-23 19:28:30
KFC