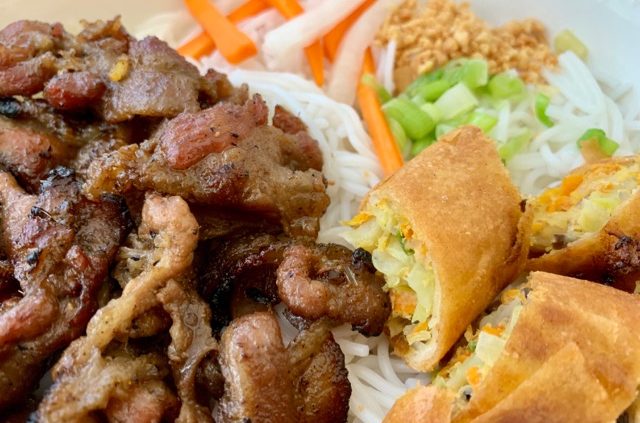 Review No. 175: Pho Huyen
1600 Dave Ward Drive
(501) 504-2449
79.1 Percent finished reviewing  Conway restaurants
The Situation
He Said: If you're not familiar with pho, it's a kind of Vietnamese soup with rice noodles, herbs, and meat, usually beef. If you haven't been down Dave Ward Drive lately, let me just clue you in that there's a new "Pho Huyen" restaurant in town, opened in the place where Ceci's Chicken 'n' Waffles used to be. If your memory is not limited to the past couple of years, you might also remember that this used to be a pace called "Bleu Flame Burger," a place that shut its doors before "Eat It, Conway" ever got to walk through them. So this is not a location that's had a lot of good luck with restaurants—we can only wish Pho Huyen better fortune than previous tenants.
She Said:I'm small-town enough to crave a nice Sunday dinner after church, so hearing about a new pho establishment in Conway, I plotted for us to direct ourselves to this familiar location. I love ramen, and really miss Sumo, so I was excited and very ready to apply a big bowl of Asian food to my face.
Ambience:
He Said: The place looked completely different from what it was like during Ceci's time here. It seemed smaller, as if another room had been taken away. Also, the new tenants seem to like sunny colors, with the walls painted a pastel yellow, and pictures of yellow flowers decorating the walls. It seemed like a kind of fast food like interior, the booths and tables not particularly fancy.
She Said: It felt like a South Dakota café in the late 1980s to me, with the pastels and white trellis décor, so I liked it. It made me feel like comfort food was coming my way. It isn't big, and they've put about as much seating in the restaurant as comfortably possible, so it's not particularly cozy, but it had a relaxed and welcoming vibe. I was happy to get a booth on the wall, though. I don't love eating at a middle table, in front of God and everyone, even if it was Sunday.
Drinks
He Said: The specialty drink here is Bubble Tea (also known as "Boba Milk Tea") a kind of Taiwanese fruity milk smoothie with tapioca pearls. They serve it with a wide straw through which you can suck up those dark, chewy pearls. Several flavors are listed on the menu, though when we ordered they had only banana, watermelon and mango. I had a mango bubble tea, which was delicious and different, sweet and icy.
She Said: I too swooned over my mango bubble tea. They also offer Vietnamese coffee, which I'll try next time! The mango bubble tea was sweet, but not overly sugary, with subtle fruity flavor. A real treat1
Food
He Said: I entered the restaurant with the expectation that I'd be ordering some kind of pho, as the name suggested, but was surprised at the great variety of dishes on the menu. She Said and I decided to start with a couple of vegetarian tofu spring rolls. These tasted fresh and healthy, and the peanut sauce that came with them had a sharp kick to it. I enjoyed the spring rolls as a starter, though they were very sticky and I made the mistake of setting one down on my paper napkin. Don't do that, dear reader, because you will never separate the napkin from the dough.
Since most of the pho choices included beef or pork, and my pancreas has issues with red meat, I opted for one of the rice plates that they have as an option on the menu. I ordered a stir-fried chicken rice plate and asked for fried rice to be substituted for the white rice that was on the menu. (This, I learned, added about $5 to the cost of the entrée, so be aware of that if you choose this path).
My entrée was really quite delicious. The chicken was tender and had been stir-fried with broccoli, mushrooms, carrots, onions, cornlets and bok choy. The fried rice was a hefty side order on its own, with eggs, peas and carrots mixed in. Together they created a tasty medley of fresh food. And there was plenty of it: I was not able to finish mine.
She Said: I was so happy we had started with those tofu spring rolls, as they were fresh, tasty and the peanut sauce (I avoided dipping into the chili side of the dish) really added to my enjoyment. I will be ordering those again very soon, I'm sure.
I was so determined to have pho that I lit on that section of the menu right away and began narrowing down, but once I flipped the page and saw the Vietnamese búnselections, I felt compelled to abandon my plan (and my pho-curious readers). And anyway, bún—a bowl of rice and grilled meat and veggies—is pho-adjacent, so I persisted. Most of the protein options are red meat, as that is the traditional dish from Hanoi, but they offer chicken and one or two other non-beef or -pork búns. Pictured on the menu is the pork and fried egg-roll bún, which includes the grilled meat, a sliced egg roll, peanuts and carrots over the rice noodles and lettuce, and I could not resist that combination. My one quibble was that I would have liked a lot more peanuts when the dish came, as there was a small spoonful on one side and when I went to mix it together with everything, much of it fell through to the bottom. The pork was almost like bacon, thin tendrils of meat and fat, very nicely grilled. The sauce that came with it had red chili flakes, but was not too spicy to overwhelm the flavors of the dish. I couldn't eat all the noodles and lettuce but filled up on the stars of the show very quickly.
Service
He Said: We were met by a friendly server who sat us where we asked and took our drink orders right away. He took our food orders when he came back with the drinks, and jokingly told us he couldn't pronounce the names of the food, but took orders by the numbers on the menu. Mine was, I believe, C-8.  The place was pretty crowded—we were with the after-church crowd on Sunday afternoon, and lots of people were there to try out the new restaurant. It took a little longer than might have been expected, and that may have been because they hadn't expected quite such a rush. It was very typical new-restaurant difficulty, and to be expected. You don't pay the server here, but you go up to the counter to pay, which did actually prevent me from asking for a box to take home my leftover fried rice.
She Said: I found the service very friendly and relaxed, which is very nice when you don't know a lot about the cuisine you're trying.
What We Got and What We Paid: Two mango bubble teas, one order of tofu spring rolls, one stir-fried chicken rice plate with fried rice, one pork and egg roll bún, all for $45.20.
Elapsed Time from Our Arrival to Food Arrival: 21 minutes from arrival to appetizer, 33 minutes until the arrival of the entrees.
Rating:
He Said: The food was very good and somewhat unusual for Conway. I would probably be interested in a return trip to try some of the other things on the menu. Things are not cheap here, though, and they don't have a liquor license. Not that it matters to me, but She Said might have something to say about it.
She Said: Ha! I wouldn't mind taking it away and enjoying it with a glass of wine at home. But the food is delicious, and those tofu spring rolls are proof of a benevolent universe.
Is Pho Huyen good at what it's good for? Abso-pho-lutely! We've never been to Vietnam, but if the food is this good there, we might have to go.
He Said: No. I vowed never to go there back in 1969, and this is as close as I'm getting.
NOW AVAILABLE!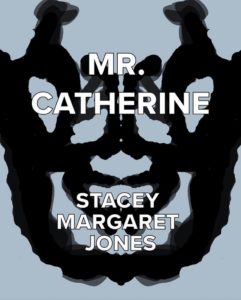 Stacey Margaret Jones's novel, Mr. Catherine, is available online from the following sellers (ebook only through June 24, ebook and paperback as of June 25, 2019): Amazon, Barnes & Noble, Google Play and Apple Books.
Where is Catherine? Catherine has gone missing, a year after confessing to having an affair. Her husband, a marriage and family therapist, hides her infidelity from the police to protect her reputation—and to shelter his pride.
As the secrets begin to pile up, Mr. Catherine, the unnamed husband of the missing woman, is plunged into a world of underground dealings, kidnappers, ex-lovers and drug running in Little Rock, Arkansas, all while grappling with his part in the highs and lows of the life they led together.
With each passing day, a sleepless Mr. Catherine grows more frantic, drinking and popping pills, which stir up painful visions and remembrances that hold a mirror up to the narrator as he comes to terms with his own emotional betrayals.
Mr. Catherine is a fast-paced domestic noir that explores the dangerous secrets between a husband and a wife, as well as a deeper meditation on marriage, connection and honesty.
Comments
comments
http://jayruud.com/wp-content/uploads/2019/09/IMG_9725.jpg
450
640
Jay Ruud
http://jayruud.com/wp-content/uploads/2014/08/JayRuud.png
Jay Ruud
2019-09-30 10:32:23
2019-09-30 10:32:23
Pho Huyen