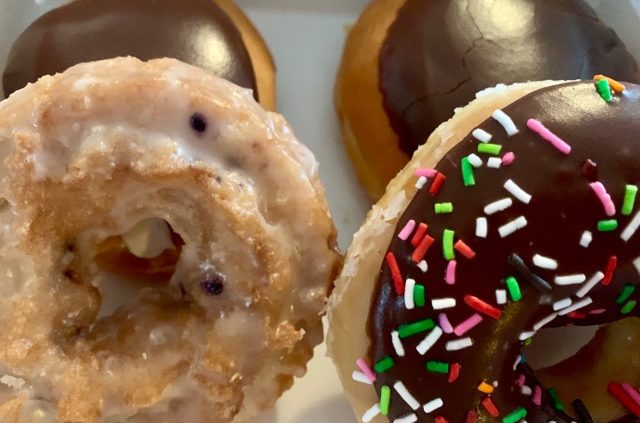 Review No. 171: Krispy Kreme Doughnuts
1105 Dave Ward Drive
(501) 499-9849
76.7 Percent finished reviewing  Conway restaurants
The Situation
He Said: Last week "Cream-Filled Doughnut Day" appeared on the calendar, and She Said and I decided it would be a very auspicious day on which to actually go to a doughnut shop and have ourselves some cream-filled doughnuts. Conway's local Krispy Kreme was up on our schedule, so I was dispatched to Dave Ward Drive to hunt and gather for brunch.
Krispy Kreme is, of course, a huge American-based chain with more than a thousand stores in the United States and internationally. They were founded in 1937 by Vernon Rudolph, who bought a recipe for yeast doughnuts from a New Orleans chef and began selling them in Winston-Salem, North Carolina. The rest is history, as the company began to slowly expand. In 2016 the company was bought by the Luxembourg-based JAB Holding Company, but it remains headquartered in Winston-Salem.
She Said:I know people were excited when Krispy Kreme opened in Conway, but we never felt the need to stray farther afield than Ed's at the time. But given the national holiday and the need to review, it was time.
Ambience:
He Said: The Conway location is a little hard to get into when you are zipping by on Dave Ward, and it's not completely clear where to turn in if you don't know it; Hardee's driveway being right there makes it hard to see in a split second which is the right driveway.
The inside is rather inviting for a chain doughnut shop, with a lot of doughnuts on display on the shelves, and a variety of drinks available. The place is pretty comfortable and doesn't make you want to run for the exit when you walk in.
She Said: I didn't go with He Said, and my ambience at home was lovely. J
Drinks
He Said: As mentioned, there are a good variety of coffees, teas, other hot drinks, and soda and other cold drinks, but I didn't have any of them, since I was bringing the doughnuts home. But there were a lot of drinks I could have had if I'd wanted.
Food
He Said: They have a huge variety of both yeast and cake style doughnuts here, including a couple of brand new Reese's peanut butter and chocolate variety doughnuts. But this was, as noted earlier, cream-filled doughnut day, so I got two chocolate iced doughnuts with "kreme filling," one chocolate iced glazed doughnut with sprinkles, and one glazed blueberry cake doughnut (that one specifically for She Said).
The chocolate glazed doughnut was scrumptious—it was so much better than the one I had a few weeks ago because every bite was sweet, chocolatey and undry. The cream filled chocolate doughnut was even more tasty, with the sweet crème enhancing every bite with sweet goodness. Other doughnuts I've had in town, with a few exceptions (looking at you, Ed's) seem like a lot of dry, chewy dough, with a hint of sweetness. Not so here. These are the real deal.
She Said:The cream doughnuts were indeed delightful, and I gobbled mine up with glee. I don't eat a lot of this kind of treat, and now I can see why people do! The dough was the perfect complement to the lightly whipped cream center, and the whole treat was perfectly sweet. I found the blueberry doughnut merely passable, though, as if it were a Xerox of a blueberry doughnut, just not quite there, but not bad either.
Service
He Said: The woman who waited on me was patient, good-humored and efficient. I got no complaints here.
What We Got and What We Paid: Four doughnuts (chocolate glaze, blueberry glazed, and two chocolate kreme filled, all for $5.50.
Elapsed Time from Our Arrival to Food Arrival: Pretty much immediate from order to receipt and payment.
Rating:
He Said:I would not hesitate to stop here again if I'm in the neighborhood and craving a doughnut.
She Said:I'll apply those cream-filled doughnuts to my face again! But I'll go somewhere else for the blueberry cake.
Is Krispy Kreme good at what it's good for? It certainly is! Sweet doughy deliciousness, especially if it's got a creamy center.
NOW AVAILABLE!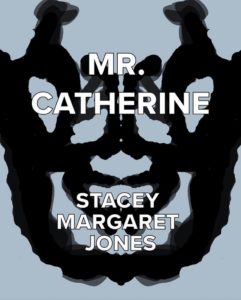 Stacey Margaret Jones's novel, Mr. Catherine, is available online from the following sellers (ebook only through June 24, ebook and paperback as of June 25, 2019): Amazon, Barnes & Noble, Google Play and Apple Books.
Where is Catherine? Catherine has gone missing, a year after confessing to having an affair. Her husband, a marriage and family therapist, hides her infidelity from the police to protect her reputation—and to shelter his pride.
As the secrets begin to pile up, Mr. Catherine, the unnamed husband of the missing woman, is plunged into a world of underground dealings, kidnappers, ex-lovers and drug running in Little Rock, Arkansas, all while grappling with his part in the highs and lows of the life they led together.
With each passing day, a sleepless Mr. Catherine grows more frantic, drinking and popping pills, which stir up painful visions and remembrances that hold a mirror up to the narrator as he comes to terms with his own emotional betrayals.
Mr. Catherine is a fast-paced domestic noir that explores the dangerous secrets between a husband and a wife, as well as a deeper meditation on marriage, connection and honesty.
Comments
comments
http://jayruud.com/wp-content/uploads/2019/09/IMG_7976.jpg
466
640
Jay Ruud
http://jayruud.com/wp-content/uploads/2014/08/JayRuud.png
Jay Ruud
2019-09-09 04:05:34
2019-09-09 04:05:34
Krispy Kreme Doughnuts