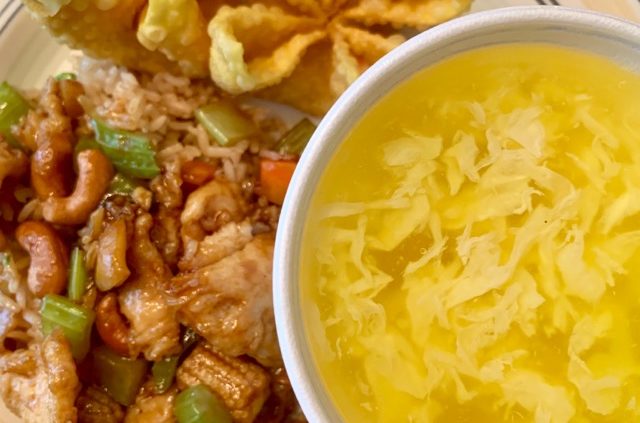 Review No. 172: JinWei Chinese Express
2235 Dave Ward Drive, Suite No. 106
(501) 504-2014
78.4 Percent finished reviewing  Conway restaurants
The Situation
She Said: He Said wasn't feeling well and we were in a Sunday mood, so take-out seemed like a good idea, and JinWei had been on my radar for awhile. We had recently returned from a trip to Iceland, and one thing we didn't eat there was Chinese food, so I was craving some of those old favorites. We decided to eat at home while binge-watching the 2011 Showtime series, Enlightened.
He Said: There are quite a few Chinese places in town (not so many in Iceland, as it turns out), but we hadn't yet been to JinWei. Sounded like a good way to pass a Sunday lunch hour, and to do it in our own home.
Ambience:
She Said: It's bright, with light green paint and lots of natural light, and also pretty utilitarian. You can eat in here, but it wasn't particularly inviting. When you walk in, it's one big space with a counter on the far side where you place your order.
He Said: Yeah, I think most people order takeout here, but yes you can eat here. But as She Said said, it's not especially inviting. Plain room, just a couple of small pictures on the wall, not much atmosphere. So we took the food home.
Drinks
She Said: We were taking out, and I intended to have mine at home with a lovely can of Presto sparkling rosé. My mind wasn't changed by the refrigerator of bottled drinks behind the counter.
He Said: They do have Coke products here, but we didn't buy anything to drink with our takeout.
Food
She Said: I have a pretty standard order at American Chinese restaurants, and it always includes cashew chicken and some kind of dumpling-wanton appetizer food product. The comprehensive menu offered both, and I was also able to choose fried rice to go with my cashew chicken, along with the cheese wantons I had to start with. The wantons were satisfyingly fried and rich with cream-cheese centers, and I dipped them in He Said's sweet and sour sauce to make them even better. I got the order of four, and I'm glad I didn't get the larger order, as I probably would have eaten all of them!
I had mixed feelings about the cashew chicken, though I mostly liked it. The cashews were not as plentiful as I would have liked… I ate almost all of them in my first helping from the container. The veggies included a few peas and carrots, water chestnuts and onions, but mostly there were baby corn and celery that were a little too ubiquitous; I don't like cornlets. But the chicken was actually plentiful and very tender and flavorful, which is not always the case in cashew chicken dishes.
I also stole He Said's egg-drop soup, and it meets the tasty comfort food test: rich, with mild flavor, but not overwhelming. Next time I have a cold, I'm going to get about 18 gallons of this.
He Said: Jones, how can you not like cornlets? Don't they just make you think of Tom Hanks in Big?
The menu has a lot of standard Chinese dishes. I often go for a sesame chicken or a General Tso's, both of which they have, but for some reason the Sweet-and-Sour chicken caught my eye and I went for that. You have the option of ordering the dish itself (small or large) or the meal, which includes egg roll and egg drop soup, and your choice of fried or white rice. I had the small meal with fried rice.
The meal came with several little packets of soy sauce, which I like to put in the fried rice. The rice was good, pretty similar to the better meals of fried rice available in town. The same could pretty much be said of the egg roll as well: it was tasty, firm and not greasy, again probably as good as any egg roll in town.
I really did enjoy the sweet-and-sour chicken: it was crispy on the outside, a little spongy in consistency, which is pretty much what you get with this dish, but very tender and delicious chicken, and the sweet-and-sour sauce was just the right flavor of sweet tanginess.
As for the egg drop soup, I never did taste that—She Said was all over it. But I was full anyway. They do not skimp on the servings here.
Service
She Said: The service was good; a man came to the counter to wait on us before we were even 100 percent decided on our choices, and another man brought our nicely—and securely­­—wrapped package of goodness when it was ready. We also noticed a woman waiting for her food got the wrong thing in her order, and after some confusion, the restaurant replaced her order with the right dish.
He Said: Right—prompt, courteous service. No complaints here.
What We Got and What We Paid: One small order of cheese wantons, one small order of cashew chicken with fried rice, one small sweet-and-sour chicken meal (with fried rice, egg roll, and egg drop soup), all for $19.17.
Elapsed Time from Our Arrival to Food Arrival: 18 minutes.
Rating:
She Said: I found the chicken in the dish to be much better than most, and everything else was good, as well.
He Said: Good traditional Chinese-American fare, large helpings and reasonably priced (as Chinese food tends to be).
Is JinWei Chinese Express good at what it's good for? Absolutely. This no-frills Chinese restaurant offers tasty standard dishes.
NOW AVAILABLE!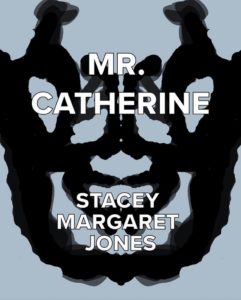 Stacey Margaret Jones's novel, Mr. Catherine, is available online from the following sellers (ebook only through June 24, ebook and paperback as of June 25, 2019): Amazon, Barnes & Noble, Google Play and Apple Books.
Where is Catherine? Catherine has gone missing, a year after confessing to having an affair. Her husband, a marriage and family therapist, hides her infidelity from the police to protect her reputation—and to shelter his pride.
As the secrets begin to pile up, Mr. Catherine, the unnamed husband of the missing woman, is plunged into a world of underground dealings, kidnappers, ex-lovers and drug running in Little Rock, Arkansas, all while grappling with his part in the highs and lows of the life they led together.
With each passing day, a sleepless Mr. Catherine grows more frantic, drinking and popping pills, which stir up painful visions and remembrances that hold a mirror up to the narrator as he comes to terms with his own emotional betrayals.
Mr. Catherine is a fast-paced domestic noir that explores the dangerous secrets between a husband and a wife, as well as a deeper meditation on marriage, connection and honesty.
Comments
comments
http://jayruud.com/wp-content/uploads/2019/09/IMG_9378.jpg
445
640
Jay Ruud
http://jayruud.com/wp-content/uploads/2014/08/JayRuud.png
Jay Ruud
2019-09-16 09:43:27
2019-09-16 09:43:27
JinWei Chinese Express