Review No. 150: Larry's Pizza
1068 Markham Street
(501) 329-3131
69.0 percent finished reviewing Conway restaurants
The Situation
She Said: I always enjoy a pizza day! I was fueling up for a longer run the next day, so I figured it was time to visit the classic pizza buffet of Larry's. I still had to be mindful of how much I ate, but I wanted to give this place a try, as I had only eaten at a Larry's in Little Rock once before.
He Said: Larry's is an Arkansas pizza chain that started with a single location in Little Rock in 1992, opened a second restaurant in Bryant in 2001, and then in rapid succession spread to North Little Rock, Conway, a second Little Rock location, Cabot, and more. I'm pretty sure most people go here for the buffet, or what they call the "parade," which costs a dollar more for dinner than it does for lunch. But you actually canorder a specialty pizza here. We chose the buffet.
Ambience:
She Said: It's not exactly relaxing here, or cozy. Everyone was friendly, of course, but the large game room in the back with its bright lights and the large open room for the diners doesn't create an intimate or soothing place to sit and eat—though I'm sure that's not why people come to Larry's. I felt a little antsy there so when my max was reached, I was ready to GO.
He Said: No, it isn't the comfiest or coziest place I've been. It seems like a place that you might want to bring your kids, since there's a whole back room with an arcade and other kid-friendly pastimes. But the main dining room is just a big warehouse of an eating area.
Drinks
She Said: I had unsweetened iced tea, and it was not memorable in either a good or bad way.
He Said: They had Coke products here. I didn't see any root beer so…Dr. Pepper it was. Which was fine, as Dr. Pepper goes.
Food
She Said: We arrived right as the restaurant opened, so while the salad bar was completely set up, the pizzas on offer were meager. But all we had to do was wait and each new addition to the buffet options would be announced and served to diners at their places before what was left was put on the buffet. I waited out the mac and cheese pizza (though that does sound intriguing) for my one true pizza love: pepperoni. It wasn't long before the waitress was singing my favorite siren song, and I was gazing down at a narrow piece of thin-crust pepperoni pizza (after an unmemorable trip to the salad bar for some lettuce, cucumbers and a dribbling of Ranch dressing).
I had two pieces of the pepperoni and one piece of cheese during our visit. All were about half the size of a piece of pizza at other restaurants, chains or local. It's a buffet, so it doesn't matter how small they are: Just help yourself to more. It was certainly lackluster. The crust, while thin, was not crispy and the slice hung limply from my hand as I took the first bite. It was also rather greasy. Of course, since it was so small, I had another piece. Before declaring my meal over I tried a piece of the cheese pizza, which was about the same, just cheesier.
We shared a piece of the peanut-butter-chocolate dessert pizza, and this was quite delicious, though a bite or two was all I needed of the sugary confection. I had expected more bread sticks, cheese bread and other doughy delights on the buffet, but all we found was pizza and salad.
He Said: Well, I don't know, Jones, the salad bar wasn't bad. It had three different kinds of greens, which is rather nice, and the usual suspects in terms of vegetables to include with the salad. They also had a pretty decent selection of dressings, including a fat-free Ranch, which is what I had.
I tried three different pizzas—the small pieces did mean I could get a variety without overdoing it on the fat grams. When we first arrived, there was a pepperoni pizza on the buffet, which I tried. I was a pretty standard pepperoni pizza. Then the parade servers came out, and one of them had a cheeseburger pizza, which I thought I'd take a crack at. It did taste like a cheeseburger—they even had pickles on the pizza, which added a special little zing to it. I was thinking I'd like to try something low on the fat scale, something vegetarian or maybe with chicken or turkey, and I was about to waylay one of the parading servers and ask if they ever did anything with chicken, when one of the came out with a chicken honey mustard pizza. It was as if they'd reached into my soul and created the pizza I always wanted but didn't know to ask for. I'm pretty sure it wasn't actually "low-fat," but with those ingredients I figure it was not as high in fat content as the other pizzas.
Before She Said had a chance to say, "let's blow this pizza parade," one of the paraders came by with that chocolate peanut butter pizza. This was definitely not low-fat, but I could not resist a few bites of it and yes, it was to die for.
It's true that the thin crust pizza at Larry's could be crispier—those pieces were rather limp. But they did have some unusual and tasty variety here. As for the lack of stuff on the buffet, it's true, all they have are the salad and the pizza. But there is a lot of variety in the pizza, and if you are longing for breadsticks, you can get them if you order a specialty pizza rather than doing the buffet.
Service
She Said: Because this is a buffet, you pay as you enter to a friendly clerk, select your seats and hit the buffet, but Larry's adds an extra nicety: As the pizzas come out of the kitchen, they are circulated in the dining area by wait staff who call out the selection so you can raise your hand if you want some. This way, you burn even fewer calories heading back up to the buffet for more food. It also means that when the pizzas hit the buffet, they may have been seriously depleted by the crowd in the dining room, so don't wait. If you want those slices, get 'em while they're hot!
He Said: Yes, that's what they call the "parade." You do pay when you come in here, but there is a place for a tip on your check when you enter, and you might want to think about those parading servers when you pay.
What We Got and What We Paid: Two buffets and two drinks for $22.37 before tip. This is for the dinner menu; lunch is a bit cheaper.
Elapsed Time from Our Arrival to Food Arrival: 4 minutes!
Rating:
She Said: If I'm going to spend my dining opportunities on pizza, it needs to have a crispier crust and be less greasy. If Larry's is your jam, this will just mean there's more for you.
He Said:I like the variety, and I like the various tastes, but I will admit there may be better pizza in town. There are certainly crispier crusts.
Is Larry's Pizza Good At What It's Good For? There are other buffets with broader options and crispier crusts, but Larry's delivers friendly service and lots of variety of pizza pie.
Just named a finalist for the INDIE award for best Mystery novel of the year:
Jay Ruud's most recent novel, Lost in the Quagmire: The Quest of the Grail, IS NOW a finalist for this year's INDIE award for books by independent publishers. You can order your copy direct from the publisher (Encircle Press) at http://encirclepub.com/product/lost-in-the-quagmire/You can also order an electronic version from Smashwords at https://www.smashwords.com/books/view/814922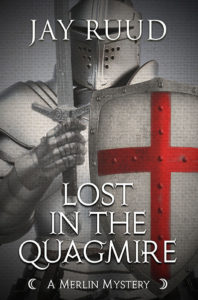 When Sir Galahad arrives in Camelot to fulfill his destiny, the presence of Lancelot's illegitimate son disturbs Queen Guinevere. But the young knight's vision of the Holy Grail at Pentecost inspires the entire fellowship of the Round Table to rush off in quest of Christendom's most holy relic. But as the quest gets under way, Sir Gawain and Sir Ywain are both seriously wounded, and Sir Safer and Sir Ironside are killed by a mysterious White Knight, who claims to impose rules upon the quest. And this is just the beginning. When knight after knight turns up dead or gravely wounded, sometimes at the hands of their fellow knights, Gildas and Merlin begin to suspect some sinister force behind the Grail madness, bent on nothing less than the destruction of Arthur and his table. They begin their own quest: to find the conspirator or conspirators behind the deaths of Arthur's good knights. Is it the king's enigmatic sister Morgan la Fay? Could it be Arthur's own bastard Sir Mordred, hoping to seize the throne for himself? Or is it some darker, older grievance against the king that cries out for vengeance? Before Merlin and Gildas are through, they are destined to lose a number of close comrades, and Gildas finds himself finally forced to prove his worth as a potential knight, facing down an armed and mounted enemy with nothing less than the lives of Merlin and his master Sir Gareth at stake.
Order from Amazon here: https://www.amazon.com/Lost-Quagmire-Quest-Merlin-Mystery/dp/1948338122
Order from Barnes and Noble here: https://www.barnesandnoble.com/w/lost-in-the-quagmire-jay-ruud/1128692499?ean=9781948338127
Comments
comments
http://jayruud.com/wp-content/uploads/2019/03/IMG_2452.jpg
3024
4032
Jay Ruud
http://jayruud.com/wp-content/uploads/2014/08/JayRuud.png
Jay Ruud
2019-03-18 10:34:13
2019-03-18 10:34:13
Larry's Pizza