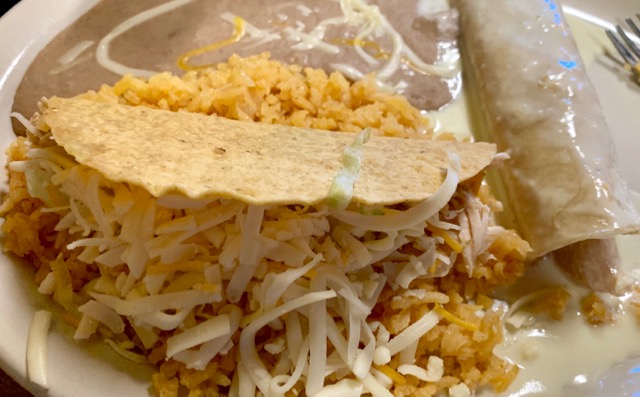 Review No. 179: Las Palmas
786 Elsinger Blvd.
(501) 329-5010
81.4 percent finished reviewing Conway restaurants
The Situation
He Said: It must be admitted we are running low on Conway restaurants that are not part of fast-food chains, so we set about searching through our list and discovered this little gem among the fast food rubble. Las Palmas itself is a part of a small local chain with sister locations in Little Rock, North Little Rock and Russellville. True, it's another one of those 965,422,165 Mexican restaurants in the greater Conway area, but it's nevertheless real food, so off we went.
She Said: So it's about No. 965,422,164ththat we've reviewed! We had time for lunch on a weekday, and I was glad not to head to a drive-through. We live fairly close to Las Palmas but had never been inside. It was time.
Ambience:
He Said: It's a cheery little place. When you walk in, you are immediately struck by the upbeat salsa music coming over the sound system. The walls are painted in rich Southwestern colors and decorated with appropriate wall hangings and some small pictures, andthere were a couple of TVs tuned to south-of-the-border soccer news.
She Said:Yes, it's in the shopping center and looks like every other business in that row, but when we walked in, I felt like I'd found the party I was looking for! The music is very festive, and the décor and friendliness of the staff really did make me feel they'd be waiting for us for the fun to begin.
Drinks
He Said: Our server asked for our drink orders as we were sitting down, and brought them immediately thereafter. They haveCoke products, from which I chose a Mello Yello, just because I could.
She Said: It was only lunch, but for you, dear reader, I was willing to sample a traditional margarita on the rocks. It was a nice weekday-midday marg, not too "grown up" and nicely tangy, not overly sweet. I enjoyed this small one very much.
Food
He Said: Before we even thought about ordering, we got two little bowls of salsa with a basket of chips. The chips were fresh and crisp, and the salsa was mild and sweet, just the way I like it. The menu is huge, and I actually had to ask the server for more time so I could look it over. I finally decided on the No. 3 combination, which is a taco and enchilada with rice and beans. I had chicken rather than beef, because of my pancreatic aversion to red meat, and chose a crispy taco, since that's the kind I like. The enchilada had a creamy cheese sauce.
The taco came with the meat and shredded white cheese, and I added some salsa and it was fine. The enchilada was tastier with the tangy cheese. The rice was pretty standard Mexican rice, and the beans were creamy and fresh. I threw in some salsa, mixed it all together and used my tortilla chips to scoop it up and was very satisfied.
She Said: The menu was comprehensive, and though I usually go for a vegetarian combination plate, I didn't want quite that much food for this meal, having had a late breakfast. I quickly settled on the shrimp quesadilla, as it combines two things I love into one entrée. I expected the flat quesadillas that one usually gets, in which the ingredients are chopped and spread in with the cheese, and the tortilla is grilled, almost like a pressed panini, but this was a nice buttery flour tortilla that was crisp from the pan, but was wrapped around the plentiful ingredients inside, which included a number of large grilled shrimp, along with onions and peppers. The plate included a bit of guacamole and sour cream and lettuce to apply as I desired, which I did. The meal was very tasty and well textured, and that tortilla itself was a delight. I ate most of it and didn't feel full or like I'd overdone it when we left. It was a great lunch dish (though I didn't see it among the lunch specials).
Service
He Said: Our server was prompt, friendly, courteous and attentive but not overly so. This being lunchtime, everything was pretty speedy. Overall, the service was great. If you're in a hurry for lunch, you can also pick up items to go, though there is a surcharge for that, according to the menu.
She Said:I found the service to be just right, especially for lunch. Everyone smiled as they interacted with us, and we didn't wait too long for anything.
What We Got and What We Paid: A No. 3 combo (taco, enchilada, rice and beans) with a Mello Yello, plus a shrimp quesadilla with a margarita (it's five o'clock somewhere!), all for $31.32. You pay this, by the way, at the counter when you leave, not to your server.
Elapsed Time from Our Arrival to Food Arrival: 14 minutes, which included extra time for He Said to peruse the menu.
Rating:
He Said:The food here is fresh and tasty, the service is excellent. The prices may be higher than some other places in town, but the food is probably better than those places.
She Said: I'll return for the shrimp quesadilla and the party atmosphere!
Is Los Palmas good at what it's good for? Yes! It's a fun Mexican restaurant with fresh food and friendly service.
NOW AVAILABLE!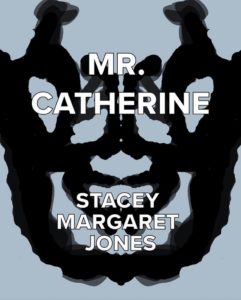 Stacey Margaret Jones's novel, Mr. Catherine, is available online from the following sellers (ebook only through June 24, ebook and paperback as of June 25, 2019): Amazon, Barnes & Noble, Google Play and Apple Books.
Where is Catherine? Catherine has gone missing, a year after confessing to having an affair. Her husband, a marriage and family therapist, hides her infidelity from the police to protect her reputation—and to shelter his pride.
As the secrets begin to pile up, Mr. Catherine, the unnamed husband of the missing woman, is plunged into a world of underground dealings, kidnappers, ex-lovers and drug running in Little Rock, Arkansas, all while grappling with his part in the highs and lows of the life they led together.
With each passing day, a sleepless Mr. Catherine grows more frantic, drinking and popping pills, which stir up painful visions and remembrances that hold a mirror up to the narrator as he comes to terms with his own emotional betrayals.
Mr. Catherine is a fast-paced domestic noir that explores the dangerous secrets between a husband and a wife, as well as a deeper meditation on marriage, connection and honesty.
Comments
comments
http://jayruud.com/wp-content/uploads/2019/11/IMG_0751.jpg
397
640
Jay Ruud
http://jayruud.com/wp-content/uploads/2014/08/JayRuud.png
Jay Ruud
2019-11-04 18:22:57
2019-11-04 18:22:57
Las Palmas