Review No. 76: Layla's Gyros and Pizzeria
2755 Dave Ward Drive
(501) 205-8224
38.7 percent finished reviewing Conway restaurants
The Situation
She Said: I developed a healthy obsession with Middle Eastern food when I lived in suburban Detroit for the summer of 1990: With its large Arabic population, the region has Middle Eastern restaurants in every 'burb and 'hood. Every once in a while, I need a really delicious hummus fix (not the Kroger kind), and based on past experience, I knew Layla's could meet the need, so after a morning at UCA, I picked up Ruud and Ruud2 after their class, and we tooled on over to the location on Dave Ward.
He Said: I was coming off a severe pancreatic incident, which made eating anything at all pretty tricky. But along I came, to see if in fact there was anything on the menu that could soothe the savage breast.
Ruud2: I was hungry. I wanted lunch. I had just had elevensies. I was invited. Also….Middle Eastern food is yummy.
Ambience:
She Said: As I mentioned, there are all kinds of Middle Eastern restaurants in Detroit, where I began to love the cuisine of the region. So, I've been in places like Layla's: a wee bit down-at-heel, nothing fancy, but still pleasant enough. Layla's has a lot of light and I like the bright colors, but it's not posh by any means. I'd put it more on the functional end of the restaurant-décor continuum.
He Said: When we walked in to dine, we were the only ones in the restaurant. This would be a little bit of a red flag if it weren't for the fact that most of Layla's lunch business seems to be take out, and several people did come in and out while we were there, picking up their orders. But I wouldn't say it's an uncomfortable place to eat in. It was fine, just nothing fancy.
Ruud2: I've driven past it on Dave Ward at least one hundred times and barely noticed it; it is a little tucked away and you have to be looking for it to notice it. Nothing flashy. Reminded me of a restaurant you stumble upon on a road trip through unmapped territory (with tumbleweeds tumbling by). That added to the charm though! They are clearly more interested in food and less in décor, but that is fine with me if the eatin' is good.
Drinks:
She Said: One of the things I love that I don't think you can get anywhere else in Conway is the Turkish coffee at Layla's, the dark, thick, intense, sweet coffee that comes in its own small silver pot you pour yourself into an espresso cup. This takes me right back to Bosnia, where He Said and I enjoyed our own little pots of the local version with a small piece of Turkish delight on the side whilst sitting prayer-calling distance of the local mosque. Layla's version is very authentic and very special. It also takes a long time, or mine did. I had given up on ever getting it when the waitress brought it; but it's sweet, as I mentioned, so I had it for "dessert."
He Said: They had Coke products, but I was being cautious about carbonated beverages and caffeine, so I did the "just water" option. Not particularly exciting for the blog, but there it is.
Ruud2: The Diet Coke tasted appropriately Diet Coke-y.
Food
She Said: I ordered the hummus and pita to share and the gyro plate to keep all to myself. I'm pretty choosey about hummus, and Layla's is some of the best around; it's creamy, not grainy or gritty, and the flavor is mild and rich at the same time. The pita bread here is very satisfying, fluffy inside a light crust. I could live on Layla's hummus and pita. The gyro meat is also perfect. It's tender, and well-seasoned with the right textures of undry and crisp. I don't eat much mammal meat, but I can't resist this, which I used to call sharwarma because that's what it's called in Arabic restaurants. The gyros plate comes with a big pita, onions, a salad, the meat and taziki sauce, that dill-yogurt mix that makes me so happy. I used the plate's ingredients to make a sandwich exactly to my liking. I kept eating well past the time I was full because the food was so good. And, when we ran out of pita for our hummus, I ate even more of that, dipping my shawarma in it. I could not stop! Still, I brought almost half my lunch home to enjoy another time.
He Said: Since I had zero tolerance for fat of any kind today, and the menu was full of dishes with beef, or pizzas with cheese, I was scanning the menu for something vegetarian that would be easy on the stomach, and voila! They had a lentil soup! I was overjoyed and enthusiastically ordered the lentil soup. Guess what? They did not have lentil soup today.
I ordered my own personal hummus and pita plate (with, as Ruud2 will make clear, four pieces of pita). Then I asked if I could simply have a side of the turmeric rice that comes with many of the meat dishes. That was no problem, so that's what I got. Of the hummus and pita you have already heard (and will hear), so let me just agree that the hummus here is delicious, perhaps the best in town, and the pita is of a perfect consistency.
Let me say a word about the rice. Sometimes turmeric rice is a bit strong and the taste of the turmeric overpowering. But this was very mild and pleasant tasting. Turmeric, as I'm sure many of you know, is an ancient spice used in curry—it's what makes curry yellow. But it has been found to have great health benefits, being not only a significant anti-inflammatory but also a very strong antioxidant. So for my purposes today, it was a perfect choice, and tasted great as well.
Ruud2: They are a little stingy with the pita bread. They brought us a big bowl of hummus with four small pieces of pita. I never understand when restaurants do that. When asked for more they brought four more small, tiny pita pieces. The rationed pita pieces were warm and fine I guess, but this kind of stinginess annoys me. If you are going to offer dip, hummus, cheese, etc. on the menu you should get an equal proportion of dipping material—ante up!
The chicken sandwich I ordered was delicious, though, and the meat was juicy and well-seasoned.  But since dipping food experiences are 90 percent of what I eat, my experience was a tad colored: First impressions and all that!
Service
She Said: The service was friendly, and you definitely know you're in a locally-owned place, with the owner cooking up the food in the kitchen. But it was slow. In fact, we went awhile waiting to ask for pita while our server sat at a table with her friend (who turned out to be another employee). It didn't bother me because I wasn't in a hurry. If I were, I'd get the food to go.
He Said: No complaints here. Our server was quite apologetic about the lack of lentils, and very accommodating with the side of rice—which seemed to be a pretty large portion for a side.
Ruud2: Very friendly and accommodating. Apologetic when couldn't deliver on one of the menu items. Nice folks!
What We Got and What We Paid: Two hummus and pita appetizers, a plate of turmeric rice, the gyro plate, chicken sandwich, Turkish coffee, and a Diet Coke, all for $36.43 for three people.
Elapsed Time from Order to Food Arrival: 11 minutes until first appetizer, 19 minutes for all entrees. We stopped counting on the Turkish coffee.
Rating:
She Said: The authenticity of this Middle Eastern Cuisine and the friendly atmosphere, make the wait and the "atmosphere" well worth it.
He Said: What I was able to eat was pretty good. I'd like to go back sometime and try something more—perhaps some lentil soup.
Ruud2: A nice low-key lunch place. I'd seek it out again in a pinch, but you may need to BYOP (Bring Your Own Pita).
So…He Said, She Said, and She also Said: Go here for delicious Middle Eastern food when you have plenty of time. Ask for extra pita up front, and try the Turkish coffee!
And by the way, if you like reading "Eat It, Conway," you might be interested in Jay Ruud's new "Merlin Mystery" novel, the third in the series, which will be released on November 10 and now available for pre-ordering on Amazon and on Barnes and Noble: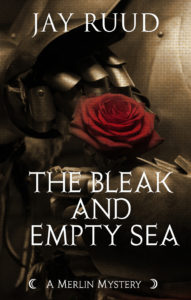 When word comes to Camelot that Sir Tristram has died in Brittany of wounds suffered in a skirmish, and that his longtime mistress, La Belle Isolde, Queen of Cornwall, has subsequently died herself of a broken heart, Queen Guinevere and her trusted lady Rosemounde immediately suspect that there is more to the story of the lovers' deaths than they are being told. It is up to Merlin and his faithful assistant, Gildas of Cornwall, to find the truth behind the myths and half-truths surrounding these untimely deaths. By the time they are finally able to uncover the truth, Gildas and Merlin have lost one companion and are in danger of losing their own lives.
Pre-order from Amazon here: https://www.amazon.com/Bleak-Empty-Sea-Tristram-Mystery/dp/1893035735/ref=sr_1_1?s=books&ie=UTF8&qid=1503328086&sr=1-1&keywords=Bleak+and+Empty+Sea
Pre-order from Barnes and Noble here: https://www.barnesandnoble.com/w/the-bleak-and-empty-sea-jay-ruud/1126958139?ean=9781893035737
Comments
comments
http://jayruud.com/wp-content/uploads/2017/09/IMG_0956.jpg
3024
4032
Jay Ruud
http://jayruud.com/wp-content/uploads/2014/08/JayRuud.png
Jay Ruud
2017-09-25 08:21:19
2017-09-25 08:21:19
Layla's Gyros and Pizzeria