Review No. 112: Logan's Roadhouse
410 Elsinger Blvd
(501) 327-8670
55.9 percent finished reviewing Conway restaurants
The Situation
He Said: She Said was home for the weekend in between two weeks of pretty steady traveling for her day job, and was sick of eating at restaurants, but knew that we needed to review someplace quick while she was home. We were both a little bit dismayed when Logan's Road House came up, because we remembered when it first opened in Conway and had some very negative Yelp reviews. As a result, we had not ventured to eat there before, but now, enough time having passed that we figured they probably would have closed if they hadn't fixed those problems, we thought it was time to go and check them out, Eat It, Conway! fashion.
Logan's Roadhouse is a chain based in Nashville (Tennessee, not Arkansas) with more than 200 restaurants in some 25 states, though the company did go through a bankruptcy in 2016 and closed a number of underperforming restaurants.
She Said: Yes, after the Yelpers put the hurt on this place but good when it opened, it was not on our list of places to try, but our project is to eat in every single restaurant in Conway, so off we went. I'd been having lots of road (or airport) food, but the down-home idea was a little appealing to me after guacamole and cosmopolitan suppers in airport eateries (and drinkeries).
Ambience
He Said:This is a place that gives off a vibe of "traditional American," with its country music soundtrack and bottomless buckets of free peanuts at each table, its steak-and-sandwich menus, bare wood walls, with old-timey signs.
She Said: Yes, it's a prefab old-timey vibe here, but it's not unappealing. I rather like the raw wood walls and country signage. The booths are comfortable and the various dining areas are well divided so you don't feel like you're eating in a barn, or rather, an airport hangar.
Drinks
He Said: They have Coke products here, and I ordered a Barq's Root Beer, which was just what I wanted.
She Said: I had a glass of cabernet, and it was nice enough.
Food
He Said: I wasn't sure what to expect, and went in thinking there might be little on the menu that wasn'tsteak (since "steak" is in fact in the name). Because of my low-fat diet, steak is anathema to my pancreas, and I was just hoping I could find something that was going to feed me—perhaps something green. But I was happy to see first of all, that there is a significant variety of food on the menu, and second, that the menu specifies calorie content for all of the dishes here. I first noticed this while glancing at the dessert section of the menu, where I saw the delicious-sounding Mississippi Brownie contained 1,636 calories—a full day's worth of calories for most people. Since I wanted to perhaps eat something else today at some point, I opted not to have the brownie.
There is, however, a "Healthy and Hearty" section of the menu, where you can order meals that are actually fewer than 500 calories. And imagine my joy when I saw that plank-grilled salmon was one of the dishes on the "Healthy and Hearty" menu! Okay, Logan's Road House, I'm sorry I doubted you. I ordered this, which came with a salad and steamed broccoli, and ordered a fat-free vinaigrette salad dressing.
The salmon was pretty small—around 5.5 ounces—but this was lunch after all, and it was grilled nicely. Of course, it was a bit overdone, which is usually the case if you're not in a true seafood place, but it was not badly overdone. The broccoli was steamed long enough to be pretty soggy rather than crisp, but it didn't taste bad.
Before the meal we were brought Logan's signature yeast rolls with butter. These came in a little plastic basket, but we were given no small plates to put them on, which would have been a good idea. They were extremely hot when they arrived, so one could not hold them, and had nowhere to put them down when they were buttered except back in the basket. They were quite tasty, but it was a little awkward eating them.
We also ordered a fried zucchini appetizer, which was breaded and very tasty, though probably not nearly as healthy as the rest of what I was eating. It was kind of addictive, though, I must say.
She Said: Yes, the zucchini appetizer comprised much more breading than veggie in each fry, and some of those I picked up were just breading, the zucchini having fallen out or vaporized in the deep fryer, but they were nicely seasoned, and who doesn't love fried bread crumbs? I will say, Ruud, your salmon and broccoli weren't plated very attractively—in fact it looked as if they wanted you to feel the lack of food in your order, with lots of "white space" on the plate and the broccoli rolling about all over.
I allowed myself one of the yeast rolls, as I try to limit bread, rice, pasta and potatoes for scale-related reasons. They tasted very good at first, with a nice buttery, honey glaze. I think I may be a bit spoiled by the alternative flours I use at home, because things made with white flour now taste bland to me, or rather come across in the end with what I call the "dead zone," or absence of flavor. So it wasn't hard for me to stick to just one, as by the time I finished it, I'd hit that flavorless point and was bored.
For my entrée, I chose the "Anything & Everything Salad," which has wood-grilled chicken with romaine lettuce, bacon, walnuts, cranberries, blue-cheese crumbles, tomatoes and hard-boiled egg. I chose blue-cheese dressing to go along with it, as that seemed a good match for the components, but I also asked if it could be made with tomatoes, which won't surprise my loyal readers who know how I feel about that vile plant product. But, when it came, it did indeed include tomatoes, which were chopped and distributed throughout. I was able to eat around them with some attentiveness. If I'd been allergic to and not just offended by tomatoes, I would have had to return it. The chicken was tender and flavorful, and the croutons were crispy and plentiful. The walnuts and cranberries provided nice flavor and texture variations for the salad, and overall, I enjoyed it.
Service
He Said: Our server was polite, professional and just attentive enough. She refilled my root beer without being prompted, brought the check at the right time and took care of it quickly, and was on guard to stop someone from the kitchen bringing out something intended for a different table before it got put on ours. No complaints about the service.
She Said: I agree with He Said, but I would have liked my salad to have come without tomatoes, as ordered. I didn't tell her about the error because I didn't want to wait for a new dish.
What We Got and What We Paid: One zucchini fries appetizer, one Anything & Everything salad, one "Healthy and Hearty" salmon, with salad and steamed broccoli, one root beer, one glass of cabernet, all for $44.59.
Elapsed Time from Our Arrival to Food Arrival: 22 minutes.
Rating
He Said: You might want to go here for steaks, but we didn't, so we can't recommend them from first-hand experience. But you can get a variety of other foods, and the calorie counters on the menu allow you to choose carefully what is right for your health.
She Said: Friendly service in a pleasant downhome-esque environment, and good food with a menu with a wide variety—which makes it a good place for larger parties trying to settle on one venue for lots of different tastes.
So… He Said and She Said: Not a bad chain offering in Conway with a variety of offerings, including salads and heart-healthy plates… and a bar.
NOW AVAILABLE:
If you like these reviews, you might enjoy Jay Ruud's most recent novel, now available from the publisher at https://encirclepub.com/product/the-bleak-and-empty-sea/. Also available from Amazon or Barnes and Noble.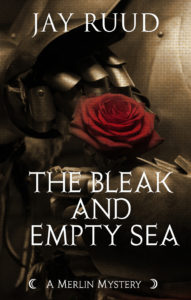 When word comes to Camelot that Sir Tristram has died in Brittany of wounds suffered in a skirmish, and that his longtime mistress, La Belle Isolde, Queen of Cornwall, has subsequently died herself of a broken heart, Queen Guinevere and her trusted lady Rosemounde immediately suspect that there is more to the story of the lovers' deaths than they are being told. It is up to Merlin and his faithful assistant, Gildas of Cornwall, to find the truth behind the myths and half-truths surrounding these untimely deaths. By the time they are finally able to uncover the truth, Gildas and Merlin have lost one companion and are in danger of losing their own lives.
Order from Amazon here: https://www.amazon.com/Bleak-Empty-Sea-Tristram-Mystery/dp/1893035735/ref=sr_1_1?s=books&ie=UTF8&qid=1503328086&sr=1-1&keywords=Bleak+and+Empty+Sea
Order from Barnes and Noble here: https://www.barnesandnoble.com/w/the-bleak-and-empty-sea-jay-ruud/1126958139?ean=9781893035737
Comments
comments
http://jayruud.com/wp-content/uploads/2018/05/IMG_0983.jpg
2053
2856
Jay Ruud
http://jayruud.com/wp-content/uploads/2014/08/JayRuud.png
Jay Ruud
2018-05-27 16:29:25
2018-05-27 16:29:25
Logan's Roadhouse