Review No. 110: Señor Tequila: Mexican Food and Tequila Bar
1117 Oak Street
501-358-6382
54.8 percentage done reviewing Conway restaurants
The Situation
She Said: We wanted to meet our friends from Shanghai for a quintessential Conwegian dinner, so we, of course, chose a Mexican restaurant (I'll let He Said report how many there are in Conway). Though we've been to Señor Tequila many times, we had not yet reviewed it, so they agreed to join us for the ride.
He Said: I think the official number is now 26,472,675. But although Señor Tequila is in a pretty convenient location, being right downtown on Oak Street, this is a location that hasn't had a lot of luck, since neither Michelangelo's nor its short-lived replacement Table Mesa (literally "Table Table") could not make a go of it here. But Señor Tequila is a successful area chain, and perhaps came in with more cachet in its name. At any rate it seems to be hanging in there in a busy downtown restaurant scene.
Ambience:
She Said: I've always liked this space, no matter the former iteration, Michelangelo's, "Table Table" and now Señor Tequila. It's got both cozy seating areas and sunny, naturally-lit areas. It's a large restaurant but is divided well to host guests in various smaller areas. We were seated in the bar area, which is friendly and chill.
He Said: Yes, the restaurant's layout is comfortable and aesthetically pleasing, a holdover from the remodeling done for Michelangelo's. Not a lot has changed in the physical space. Probably because nothing had to.
Drinks
She Said: I've been cutting back on the cocktails lately to fit into a future vacation wardrobe, but for you, dear readers, I made the ultimate sacrifice. I tried the "Top Shelf" margarita on the rocks, and it was good. The tequila was definitely noted, but the delights of the drink were all present and accounted for. After a small margarita, I switched and enjoyed a glass of cabernet, which was fine—it was a small glass, so wasn't a super generous pour.
He Said: I was denied root beer here, and so had to go with a Coke. Got a free refill, though. And then had trouble sleeping afterwards because of the caffeine.
Food
She Said: I had trouble choosing what to eat, because the menu is huge and varied. I waffled among the appetizers (quesadilla!), specials of the house, enchiladas, combinations and salads for a long time. Finally, I decided, after requesting some guacamole, since I don't like the gratis salsa that comes with the chips, to try the taco salad with chicken, as I had never sampled that here. One reason I like the guacamole here is that it is nice and chunky, so it feels very fresh and avocado-y. I enjoyed the chicken salad, as well, mainly because it's a salad (sounds healthy!) that comes topped with sour cream and has lots of seasoned, shredded chicken at the bottom of the delicious, crispy bowl. I added some of the table guac to the top and mixed that in as well—which is perhaps why I couldn't finish it. It was very filling and delightful, and I would get this here again as well as Bite-Squading it. Our friends, a visiting scholar and her 10-year-old daughter, reported that they, too, enjoyed their food and there was plenty of it.
He Said: Forget what She Said says about the salsa, I think their salsa is very good here, and I ate quite a bit of it with the tortilla chips that they bring ahead of the meal. I had a combination plate with two tacos, refried beans and Mexican rice. The menu specified that these were beef tacos, so I asked the waiter if I could have chicken instead. The server said there was no problem, which made me happy, thinking I was getting a lower-fat option. When the meal came I ate it without paying a lot of attention, but afterwards I realized that I hadn't gotten chicken at all, but ground beef.
Since I didn't really notice at the time, I can't complain too much, since I'm sure if I had pointed it out, they'd have changed the dish. Of course, it probably would have taken some time. But even forgetting that little bump, I have to say that the tacos weren't anything special. There wasn't much other than the little bit of ground beef and cheese. I doctored them up by putting some refried beans and salsa on them, but considering the heavy competition with other more independent Mexican places in town, the tacos here don't put up much of a fight. Oh, they're all right, but all right doesn't place them in a category above any of the other Mexican restaurants in Conway.
Service
She Said: Service was friendly and patient—we took a longtime to order. We did need to remind the server to bring the guacamole, and the food seemed like it took awhile, after it also took a little time to place our order. My sense was that the server was stretched thin with lots of tables. We were there to converse and relax, so we weren't in a hurry or inconvenienced by the wait, but if we'd been in more of a hurry, I'd have felt it.
He Said: Yes, the server did disappear for a fairly long period of time, so it's good we were not in a hurry to get the check and leave. And let's not forget the non-chicken tacos. But it's true he was a bit harried since he didn't have much help.
What We Got and What We Paid: One taco salad, one taco combination plate, one taquitos appetizer, one kids pollitos, one soft drink, one top shelf margarita and one glass of cabernet for $51.84 (four meals).
Elapsed Time from Arrival to Food Arrival: 38 minutes.
Rating
She Said: Consistent delivery of the "traditional" Arkansas Mexican repertoire, but not too speedy.
He Said: I'd call it pretty generic Mexican food. You probably won' be terribly disappointed, but you won't be wowed.
So… He Said and She Said: Go here for reliable and filling traditional (local) Mexican food, but make sure you have time to relax and enjoy.
NOW AVAILABLE:
If you like these reviews, you might enjoy Jay Ruud's most recent novel, now available from the publisher at https://encirclepub.com/product/the-bleak-and-empty-sea/. Also available from Amazon or Barnes and Noble.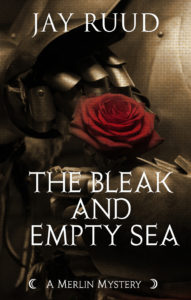 When word comes to Camelot that Sir Tristram has died in Brittany of wounds suffered in a skirmish, and that his longtime mistress, La Belle Isolde, Queen of Cornwall, has subsequently died herself of a broken heart, Queen Guinevere and her trusted lady Rosemounde immediately suspect that there is more to the story of the lovers' deaths than they are being told. It is up to Merlin and his faithful assistant, Gildas of Cornwall, to find the truth behind the myths and half-truths surrounding these untimely deaths. By the time they are finally able to uncover the truth, Gildas and Merlin have lost one companion and are in danger of losing their own lives.
Order from Amazon here: https://www.amazon.com/Bleak-Empty-Sea-Tristram-Mystery/dp/1893035735/ref=sr_1_1?s=books&ie=UTF8&qid=1503328086&sr=1-1&keywords=Bleak+and+Empty+Sea
Order from Barnes and Noble here: https://www.barnesandnoble.com/w/the-bleak-and-empty-sea-jay-ruud/1126958139?ean=9781893035737
Comments
comments
http://jayruud.com/wp-content/uploads/2018/05/IMG_0401.jpg
2069
3140
Jay Ruud
http://jayruud.com/wp-content/uploads/2014/08/JayRuud.png
Jay Ruud
2018-05-28 11:49:19
2018-05-28 11:49:19
Señor Tequila: Mexican Food and Tequila Bar