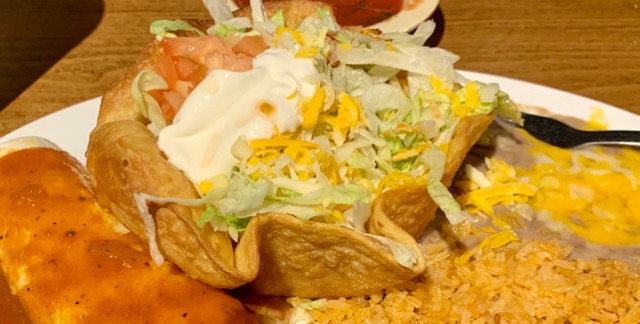 Review No. 184: Los Tres Potrillos
1090 Skyline Drive
(501) 327-1144
82.7 percent finished reviewing Conway restaurants
The Situation
He Said: This whole review is a little bit tricky because we've already reviewed Los Tres Potrillos ("The Three Horses"), but we did so a couple of years ago when they were in their old location inside the Howard Johnson. We've been meaning to give them a try at their new location near I40 exit 125 and decided to make a review meal out of it. It is, in a way, a new restaurant for Conway.
She Said: Yes, we decided to have lunch here once the new location of one of our favorite Mexican restaurants in Conway was open for business.
Ambience:
He Said: I had forgotten that this was my favorite of the 654,321,098 Mexican restaurants in Conway—there being so many others to review—and had only been back a couple of times, but I was never crazy about its previous location in the hotel. This new place is much more conveniently located, and more attractive and roomy inside. Sure it looks like another sports bar interior, and has a lot of TVs with, you guessed it, sports on them, but it's pretty comfortable and not unattractive.
She Said: The ambience is muchimproved, if you ask me, with so much natural light, and modern, sleek décor. I pretty much ignored the televisions and just enjoyed the hipper vibe while I prepared to enjoy some of my favorites from the menu.
Drinks
He Said: Pepsi products so, naturally, Mountain Dew. I have not given up soda, or caffeine, for Lent.
She Said: I was done working for the day, so I selected a classic margarita on the rocks, the medium size. It was nicely adult, both sweet and tart, the way a good marg should be.
Food­
He Said: They got our drink orders and brought us drinks and chips and salsa right away. The chips were fresh and crispy and the salsa very tomato-ey and mild, which is how I like it so I was happy. The menu may have been new since their move—I can't really say since it's been awhile since I've been here. But there were a lot of choices on it, typical of Mexican-American restaurants in the area. There's a pretty broad and inexpensive lunch menu, which I looked at (since we were there at lunchtime) but in the end I opted for a "build your own" meal, where you pick two (or for a bit more money, three) items from a typical list (tacos, burritos, enchiladas, etc.) and they come with Mexican rice and refried beans.
I ordered a chicken taco and chicken burrito with the rice and beans with red sauce (there was a cheese option). What I got was the burrito, rice, and beans, with a taco salad in a crispy corn-tortilla bowl. At first sight I was tempted to send it back but when I saw the taco salad it looked so good I decided to keep my mouth shut and eat it. Which is quite a trick, if you think about it.
The burrito with the red sauce was tasty, tangy, and just what I wanted. The rice and refried beans were pretty typical, but were quite good. The salad, which contained tomatoes and lettuce with lots of shredded chicken, topped with sour cream, was delicious. I went away more than satisfied that Los Tres Potrillos had lost nothing by moving up the road apiece, and vowing that we needed to come back here more often.

She Said: I was frozen by choice for some time with the large menu, which I think is the same as Los Tres Potrillos' previous iteration. I remembered how good the fish tacos were, so at first I thought I would order those. As I noshed on the delicious small order of guacamole with the fresh, crispy chips (I don't like salsa, so I always start with guac), I kept scanning the menu finally settling on a salad, as I love those edible salad bowls and felt like something a little less heavy mid-day. I made the absolute right choice. The chicken was tender and perfectly seasoned for the salad, and the bowl was light and crispy. I couldn't finish the portion, as the plentiful protein of the chicken made it very filling, but I wanted to. I'll be scheming to get back here to eat this again very soon.
Service
He Said: We were seated and attended to pretty quickly, and our server was prompt and attentive. He did make the one mistake in the order, as I mentioned above, but that led to a happy conclusion, so no harm no foul.
She Said: Everyone was friendly and helpful from the first welcoming greeting to the final thank-you-for-coming farewell.
What We Got and What We Paid: One large taco salad with chicken, one "build-your-own pick-2" lunch with burrito and taco salad, one regular guacamole dip, one medium house margarita and one Mountain Dew, all for $27.63.
Elapsed Time from Our Arrival to Food Arrival: 19 minutes from entry to entrées.
Rating:
He Said:  Still my favorite Mexican place in Conway, now with nicer digs.
She Said: The attractive and appealing setting finally matches the delicious food.
Is Los Tres Potrillos good at what it's good for? Yes! In fact, it's even better at what it's good for than it was before, because the food has a setting that make it even more enjoyable.
NOW AVAILABLE!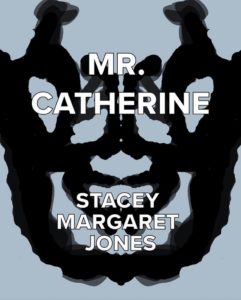 Stacey Margaret Jones's novel, Mr. Catherine, is available online from the following sellers (ebook only through June 24, ebook and paperback as of June 25, 2019): Amazon, Barnes & Noble, Google Play and Apple Books.
Where is Catherine? Catherine has gone missing, a year after confessing to having an affair. Her husband, a marriage and family therapist, hides her infidelity from the police to protect her reputation—and to shelter his pride.
As the secrets begin to pile up, Mr. Catherine, the unnamed husband of the missing woman, is plunged into a world of underground dealings, kidnappers, ex-lovers and drug running in Little Rock, Arkansas, all while grappling with his part in the highs and lows of the life they led together.
With each passing day, a sleepless Mr. Catherine grows more frantic, drinking and popping pills, which stir up painful visions and remembrances that hold a mirror up to the narrator as he comes to terms with his own emotional betrayals.
Mr. Catherine is a fast-paced domestic noir that explores the dangerous secrets between a husband and a wife, as well as a deeper meditation on marriage, connection and honesty.
Comments
comments
http://jayruud.com/wp-content/uploads/2020/03/IMG_4376.jpg
324
640
Jay Ruud
http://jayruud.com/wp-content/uploads/2014/08/JayRuud.png
Jay Ruud
2020-03-03 12:37:31
2020-03-03 12:37:31
Los Tres Potrillos