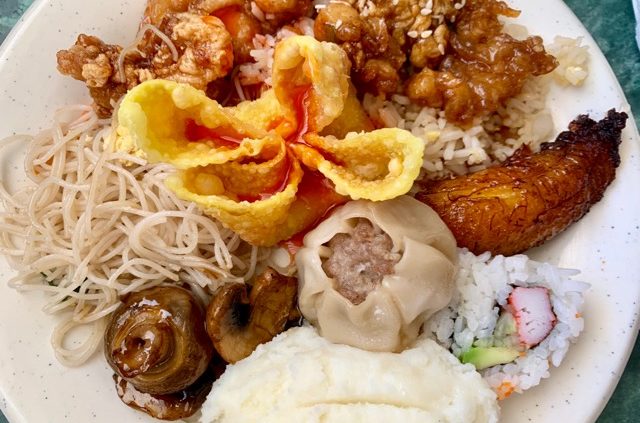 Review No. 177: New China Buffet
2104 Harkrider St., #101
(501) 764-1886
80.5 percent finished reviewing Conway restaurants
The Situation
He Said: I had a date to have lunch with my daughter for the first time in awhile, and we needed to do a review, so we killed two birds with one stone. (I apologize to my daughter for comparing her to a bird that must be stoned.) We hadn't eaten in a Chinese restaurant for some time, and besides, New China Buffet was next on She Said's master list, and so we ended up here for lunch.
She Said: When dining with Ruud2 for lunch, we must find efficient venues, as she often is on a very tight timeline. I figured a Chinese buffet would fit the ticket, so I saved up some macros, and off we went.
Ambience:
He Said: It looks a lot like any other buffet, with several rows of items to choose from, and booths along the windows. Things inside were pretty basic, without anything on the walls to give it a bit of atmosphere. Get in eat, get out was the vibe I got.
She Said: I did like the color scheme, however, as the earth tones made it a little cozier than the institutional brights you see in some such restaurants. The main event here is obviously the food displays, which are accessible and well-spaced.
Drinks
He Said: They do have Pepsi products here, but I ended up with a sweet tea because my wife ordered unsweet tea while I was still going through the buffet, and the server brought her sweet tea by mistake, and I was thirsty so I just said I'd take it while she went back and got the right order for She Said. It was decent sweet tea. Not a lot of ice if you're into that sort of thing.
She Said: My unsweet tea was just fine.
Food
He Said: They have a lot of choices here. Several chicken dishes, beef dishes, some fish dishes, and some traditional Chinese favorites like mashed potatoes and gravy, quesadillas and tiramisu. I picked several things to try, mainly for your sake, dear readers. I grabbed some honey chicken, some General Tso's chicken, some fried fish, a bit of smoked salmon, all with fried rice. I also had a stuffed mushroom, a dinner roll and two desserts (they were very small): that tiramisu and a small cream puff.
So I had something of a mixed bag, and that's also how I'd evaluate the food. I really liked the honey chicken and also would have had more of the General Tso chicken if I'd had room. The one was deliciously sweet and the other nicely tangy. Eaten with the fried rice (which was fine, nothing outstanding) they made my meal. The fried fish was quite fried, and I assume it was traditional Chinese catfish but mainly I was tasting the crispy outside so I'm not sure about the actual fish. But that's how you might like it. The smoked salmon was swimming in some kind of sauce, but I was a bit disappointed with it—it was pretty bland. I did like the stuffed mushroom and the dinner roll was quite nice. The desserts were nothing to write home about. The little cream or custard puff wasn't great, though the tiramisu was OK. All in all, though, I'd have preferred more of the honey chicken to the desserts.
She Said:I had two kinds of chicken, honey and sesame, I believe; crab Rangoon, lo mein noodles, mushrooms, dim sum, fried rice, a sweet roasted plantain, a piece of California roll, and mashed potatoes, along with egg drop soup and apple pie in my second run. I was trying not to go crazy, food-wise, so I filled a plate with samples thinking I would go back for things that were worth a second trip, but there wasn't anything that inspired getting a second helping. The chicken was too tough and each bite was mostly the hard breading with no standout flavor. The fried rice and noodles were bland and unspecial. None of the sushi rolls had labels, but the California roll that I believe I sampled, was fine and the crab Rangoon was also bland with a tough, rather than crispy fried wanton. The mushrooms were fine, but forgettable. The best things on the first plate were the dim sum (pork, I believe—and why don't we have a dim sum place in Conway?!); the mashed potatoes, which were creamy and delicious plain; and the plantain. Trying to find something really satisfying, I went back for the egg drop soup, which was bland; and the apple pie, which was more like a strudel, which I love, but this was also plain and the crust texture was doughy and off.
All in all, it was easy to take just one or two bites of each dish and stay low on macro-meter.
Service
He Said: Well, it's a buffet, so… There was a server to bring drinks (not 100 percent accurately in our case). I did have to ask what we should do after we came in because there was nobody to tell us: I didn't know whether we were supposed to pay before or after, for example. It's after, by the way.
She Said: I like that they don't make you pay first, as many buffet restaurants do; it kind of dampens the mood! Our waitress did make a mistake with the drinks, but she was very quick to correct it, and that happens to everyone. Empty plates were picked up soon, and refills were offered in a timely manner.
What We Got and What We Paid: Three adult buffets and three drinks, all for $32.95.
Elapsed Time from Our Arrival to Food Arrival: 5 minutes.
Rating:
He Said: New China is fine as Chinese buffets go. Some things are better than others, as is the case with all such places. We've liked a few others better, I would say.
She Said: I've had better buffets for sure. The only standouts were things that weren't tough or completely bland.
Ruud2: Meh.
Is New China Buffet good at what it's good for? If you want lots of choices of nothing special, then, heck yeah!
NOW AVAILABLE!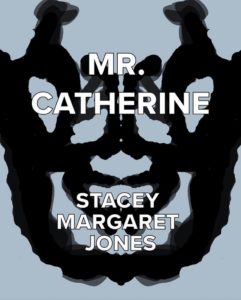 Stacey Margaret Jones's novel, Mr. Catherine, is available online from the following sellers (ebook only through June 24, ebook and paperback as of June 25, 2019): Amazon, Barnes & Noble, Google Play and Apple Books.
Where is Catherine? Catherine has gone missing, a year after confessing to having an affair. Her husband, a marriage and family therapist, hides her infidelity from the police to protect her reputation—and to shelter his pride.
As the secrets begin to pile up, Mr. Catherine, the unnamed husband of the missing woman, is plunged into a world of underground dealings, kidnappers, ex-lovers and drug running in Little Rock, Arkansas, all while grappling with his part in the highs and lows of the life they led together.
With each passing day, a sleepless Mr. Catherine grows more frantic, drinking and popping pills, which stir up painful visions and remembrances that hold a mirror up to the narrator as he comes to terms with his own emotional betrayals.
Mr. Catherine is a fast-paced domestic noir that explores the dangerous secrets between a husband and a wife, as well as a deeper meditation on marriage, connection and honesty.
Comments
comments
http://jayruud.com/wp-content/uploads/2019/10/IMG_0392-1.jpg
436
640
Jay Ruud
http://jayruud.com/wp-content/uploads/2014/08/JayRuud.png
Jay Ruud
2019-10-21 10:17:48
2019-10-21 10:17:48
New China Buffet