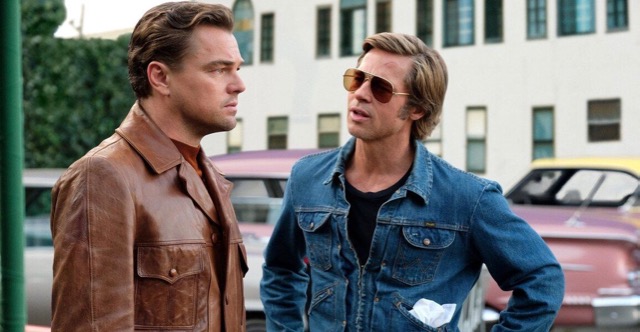 Once Upon a Time… In Hollywood
Quentin Tarantino (1969)
Most moviegoers these days think of 1969, if they think of it at all, as a vague time in the distant past when men first landed on the moon, hippies roamed Los Angeles, and America was being great again in an endless war in Vietnam. If you're 106 years old like me, you remember 1969 well, and remember it was also the year of Woodstock, the inauguration of Richard M. Nixon (who knew how distinguished and presidential he would look 50 years later?) and the year the Chicago Cubs folded in September and lost the pennant to those unspeakable Mets, sending me into a decades-long depression. But I digress.
Quentin Tarantino was born in 1963, so his actual memory of 1969 is fuzzy at best. But having been six years old in 1969 Los Angeles, Tarantino must have felt some childhood fears at the time of the Manson family murders in August of that year, though those fears may by now be lost in the glow of childhood. In any case the Los Angeles of Tarantino's ninth film (he has said that he plans to make only one more movie after this one) does have a bright sheen about it, like childhood memories. This effect is no doubt the product of the fact that Tarantino and cinematographer Robert Richardson have shot this movie (as they did with The Hateful Eight) on film rather than digitally, giving it the look of Butch Cassidy and the Sundance Kid, or Midnight Cowboy, or the original True Grit—or for that matter Dean Martin's The Wrecking Crew, which featured a starlet named Sharon Tate—all filmed in 1969.
There's a nostalgia that hangs about this movie as it recreates an LA of the late '60s through the clothes people wear, the places they go (the Playboy Mansion?), the cars they drive, the TV shows they watch (Mannix! Batman! The Green Hornet! Hullabaloo!), the films they reference (Three in the Attic! Rosemary's Baby!), the media in use (Vinyl albums! TV antennas! Or is it antennae?), and especially the music that forms the soundtrack of the film, including Paul Revere and the Raiders, The Mamas and the Papas, and most significantly Neil Diamond's "Brother Love's Traveling Salvation Show," whose opening line, "Hot August night," zeroes us in on August 8, 1969—the night of the Sharon Tate murders that becomes the point at which the film's plot ultimately arrives. One has to wonder why, with all this attention to the entertainment media of the time, Tarantino hasn't included the Beatles' "Helter Skelter" in the soundtrack—that song that supposedly inspired Charles Manson to commit his murders in the hope of bringing about an apocalyptic race war. Maybe Paul McCartney just didn't want people reminded of that association. Or maybe Tarantino didn't ask.
The film, which earned $40 million its opening weekend (Tarantino's best opening), currently has an 84 percent approval rating from critics on Rotten Tomatoes.com, though audiences give it only a 71 percent rating. It's not difficult to see why some viewers are less than positive about the movie: the negative reviews complain that the movie is overlong (it is some 161 minutes), and that the plot is meandering and doesn't seem to go anywhere. There is some justice to these claims, although to be honest I never felt like looking at my watch (I don't have one anyway and my Fitbit is broken) and as for the meandering plot, that's pretty much par for the course in a Tarantino movie—you just let yourself go with it and trust that in the end, all the different strands will come together. Or mostly. And that's what happens here.
The story focuses on Rick Dalton (Leonardo DiCaprio, a veteran of Tarantino's Django Unchained), who is a fading star who rose to fame in a hit TV series of the 1950s and early '60s called Bounty Law, a thinly disguised reference to the old Steve McQueen star vehicle Wanted: Dead or Alive. And it centers, as well, on Cliff Booth (Brad Pitt from Tarantino's Inglorious Basterds), who was Rick's stunt double in his old Bounty Law days and has remained Rick's best friend. Cliff is a former war hero (and assuming he's playing his age, that would be World War II, not the Vietnam War, as some young whippersnapper critics are suggesting), but is no longer welcome on set as a stunt man because of, let's say, a questionable incident in his past, and he lives in a trailer behind the Van Nuys Drive-In theater with his faithful red pit bull Brandy. Cliff seems to get by only through working as Rick's driver and all around factotum.
Rick lives in a spacious mansion on ritzy Cielo Drive but it's unlikely he's going to be able to keep up that lifestyle for long. Having left his successful TV show for what he expected to be a meteoric movie career, he was stymied when that career hit a brick wall after two forgettable efforts. And now he is reduced to guest-starring as the villain on current TV shows. He's heartened by the fact that Roman Polansky, the hot-shot director of Rosemary's Baby who's taken Hollywood by storm (as Quentin Tarantino, the hot-shot director of Pulp Fiction, was to take Hollywood by storm a quarter century later) has moved in next door to him. But his prospects seem slim, and when a Hollywood casting agent named Marvin Schwarzs (an unexpected Al Pacino) offers him the chance to star in a spaghetti western in Rome (as former western star Clint Eastwood did to resurrect his stalled film career in the mid '60s), Rick sinks into depression, fearing his career is over.
But cast as the heavy in the pilot for the (real life) TV show Tanner, Rick is able to cast off his gloom and get back his confidence with the help of his eight-year old co-star Trudi (a scene-stealing Julia Butters from TV's American Housewife) and by working with James Stacy (Timothy Olyphant from TV's Deadwood) and Wayne Maunder (the late Luke Perry in his last screen role), the real-life stars of Tanner.
Meanwhile Cliff, who likes to tool around town in Rick's white Caddy, picks up a young hippy hitchhiker who calls herself Pussycat (Margaret Qualley from TV's The Leftovers) and who offers to engage in debauchery with him as he drives her home. In the hilarious scene that ensues, Cliff insists that she produce proof of age before such a thing can take place. It's instructive to remember that all of Tarantino's earlier films were distributed by Harvey Weinstein, and that after the scandal that shook Weinstein's world Tarantino wanted nothing more to do with the former film czar and sold the rights to this film to Sony. It's hard to watch this scene without seeing a subtext.
Turns out that Pussycat lives with a whole "family" of hippies—almost all girls—on the Spahn Ranch, where Cliff and Rick used to shoot westerns. He demands to see his old friend George Spahn to learn whether the family is taking advantage of him. Spahn is played by Bruce Dern, a veteran of westerns himself (including Hang 'Em High with Eastwood in 1968 and, yes, Lancer in 1969). The part was originally intended for Burt Reynolds (whose first big break was as Quint on the long-running Gunsmoke—the character that Quentin Tarantino's parents named him after), but Reynolds passed away before filming began. Spahn doesn't remember much, and is too old to care, but seems happy enough to collect rent in the form of sex from the Manson "wives," particularly from Squeaky Fromme (Dakota Fanning).
After his Lancer success, Rick decides to accept Schwarzs's offer and takes Cliff with him to Italy to shoot spaghetti westerns for six months. It's worth noting here that Tarantino's title is a direct allusion to Sergio Leone's epic 1968 Italian western Once Upon a Time in the West—and Leone, of course, invented the spaghetti western with his trilogy starring Eastwood. Rick, we assume, had a lesser director, but he does return in August with Cliff and a new Italian wife.
Shoehorned in between scenes featuring Cliff and/or Rick are scenes following Rick's neighbor, Polansky's wife, the starlet Sharon Tate (Margot Robbie of I, Tonya). We know, of course, what is about to happen to her, but we watch her go about her daily routines oblivious of the horror that awaits. She does not have a lot of lines, but in a sense she doesn't need them: she comes across, in her bubblegum attachment to Paul Revere and the Raiders and her childlike delight in watching herself on the big screen, as pure innocence and aspiring youth and optimism, the embodiment of the ideal '60s LA before life turned noxious after the disasters of the late '60s. But this film is a fairly-tale, remember. Anything can happen "once upon a time," and remember what Tarantino did to history in Inglorious Basterds.
Tarantino fans might be disappointed at how brief and relatively mild the violence is in this film, which is more about relationships in a Jackie Brown kind of style. But they will be happy to see many Tarantino veterans in cameos, including Kurt Russell (The Hateful Eight) and Michael Madsen (a Tarantino regular since Reservoir Dogs). And there are some brilliant cameos by Tarantino newcomers like Damien Lewis (of TV's Billions) who does a brilliant Steve McQueen impression, and Mike Moh (from TV's Empire), who has a hilarious stand-alone scene as a young Bruce Lee as Cato on The Green Hornet testing his martial arts against stuntman Cliff.
Overall, this film is highly enjoyable. Brad and Leo have a great chemistry—like a new Newman and Redford (Butch Cassidy was a 1969 film, remember). The plot points do all come together at the end, but to tell you how would be a spoiler. And ultimately this as a Tarantino film that ends with hope and optimism, and that's something we all need these days. Even if it's only a fairy tale. Three Tennysons and half a Shakespeare for this one.
Just named a finalist for the INDIE award for best Mystery novel of the year:
Jay Ruud's most recent novel, Lost in the Quagmire: The Quest of the Grail, IS NOW a finalist for this year's INDIE award for books by independent publishers. You can order your copy direct from the publisher (Encircle Press) at http://encirclepub.com/product/lost-in-the-quagmire/You can also order an electronic version from Smashwords at https://www.smashwords.com/books/view/814922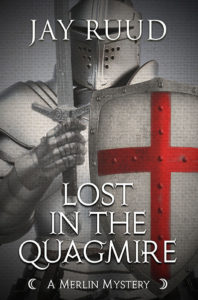 When Sir Galahad arrives in Camelot to fulfill his destiny, the presence of Lancelot's illegitimate son disturbs Queen Guinevere. But the young knight's vision of the Holy Grail at Pentecost inspires the entire fellowship of the Round Table to rush off in quest of Christendom's most holy relic. But as the quest gets under way, Sir Gawain and Sir Ywain are both seriously wounded, and Sir Safer and Sir Ironside are killed by a mysterious White Knight, who claims to impose rules upon the quest. And this is just the beginning. When knight after knight turns up dead or gravely wounded, sometimes at the hands of their fellow knights, Gildas and Merlin begin to suspect some sinister force behind the Grail madness, bent on nothing less than the destruction of Arthur and his table. They begin their own quest: to find the conspirator or conspirators behind the deaths of Arthur's good knights. Is it the king's enigmatic sister Morgan la Fay? Could it be Arthur's own bastard Sir Mordred, hoping to seize the throne for himself? Or is it some darker, older grievance against the king that cries out for vengeance? Before Merlin and Gildas are through, they are destined to lose a number of close comrades, and Gildas finds himself finally forced to prove his worth as a potential knight, facing down an armed and mounted enemy with nothing less than the lives of Merlin and his master Sir Gareth at stake.
Order from Amazon here: https://www.amazon.com/Lost-Quagmire-Quest-Merlin-Mystery/dp/1948338122
Order from Barnes and Noble here: https://www.barnesandnoble.com/w/lost-in-the-quagmire-jay-ruud/1128692499?ean=9781948338127
Comments
comments
http://jayruud.com/wp-content/uploads/2019/07/once_upon_a_time_still.0-1.jpg
332
640
Jay Ruud
http://jayruud.com/wp-content/uploads/2014/08/JayRuud.png
Jay Ruud
2019-07-31 09:45:26
2019-07-31 09:45:26
Once Upon a Time...In Hollywood