Review No. 84: Outback Steak House
955 E. Oak Street
(501) 548-6220
42.7 percent finished reviewing Conway restaurants
The Situation
He Said: We had been to Outback just once since moving to Conway, and that was 14 years ago. It wasn't so much because we didn't like it. Mainly it was that it was never really in our consciousness, mainly because of its very weird location, back there somewhere behind Walmart off of Harkrider, in that kind of no-man's-land that recently sunk Ruby Tuesday's. I suppose they put it there originally because you could see the sign from I-40, but I can't imagine that that worked very well for them, since someone unfamiliar with Conway coming off the freeway would have a lot of trouble just figuring out how to get there. Anyway, Outback has recently moved to a new location on Oak Street, in a kind of "chain restaurant row" on the same stretch as Chipotle, TGI Fridays, and Chili's, and now that it's there, it's much harder to forget about or ignore. So we were drawn to it for this week's review.
She Said: We're having a beefy few weeks here at Eat It, Conway, as we went to another new local steakhouse and a burger joint recently. But Outback is right there, large and in charge, so we thought we better try it out.
Ambience:
He Said: The ambience here is kind of more like a sports bar than a steak house. It does remind me of nearby TGI Friday's in its layout, though I didn't notice whether there was a specific bar area. We sat at a booth for three rather than a table, which was also an option. It was reasonably comfortable, though I thought the music was a bit louder than it needed to be.
She Said: There is indeed a bar with big TVs, Ruud, and the dining area is somewhat removed from that vibe, though not totally. I liked it, and thought the dark colors and open floor plan of the main dining area and bar were appealing. I too thought the music was loud, but once we got to talking, I didn't notice it anymore.
Drinks
He Said: They had Coke products. I had a Dr. Pepper, which our server refilled without being asked, and even offered me a to-go glass, which I declined..
She Said: I ordered a 9-ounce pour of the Coppola Cabernet, which was very nice. They bring that in a small carafe so you can dispense it as you like.
Food
He Said: We got a fresh mini-loaf of pumpernickel rye bread, which was very tasty, and which we could have had seconds on, since our server offered it. As for the entree, it's always a crapshoot at these kinds of restaurants whether I can find something that might fit my low-fat dietary needs. The Outback menu does indicate dishes that have fewer than 500 calories, one of which was the Grilled Chicken on the Barbie, which, according to Outback's nutritional chart online, actually has only 310 calories. There were 13 grams of fat in the entrée, which is excellent for a restaurant meal, especially one as tasty as this turned out to be. The chicken is nicely grilled with a coating of seasoning on the top, and the barbecue sauce comes on the side so that you can have as much or as little as you want. It's a sweet sauce that gave the chicken a tangy flavor. Something in the seasoning gave it a bit of a kick, so the chicken is just a little bit spicy, but not so hot that most people wouldn't like it. The vegetables were mainly a couple of kinds of squash and some carrots, and seem to have been stir-fried. The whole thing was not especially imaginative, but it was good food.
Having done so well on my entrée, I thought that, for the sake of our faithful readers, I ought to have some dessert so that I could give a full report. There was a new giant chocolate cake dessert on the menu, which I jumped on. And here I made my major error. The cake was delicious, don't get me wrong—several layers of dark chocolate with smooth cake frosting and a raspberry sauce. And it actually tasted fairly light. But that was deceptive. This cake has something like 100 grams of fat in its 1,600 calories. Fortunately, I knew better than to eat the whole thing, but I'm pretty sure I ate half of it, and that was much more than I should have.
Ruud 2, by the way, thoroughly enjoyed her hamburger, but was too busy to contribute to the review. Sheesh, these people with jobs.
She Said: I was open to a steak when I rolled up to Outback, but as I perused the menu, I could tell that I just wasn't up to the task, and I wasn't even hungry enough for a burger. I did want a little more than a salad, of which they had a nice variety (so I filed that knowledge away for another day). After some dithering and advice from our server, I settled on the Aussie fish tacos and fries (with mayo on the side). It was a smaller, lighter meal ("only" 660 calories, which is comparatively light for restaurant like this). The small, soft-shell tacos come with blackened tilapia, crispy slaw, pico de gallo and an herb aioli. The fish was the least interesting ingredient (a little dry and bland), but I enjoyed them and ate all three as well as my fries (I refuse to look up those calories).
I'm not sure what you think of as "light," Ruud, but that delicious cake was not it. The creamy and buttery frosting dripped with calories, and the cake itself was dense and chocolatey. In fact, I just took a few bites of what we took home as "research." Since 1,600 calories is more than I usually eat in a whole day, it was definitely a decadent treat, which the three of us couldn't finish even when we shared it.
Service
He Said: Our server was very friendly, very accommodating, and never hurried us, though we took a bit of extra time waiting for Ruud2 to show up. She was helpful and prompt with the bread (asking if we wanted more when we'd finished it all). She brought the bill without having to be chased down for it, and took care of it promptly when paid.
She Said: Yes, she was a pro, and was very helpful to us without being overbearing. She made our lunch very pleasant.
What We Got and What We Paid: One "Grilled Chicken on the Barbie" with a side of fresh seasonal vegetables; one Aussie Fish Tacos with fries; one "Outbacker Burger" with fries and a wedge salad, one chocolate cake, one Dr. Pepper, and one (9 oz.) glass of Coppola cabernet, all for $67.83 for three people (including dessert and wine).
Elapsed Time from Arrival to Food Arrival: 31 minutes from the arrival of the last member of our party to the delivery of entrees.
Rating
He Said: Not bad for a chain, and you can find low-fat options if you're careful. You can also go off the rails if you're not.
She Said: A wide variety of tasty options for a chain restaurant in a pretty, new space with friendly service.
So… He Said and She Said: Go here for a pleasant bar-and-grill atmosphere with tasty food and drinks in that category.
NOW AVAILABLE:
If you like these reviews, you might enjoy Jay Ruud's most recent novel, now available from the publisher at https://encirclepub.com/product/the-bleak-and-empty-sea/. Also available from Amazon or Barnes and Noble.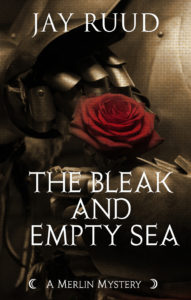 When word comes to Camelot that Sir Tristram has died in Brittany of wounds suffered in a skirmish, and that his longtime mistress, La Belle Isolde, Queen of Cornwall, has subsequently died herself of a broken heart, Queen Guinevere and her trusted lady Rosemounde immediately suspect that there is more to the story of the lovers' deaths than they are being told. It is up to Merlin and his faithful assistant, Gildas of Cornwall, to find the truth behind the myths and half-truths surrounding these untimely deaths. By the time they are finally able to uncover the truth, Gildas and Merlin have lost one companion and are in danger of losing their own lives.
Pre-order from Amazon here: https://www.amazon.com/Bleak-Empty-Sea-Tristram-Mystery/dp/1893035735/ref=sr_1_1?s=books&ie=UTF8&qid=1503328086&sr=1-1&keywords=Bleak+and+Empty+Sea
Pre-order from Barnes and Noble here: https://www.barnesandnoble.com/w/the-bleak-and-empty-sea-jay-ruud/1126958139?ean=9781893035737
Comments
comments
http://jayruud.com/wp-content/uploads/2017/11/FullSizeRender.jpg
3024
4032
Jay Ruud
http://jayruud.com/wp-content/uploads/2014/08/JayRuud.png
Jay Ruud
2017-11-20 10:07:08
2017-11-20 10:08:01
Outback Steak House