Review No. 94: Pizza Hut
705 Club Lane
47.6 percent finished reviewing Conway restaurants
(501) 327-4449
The Situation
He Said: She Said was hankering for a pizza, and there's certainly no lack of pizza places we have not yet reviewed in Conway, so we checked our short list of Restaurants To Review, and out popped Pizza Hut. This is not the only Pizza Hut in Conway. There are in fact two other locations—one just east of town on Oak Street, but that is just a take-out place; and one, a "Pizza Hut Express," on the UCA campus—but the one here on Club Lane is the only "typical" Pizza Hut, where you can go in, sit down and eat.
Pizza Hut is actually currently the seventh-largest restaurant chain in the world (by number of locations), with 13,738 (a few hundred restaurants behind the largest pizza chain in the world—Dominos). So, a lot of what they have at any local Pizza Hut is pretty much the same as what they've got at the last Pizza Hut you've been in. And if you liked that, chances are pretty good you're going to like this one.
She Said: Any day I can eat pizza is a good day because I love pizza as much as Ruud2 loves tacos. I loved Pizza Hut as a kid, but I rarely eat it now, in favor of other local establishments, so I was counting the minutes until lunch and pizza, and hoping it was as delicious as I remembered it.
Ambience:
He Said: Well, it's basically a chain restaurant and looks like pretty much like a fast-food place inside. Booths and tables. A little darker tones than a McDonald's or someplace of that ilk.
She Said: Yes, when you arrive, the buffet is on one side and the seating area is on the other. This restaurant has the booth-table hybrid I don't particularly love: One side is a booth bench, the other side has two chairs, which doesn't give you the coziness of the booth at all. But, it's clean, with lots of natural light and pleasant enough.
Drinks
He Said: They have Pepsi products here, and my go-to Pepsi product drink is Mountain Dew. Which I had. And it tasted exactly as I expected it would.
She Said: I had my first Diet Pepsi in years, and it was very good. Ice tea doesn't really go with pizza, so I had lots of soda (refills for days).
Food
He Said: Pizza places are a challenge for my low-fat diet since even without peperoni or sausage there's always, always cheese. But they do have a lunch buffet here, which I thought might make things a bit easier for me, and which I assume most people who come here for lunch are going to have. So a-buffeting I did go.
Admittedly, most people who come into a Pizza Hut are not going to have the buffet because they want to find an alternative to pizza, but rather because they want something quick and inexpensive and/or want to sample slices of several different kinds of pizza. Well the buffet here certainly was inexpensive, and I could have sampled perhaps a maximum of four different pizzas, all of which had been sitting around for awhile. But for my purposes, there was not much in the way of alternatives to pizza. There is a salad bar which is not bad, with lettuce as well as cucumbers, broccoli, tomatoes, peppers, croutons, shredded cheese and a few other things one might be inclined to put into a salad. There were also about eight different dressings. On the glass above the dressings is a sticker that lists about fourteen different dressings, some of which are low fat. The problem is, none of the dressings actually in the salad bar are labeled, so there is no way of knowing whether one of those dressings is one of the low-fat ones listed on the sticker; it's a good example of a good intention that becomes completely useless because it fails in the execution.
Beyond the salad bar were the different kinds of pizza, and I did try a small slice with mushrooms and pepperoni. That single piece had probably only about seven grams of fat. There were breadsticks on the buffet as well, with some marinara sauce. And there was a small amount of a rotini pasta dish with some kind of cheese sauce. That was the entire buffet.
There is a big sign as you walk in the door that says "Pizza Pasta Wings." This would have been an awesome buffet if it had contained more than one very small dish of pasta and a couple of different kinds of wings. Why not? Oh well. The piece of pizza I had was really good, and I wish I could have had more. The pasta seemed like it had been sitting out for quite awhile. The salad was okay, but I wish I had known what kind of dressing I had used.
She Said: My love of pizza is deep and abiding, but it's also a big caloric treat for me, so I was not going to stand by and accept what was randomly served up on the buffet on this day of all days: Pizza Eating Day. I wanted what I wanted, so I ordered off the menu, which I got the impression not a lot of people do during buffet hours. I quickly saw that the menu includes the calories for each selection for make-your-own pizza, and that's calories per slice, not pie. I chose the thin crust, classic marinara, regular cheese, pepperoni and mushrooms 9-inch pizza, which came out to 280 calories each slice. Good to know.
And great to eat. The crust was delightfully thin and crispy, and each slice delivered the perfect mix of textures and tastes. The pepperoni was crispy and chewy, and the mushrooms were plentiful, but not overwhelming. (My only complaint is that green olives aren't offered on the toppings list. I've got no use for black olives!) It looked beautiful, and I'm sure that part of its deliciousness was that it came right from the pizza oven to my plate (get in my belly!). Sitting on the buffet or delivery time would have decreased the merits of this dish, but probably not enough to make me regret those 840 calories.
Service
He Said: I can't say it was stellar. There was one woman watching the whole dining room, and also running the cash register. Since most people who come here at lunchtime probably come for the buffet, they may not need anybody else. But since She Said wanted to order off the menu, we did have to ask specially for the menu, and then more or less call her away from the cash register to take the order. She wasn't surly about it or anything, but it wasn't especially smooth. She did come back once and give us refills on the soft drinks, so I'll give her that!
She Said: Yes, relying on the buffet hampers good table service for sure. She was friendly, but it was awkward because once He Said decided on the buffet and went to forage there, I was afraid she'd think that's what we were both having and never return (because she was otherwise engaged). But I did think she was friendly and pleasant, even though I was a cog in her smoothly running buffet machine.
What We Got and What We Paid: One medium thin-crust pizza with pepperoni and mushrooms, one lunch buffet, one large Mountain Dew, one large Diet Pepsi, all for $23.77.
Elapsed Time from Our Arrival to Food Arrival: 21 minutes (for the pizza)
Rating
He Said: The pizza is pretty good for a chain restaurant. The buffet could use some work.
She Said: Pizza Hut knows how to make a perfect thin-crust pizza, and this one was delicious, a work of pizza perfection.
So… He Said and She Said: Go here for your favorite Pizza Hut pizza, made to order, not for the buffet.
NOW AVAILABLE:
If you like these reviews, you might enjoy Jay Ruud's most recent novel, now available from the publisher at https://encirclepub.com/product/the-bleak-and-empty-sea/. Also available from Amazon or Barnes and Noble.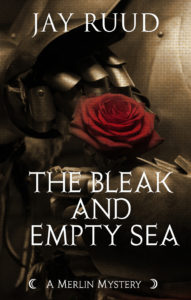 When word comes to Camelot that Sir Tristram has died in Brittany of wounds suffered in a skirmish, and that his longtime mistress, La Belle Isolde, Queen of Cornwall, has subsequently died herself of a broken heart, Queen Guinevere and her trusted lady Rosemounde immediately suspect that there is more to the story of the lovers' deaths than they are being told. It is up to Merlin and his faithful assistant, Gildas of Cornwall, to find the truth behind the myths and half-truths surrounding these untimely deaths. By the time they are finally able to uncover the truth, Gildas and Merlin have lost one companion and are in danger of losing their own lives.
Order from Amazon here: https://www.amazon.com/Bleak-Empty-Sea-Tristram-Mystery/dp/1893035735/ref=sr_1_1?s=books&ie=UTF8&qid=1503328086&sr=1-1&keywords=Bleak+and+Empty+Sea
Order from Barnes and Noble here: https://www.barnesandnoble.com/w/the-bleak-and-empty-sea-jay-ruud/1126958139?ean=9781893035737
Comments
comments
http://jayruud.com/wp-content/uploads/2018/02/IMG_7356.jpg
2778
3862
Jay Ruud
http://jayruud.com/wp-content/uploads/2014/08/JayRuud.png
Jay Ruud
2018-02-12 09:09:40
2018-02-12 09:09:40
Pizza Hut