Review #92: Taco Bueno
1155 Dave Ward Drive
46.8 percent finished reviewing Conway restaurants
(501) 450-3999
The Situation
He Said: So She Said was out of town all week, but we didn't want to skip a week of reviewing (these Conway restaurants aren't going to review themselves! OK, well, maybe they are, but we're a little more objective). So I got hold of Ruud2 since one of our more frequent go-to lunch spots was on the short list: Taco Bueno. We go here when time is a serious consideration, because it's easy and convenient to get to from UCA, where I pick her up for lunch, and it's always very quick. Because it is. as you probably are aware, fast food.
Ruud2: I'm always up for tacos in a hurried setting! Because I'm always in a hurry. and because…TACOS.
Ambience:
He Said: Let's face it, Taco Bueno is only a Mexican restaurant in the sense that Long John Silver's is a seafood restaurant. It's fast food is what it is, and the restaurant looks like most other fast food restaurants on the inside. But it is bright and reasonably clean and comfortable, so there's nothing to complain about regarding the ambience.
Ruud2: It's clean and comfortable with nice lighting. But let's face it…I could eat tacos in a closet in the dark. In fact…I'm pretty sure I did that right after I had my twins. I defy you to judge me!
Drinks
He Said: They have fountain drinks here of the Pepsi variety, which you fill yourself. So you can get yourself a refill for the road if you are so inclined. I could have had a Mug root beer (which is caffeine free), but opted for a Mountain Dew. And I wasn't sorry. But I was pretty well caffeinated.
Ruud2: Fountain drinks are never my favorite but these taste like actual soda and not like I just stuck a bag of syrup and pixie sticks in my mouth.
Food
He Said: My go-to entrée at Taco Bueno has always been the chicken taco platter with crispy taco shells. You get two tacos that are made with white meat, tomatoes, lettuce and some shredded cheese, and you can have soft shells, crispy shells, or one of each. You get sides of Mexican rice and of refried beans, plus a side bag of tortilla chips. There is sour cream and guacamole on the side if you what to add those to your tacos (I don't do so because they both add extra fat). There is also a self-serve counter with different kinds of salsa that you can add; I always get mild red salsa). The tacos are not bad at all, and the rice is very tasty. The refried beans are particularly good.
As with all fast food chains, you need to be careful of calories and, in my case, of fat in the entrees, sometimes in surprising places. Now it is logical that the chicken option would have the fewest calories and least fat content of the choices. You can check these choices out online before you go if you like. The Beef Wholotta Platter here, for example, contains 2099 calories and 119.7 grams of fat. Just to put that in perspective, 1500 calories is a healthy intake for an entire day. As for the fat grams, my diet allows me 60 grams per day, so this one entrée is two days' worth of fat as far as I'm concerned.
But looking further into Taco Bueno's online nutrition chart causes me some concern. While it is true that the chicken taco platter is in fact the least heavy option with 1167 calories, it does contain 56.9 grams of fat, less than any other meal on the menu but still pretty much an entire days' worth of fat for me. And I couldn't figure out why that should be: crispy chicken tacos have only 7.3 grams of fat apiece, and the Mexican rice has only 4.2 grams. Turns out the refried beans have 32.3 grams of fat all by themselves. Who knew? No wonder they taste so good. Normally, refried beans should not have that much fat, but Taco Bueno must put something in them—cheese perhaps? That jacks up the fat level. I believe the next time I come here, I will order black beans instead—they have zero grams of fat.
Ruud2: Listen…let's not fool ourselves dear readers.  I have yet to meet a person on this earth who does not love tacos. In fact, were I to meet such a person I would immediately know we could never be friends nor establish any basis of trust in our relationship and may even have to call security on the person in question. Tacos are the perfect food and very hard to mess up. Also, they are the go-to food after a night out, the perfect stress eating food, and the meal you eat on Tuesday nights, or sometimes in the closet in the dark postpartum. But really, without Tacos our lives would be sad and meaningless. I digress. The chicken taco platter was what I ordered and it was delicious. What I love about Bueno is that even though it's fast food, it always tastes much fresher. Probably the best fast food Taco option.
Service
He Said: It's always pretty quick and competent here: they get the order right, do it quickly, and bring it to your table. So they pretty much have it together, service-wise.
Ruud2: Friendly and fast!
What We Got and What We Paid: One chicken taco platter with soft shells, one chicken taco platter with crispy shells, and two small self-serve drinks, all for $17.23.
Elapsed Time from Our Arrival to Food Arrival: 4 minutes.
Rating
He Said: The food is better than other fast food "Mexican" places, and it's quick and convenient and inexpensive.
Ruud2: Tacos are one of my joys in life. Taco Bueno makes Tacos. Math is not my strong suit but I'm pretty sure that means Taco Bueno = happiness. 
So… He Said and She Said: Go here if you want a quick, inexpensive lunch that won't make you wish you had eaten someplace else.
NOW AVAILABLE:
If you like these reviews, you might enjoy Jay Ruud's most recent novel, now available from the publisher at https://encirclepub.com/product/the-bleak-and-empty-sea/. Also available from Amazon or Barnes and Noble.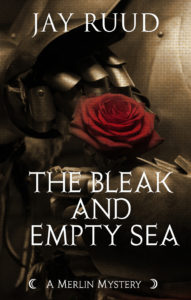 When word comes to Camelot that Sir Tristram has died in Brittany of wounds suffered in a skirmish, and that his longtime mistress, La Belle Isolde, Queen of Cornwall, has subsequently died herself of a broken heart, Queen Guinevere and her trusted lady Rosemounde immediately suspect that there is more to the story of the lovers' deaths than they are being told. It is up to Merlin and his faithful assistant, Gildas of Cornwall, to find the truth behind the myths and half-truths surrounding these untimely deaths. By the time they are finally able to uncover the truth, Gildas and Merlin have lost one companion and are in danger of losing their own lives.
Order from Amazon here: https://www.amazon.com/Bleak-Empty-Sea-Tristram-Mystery/dp/1893035735/ref=sr_1_1?s=books&ie=UTF8&qid=1503328086&sr=1-1&keywords=Bleak+and+Empty+Sea
Order from Barnes and Noble here: https://www.barnesandnoble.com/w/the-bleak-and-empty-sea-jay-ruud/1126958139?ean=9781893035737
Comments
comments
http://jayruud.com/wp-content/uploads/2018/01/IMG_7159.jpg
1867
2465
Jay Ruud
http://jayruud.com/wp-content/uploads/2014/08/JayRuud.png
Jay Ruud
2018-01-26 12:52:24
2018-01-28 19:00:26
Taco Bueno