Review No. 151: Rally's
420 Oak Street
(501) 327-2600
69.5 percent finished reviewing Conway restaurants
The Situation
He Said: We had just left church on Sunday morning (well, it was after noon when we left) and were heading for Little Rock to try to make a 1:15 movie, so it made sense to grab lunch at a drive-through and eat it on the way. And there just happened to be a drive-through on our way out of town. Rally's, one of myriad fast-food outlets along Oak Street, has been on this corner of Ingram and Oak since before we moved to Conway 16 years ago, but to tell you the truth I never even knew its name—just one of the many. Rally's though, which merged in 1999 with another brand, Checkers, is one of the largest drive-through franchises in the country, with some 800 restaurants throughout the Southeast and Midwest. Their gimmick is a narrow building with drive-through windows on each side (maximum efficiency!). They want to serve fast food that's not bland and also not expensive. In that, they are successful.
She Said: Yes, along with He Said, I knew there was something foody here, but not what it was until this little experiment of ours caused me to make a list, and Rally's came up next in my super-secret system of choosing what we're reviewing and when. I was up for trying a new fast-food burger in town as we cruised down to Little Rock for a flick.
Ambience:
He Said:Uh, well, there's no real ambience—it's a drive up window. One could theoretically eat here if the weather is nice, since there are a couple of stone tables outside, but the vast majority, I'm sure, are stopping here because they are going to eat in their car. She Said's new car is nice, so we had a nice ambience.
She Said: I do like my car; it has heated seats and podcasts on the sound system! Yes, this place is all about getting 'em in and getting 'em out.
Drinks
He Said: They have Coke products here, including Barq's Root Beer, which I ordered. It was a medium drink and I was glad they had the root beer, but there was probably about a quarter's worth of actual root beer in the glass, since (as so often happens in such places) they decided what I must have really wanted was a cup full of ice and a shot of root beer.
She Said: I had fancy water with me, so I stuck with that because I like it better than soda or tea. Sorry, dear reader.
Food
He Said:I ordered the spicy chicken sandwich and we split a medium order of Rally's Famous Seasoned Fries. The sandwich was breaded and fried chicken on a sesame seed bun with a bunch of lettuce. The breading was crispy and definitely had a hot kick to it, which was not bad (Rally's says it's chicken that "bites back"). The sandwich was pretty dry, though, and I wondered why there was no sauce or condiment of any kind on it. I did hit a very small patch of something, probably mayonnaise, amongst the lettuce at one point, but it was barely noticeable. So, the sandwich was tasty but dry. The fries were also spicy, though not so hot. They were crisp and tasty with a slightly unusual seasoning. I'd have liked them better if I'd had some salt to put on them, but that did not seem to be an option at the drive through. Maybe I should have asked, but I didn't think of it.
Still, according to their online nutritional facts, the chicken sandwich had only13 grams of fat, which is not bad. Unfortunately, the fries had 24 grams of fat, and She Said didn't help me with many of them, so I would need to be more careful if I ever order lunch here again!
She Said: While I never cook beef at home, I do enjoy a good burger occasionally out, so since He Said was covering the chicken angle, I was perfectly happy to ask for the burger. As usual, I went for the basic offering because the other deluxe-style offerings looked too big and caloric. I chose the Rally Burger, no cheese. And I was pleasantly surprised by this burger of this place I had never once considered eating. It was meaty, nicely cooked, and the toppings were generous (but I forgot to say "no tomato," so there was plenty of that, too), including a lot of fresh onion (sorry, Ruud!). I wondered if there was a "special sauce," but it was just mayo, ketchup and mustard, mixed. The basic burger here is a good size, meaning big enough to feed you and not big enough to weigh you down, at 320 calories, with more protein than fat—and plenty of carbs, which is why I ate two (2) of He Said's fries… and that's what he calls "splitting" fries with me.
Service
He Said:Well, I think there was only one guy taking orders from both windows during the noon hour, and he didn't sound all that happy. So I can't say we got particularly friendly service, but it was fairly quick, and it was not surly, so that's a win.
She Said: And our order was correct, which is always something you've gotta check at the drive-through.
What We Got and What We Paid: One Rally Burger, one Spicy Chicken Sandwich, one medium fries, and one medium root beer, all for $9.59.
Elapsed Time from Our Arrival to Food Arrival:13 minutes, which is a bit long for drive-up service.
Rating:
He Said:The food was not exactly the same as everywhere else, and it was inexpensive, but it's unlikely I'll stop here again any time soon. Perhaps if I want something really quick to eat on the road, but I didn't find anything here that lifts it above other similar places.
She Said: I thought the hamburger was a cut above many fast-food offerings, and the next time I'm in a hurry for a burger fix, Rally's willbe on my list.
Is Rally's Good At What It's Good For? Our experience was a mixed bag with a successful burger and less satisfying chicken sandwich. Since burgers seem to be their specialty, if you drive through here, let them lead with their strengths.
Just named a finalist for the INDIE award for best Mystery novel of the year:
Jay Ruud's most recent novel, Lost in the Quagmire: The Quest of the Grail, IS NOW a finalist for this year's INDIE award for books by independent publishers. You can order your copy direct from the publisher (Encircle Press) at http://encirclepub.com/product/lost-in-the-quagmire/You can also order an electronic version from Smashwords at https://www.smashwords.com/books/view/814922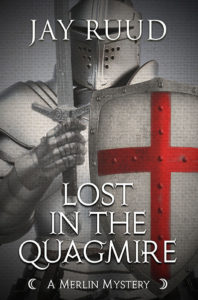 When Sir Galahad arrives in Camelot to fulfill his destiny, the presence of Lancelot's illegitimate son disturbs Queen Guinevere. But the young knight's vision of the Holy Grail at Pentecost inspires the entire fellowship of the Round Table to rush off in quest of Christendom's most holy relic. But as the quest gets under way, Sir Gawain and Sir Ywain are both seriously wounded, and Sir Safer and Sir Ironside are killed by a mysterious White Knight, who claims to impose rules upon the quest. And this is just the beginning. When knight after knight turns up dead or gravely wounded, sometimes at the hands of their fellow knights, Gildas and Merlin begin to suspect some sinister force behind the Grail madness, bent on nothing less than the destruction of Arthur and his table. They begin their own quest: to find the conspirator or conspirators behind the deaths of Arthur's good knights. Is it the king's enigmatic sister Morgan la Fay? Could it be Arthur's own bastard Sir Mordred, hoping to seize the throne for himself? Or is it some darker, older grievance against the king that cries out for vengeance? Before Merlin and Gildas are through, they are destined to lose a number of close comrades, and Gildas finds himself finally forced to prove his worth as a potential knight, facing down an armed and mounted enemy with nothing less than the lives of Merlin and his master Sir Gareth at stake.
Order from Amazon here: https://www.amazon.com/Lost-Quagmire-Quest-Merlin-Mystery/dp/1948338122
Order from Barnes and Noble here: https://www.barnesandnoble.com/w/lost-in-the-quagmire-jay-ruud/1128692499?ean=9781948338127
Comments
comments
http://jayruud.com/wp-content/uploads/2019/03/IMG_2685.jpg
2522
3505
Jay Ruud
http://jayruud.com/wp-content/uploads/2014/08/JayRuud.png
Jay Ruud
2019-03-24 20:24:17
2019-03-24 20:25:23
Rally's