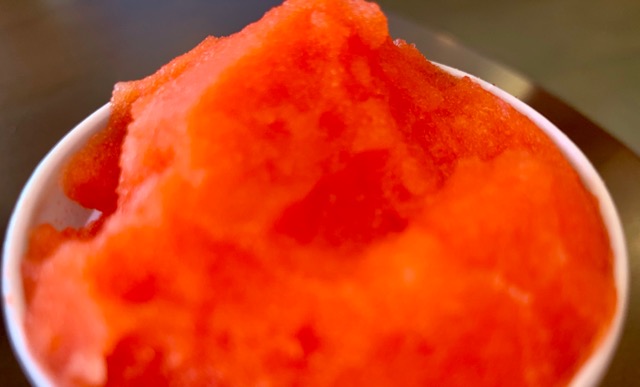 Review No. 176: Rita's Italian Ice & Frozen Custard
1040 S. Amity Road
(501) 358-6221
80.0 percent finished reviewing Conway restaurants
The Situation
She Said:We had our twin 5-year-old grandsons for the weekend, and we like to keep things moving with them, so after our church's Oktoberfest concluded, we tooled on over to Rita's to try out this "Italian ice" thing they advertised. We figured pre-school boys were good guinea pigs for sugar products.
He Said: Yes, and what the heck, we were handing them back over to their parents later, so theycould deal with the inevitable sugar highs.
Though new to Conway, Rita's has been in business since 1984, when Bob Tumolo, a former Philadelphia firefighter, opened the first store. Now owned by Argosy Private Equity and MTN Capital, Rita's has its headquarters in Bensalem, Pennsylvania, and has more than 600 Rita's locations in some 30 states.

She Said: It's the sugar CRASH that is most fearsome, and I'm not sure we entirely escaped that.
Ambience:
She Said: It's bright and cheery, and the boys particularly enjoyed the Halloween decorations this little frozen treat parlor had put up, spiders and webs, etc. There aren't a lot of tables, but L chose a table by the front windows to sit and enjoy our treats. (We certainly weren't putting boys and ice cream in the car!)
He Said: It is indeed cheery, but small—there are only about three tables inside. Most folks take the icy treats away.
Drinks
She Said: Dear Reader, I have limited capacity to attend to things, and keeping two young boys alive while choosing frozen treats, along with keeping each of them from making a poor choice that would lead to a melt-down (see what I did there?) is all I can manage, so I didn't notice if there were drinks at all, until later I saw He Said had a Mountain Dew and someone at some point also asked me if I wanted a bottle of water. The water was great.
He Said: Yes, they did have Pepsi products and water. I needed the super-caffeinated Mountain Dew since I had been kept up pretty much all of the previous night by one of these 5-year-olds, who shall remain nameless.
Food
She Said: I love ice cream, gelato, sorbet, fro-yo, all of it! And I was sure 5-year-old boys would like it, too. As we were new here, I wasn't sure what to expect, but I was looking forward to something fruity and refreshing. As mentioned, I was functioning with less decision-making time than usual with the boys, so when the staffer suggested I try the "Gelati" (which I thought was the plural of gelato…?) I said, sure! He even gave me a little bit to try. Gelati at Rita's is a parfait of Italian ice and frozen custard, and my new BFF behind the counter suggested vanilla custard and then asked me what fruit flavor I like of "blah, blah, blah or mango?" You guessed it! I said, "Mango, please!" The friendly man was not mumbling, I just couldn't pay attention while trying to figure out what the boys were doing or would want. I love mango (margaritas, La Croix, fresh slices on a hotel balcony in Hawaii), so in the interest of expediency, I ordered the proffered Gelati. Reader, it was lovely! While I'm not a huge vanilla lover, the custard was very thick and creamy and made a great complement to the fruity, light mango Italian ice. I did not finish it, however, because it is very sweet. I would have liked to order half of the small they sell.
The boys each chose blood orange Italian ice, which by the time they finished their small sizes was, as they laughed, "Italian soup!" that they happily sipped out of the cups. They showed off their dark orange tongues and giggled with glee as they dug into their treats. It was a wild success as far as they were concerned!
He Said: Also, of course, we had to take pictures of them sticking out their bright orange tongues and send them to their parents over the interwebs. It was a requirement in the by-laws of grandparenting.
For myself, I probably should have had the fatless Italian ice, since that would have been most pancreas-friendly, but since the twins were already having those, and since She Said was having that fancy-schmantzy Gelati, I knew that our dear readers would want a variety of selections reviewed, and so at great personal sacrifice I decided on a small cup of chocolate custard with chocolate fudge topping (what I got seemed more like chocolate syrup, but it was good anyway). I could have had one of several different kinds of cone, but I chose the cup instead. I wasn't feeling the cone today. The custard really was delicious, smooth and creamy and cold and very chocolatey.
There are only 11 grams of fat in the chocolate custard here (less even than in vanilla!). The hot fudge adds only three more grams. A cone would have added more, so I was smart not to get one. But altogether the dessert cost me 14 grams of fat—which I could easily afford if I didn't go overboard the rest of the day.
Service
She Said: Our counter attendant was super helpful, knowledgeable and chill (see what I did there? AGAIN!), and I appreciated his cheery service when I was a bit stressed myself.
He Said: Yes, we were something of a hot mess since we had not been here before, but the server was patient and helpful.
She Said: Yes, we were a soup sandwich!
What We Got and What We Paid: Two small blood orange Italian ices, one small Gelati, one small chocolate custard with chocolate fudge, plus a bottle of water and a bottle of Mountain Dew, all for $17.92 (for a party of four).
Elapsed Time from Our Arrival to Food Arrival: 5 minutes.
Rating:
She Said:I'm putting Rita's on my frozen treats short list, because the fruit flavors are very refreshing and the custard is rich and delicious, and the chance to mix the two is a sweet treat indeed!
He Said:You can get frozen custard other places in town, but this is as good as any of those, and it's got the Italian ice to boot!
Is Rita's Italian Ice & Frozen Custard good at what it's good for? Yes! There's nowhere like Rita's in Conway for friendly frozen-treat offerings!
NOW AVAILABLE!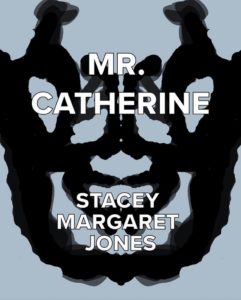 Stacey Margaret Jones's novel, Mr. Catherine, is available online from the following sellers (ebook only through June 24, ebook and paperback as of June 25, 2019): Amazon, Barnes & Noble, Google Play and Apple Books.
Where is Catherine? Catherine has gone missing, a year after confessing to having an affair. Her husband, a marriage and family therapist, hides her infidelity from the police to protect her reputation—and to shelter his pride.
As the secrets begin to pile up, Mr. Catherine, the unnamed husband of the missing woman, is plunged into a world of underground dealings, kidnappers, ex-lovers and drug running in Little Rock, Arkansas, all while grappling with his part in the highs and lows of the life they led together.
With each passing day, a sleepless Mr. Catherine grows more frantic, drinking and popping pills, which stir up painful visions and remembrances that hold a mirror up to the narrator as he comes to terms with his own emotional betrayals.
Mr. Catherine is a fast-paced domestic noir that explores the dangerous secrets between a husband and a wife, as well as a deeper meditation on marriage, connection and honesty.
Comments
comments
http://jayruud.com/wp-content/uploads/2019/10/IMG_0238.jpg
387
640
Jay Ruud
http://jayruud.com/wp-content/uploads/2014/08/JayRuud.png
Jay Ruud
2019-10-14 15:41:03
2019-10-14 15:41:03
Rita's Italian Ice & Frozen Custard