Review No. 145: Sam's Southern Eatery
1515 Dave Ward Drive
(501) 504-2719
66.5 percent finished reviewing Conway restaurants
The Situation
He Said: There's a new restaurant at the location where Sawbuck's used to be, that bills itself as Southern Food. We were there to check it out for lunch.Turns out it's a chain, with locations in Little Rock North Little Rock, Hot Springs and a host of other Arkansas towns, as well as, apparently, Hattiesburg, Mississippi, since that was the address on the receipt we got when we paid.
In fact, I learned that Sam's opened their first restaurant in Shreveport, Louisiana, in 2008, and in just 10 years they have expanded to 51 locations in seven different southern states. Their goals? Southern cooking, large portions, reasonable prices. Our observation is that they do seem to be doing all three of those things.
She Said: I was curious what had sprung up in the former Sawbuck's location, and I was fueling for a long run, so I was happy to try this place out for lunch on a weekday.
Ambience:
He Said:The place is still hard to get to because of the quick turn off of Dave Ward, at least if you're coming from the west. It's a little easier if you are turning left into the parking lot, since at least you have a turn lane. Inside, it has a couple of different seating areas, but they are rather small. The booth we sat in was in an enclosed area with three or four other booths. It was not especially comfortable. She said was squirming to go while I was still trying to finish my large portion.
She Said: The booth was oddly spaced. There was so much room between the table and our bodies, I had to lean over the whole time I was eating, which my 49-year-old back didn't care too much for. My advice is to sit in chairs, not the immovable booth seats. The room was cozy enough with its single row of booths along an aisle for the servers.
Drinks
He Said: They have Coke products here. I asked the server about Barq's Root Beer. Then Mello Yello. Then Dr. Pepper. She knew they had Dr. Pepper. But she came back to say that yes, they didhave root beer after all. And so they did. This kind of glitch is to be expected with a new place, and it didn't raise any red flags in itself.
She Said: I ordered unsweet tea, as usual, and I found it rather weak.
Food
He Said:I found no nutrition facts online for this chain, but most things that weren't burgers here were fried, so there was not a great deal of choice for me. They did offer a choice of fried or grilled with some of the chicken items, so I ordered five grilled chicken strips. I was allowed two sides with this, so I chose green beans and fries. The chicken was OK—slightly seasoned and peppered strips of chicken (they brought me eight rather than five for some reason, so the "large portion" was even larger, and it was a lot more than I needed).
The chicken was nothing to write home about, but it was OK, though occasionally a bit gristly. It came with some side vegetables (onions, with pieces of green and red pepper). These complemented the chicken pretty well. Also a roll that was kind of a large hush puppy. This was actually pretty good, though I wish I'd had some butter or something else to put on it. The green beans seemed to be out of a can, but were in a slightly spicy sauce. The fries were the best part of the meal, actually. They were a little spicy and were crispy on the outside and soft on the inside.
She Said: Still thinking about the upcoming gala dress I had looming over me, I scanned the menu for something on the lighter side. The "salads" looked like they were mostly mayo-based, such as chicken salad. So, I threw caution to the wind, and ordered a burger and fries.
The burger wasn't bad, though a bit on the charred side, but it was satisfying and tasty comfort food. The fries, as my esteemed boothmate wrote, were the real stars. I ate them with mayo, as one who hates ketchup does, and they were delightful: crisp with light-flaky innards, and a mild seasoning that spiced them up just enough. I ate about half the burger and 10 or so fries—that dress was not going to fit into itself!
Service
He Said:There were a number of glitches, maybe even more than what you'd expect in a restaurant recently opened. First, we were greeted in a friendly manner when we first entered, and told to sit anywhere and our server would be right with us. We sat down and our server was nowhere to be seen. Someone brought the bill to the table next to us but looked off into the distance when she walked by us afterward. We continued to sit, and finally two women sat at the booth at the other side of us, and they were immediately waited on by a server asking for their drink orders. That server looked at us and then came over to ask if anyone had taken our drink orders yet.
Later, when our food was brought, I had no silverware, and had to ask for it. When it was brought, it was a fork and a large soupspoon. I'm not sure what I was supposed to do with the spoon—eat the green beans like soup maybe? It would have been nice to have a knife to cut up the long chicken strips, but when I asked for one, the server (after several minutes) came back to tell me that there were no knives in the restaurant. I proceeded to use the spoon to try to cut up my meat. Finally, when the bill came, I was charged for a side of hush puppies that I hadn't ordered. This was very quickly corrected. But suffice it to say things could have gone better.
She Said: The silverware thing was weird. I would think knives would automatically go on the list of things to buy for a sit-down restaurant serving any kind of meat, but obviously, I don't know a thing about the restaurant biz. It did take awhile to get waited on, and I was about to give up when the two women who sat down and got served right away allowed us to draft off of their success. Our server was very nice and friendly, and we felt quite comfortable asking her for things and talking to her, and I felt sorry for her that she had to come back and report to us that the restaurant has no knives for customers.
What We Got and What We Paid: One single burger with fries, one large iced tea, one five-piece grilled chicken strips with sides of green beans and fries, and one large Root Beer, all for $19.49.
Elapsed Time from Our Arrival to Food Arrival: 18 minutes
Rating:
He Said:Some of the food was pretty good, and it may be that the fried chicken is better than the grilled.
She Said answers: Is it worth having your gala dress altered? The burger isn't, but the fries might be.
Is Sam's Southern Eatery Good At What It's Good For? It's good at fries also seems good at food you can eat with your fingers (BYOK).
NOW AVAILABLE!!!
Jay Ruud's most recent novel, Lost in the Quagmire: The Quest of the Grail, IS NOW available. You can order your copy direct from the publisher (Encircle Press) at http://encirclepub.com/product/lost-in-the-quagmire/You can also order an electronic version from Smashwords at https://www.smashwords.com/books/view/814922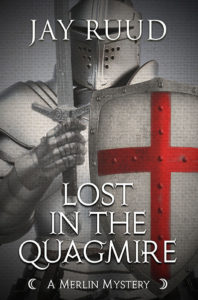 When Sir Galahad arrives in Camelot to fulfill his destiny, the presence of Lancelot's illegitimate son disturbs Queen Guinevere. But the young knight's vision of the Holy Grail at Pentecost inspires the entire fellowship of the Round Table to rush off in quest of Christendom's most holy relic. But as the quest gets under way, Sir Gawain and Sir Ywain are both seriously wounded, and Sir Safer and Sir Ironside are killed by a mysterious White Knight, who claims to impose rules upon the quest. And this is just the beginning. When knight after knight turns up dead or gravely wounded, sometimes at the hands of their fellow knights, Gildas and Merlin begin to suspect some sinister force behind the Grail madness, bent on nothing less than the destruction of Arthur and his table. They begin their own quest: to find the conspirator or conspirators behind the deaths of Arthur's good knights. Is it the king's enigmatic sister Morgan la Fay? Could it be Arthur's own bastard Sir Mordred, hoping to seize the throne for himself? Or is it some darker, older grievance against the king that cries out for vengeance? Before Merlin and Gildas are through, they are destined to lose a number of close comrades, and Gildas finds himself finally forced to prove his worth as a potential knight, facing down an armed and mounted enemy with nothing less than the lives of Merlin and his master Sir Gareth at stake.
Order from Amazon here: https://www.amazon.com/Lost-Quagmire-Quest-Merlin-Mystery/dp/1948338122
Order from Barnes and Noble here: https://www.barnesandnoble.com/w/lost-in-the-quagmire-jay-ruud/1128692499?ean=9781948338127
Comments
comments
http://jayruud.com/wp-content/uploads/2019/02/IMG_1493.jpg
3024
4032
Jay Ruud
http://jayruud.com/wp-content/uploads/2014/08/JayRuud.png
Jay Ruud
2019-02-10 18:03:38
2019-02-10 18:03:38
Sam's Southern Eatery