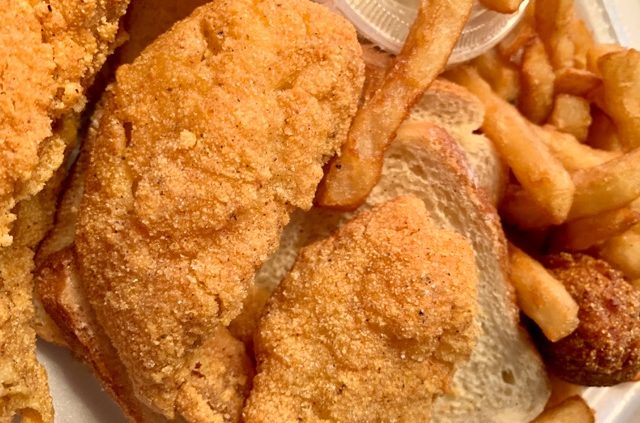 Review No. 162: Shark's Fish and Chicken
2655 N. Donaghey Avenue
(501) 358-6737
73.5 percent finished reviewing Conway restaurants
The Situation
She Said: I had been watching our twin grandsons all day when I texted He Said to ask about dinner plans. He said we needed a review meal, so I looked up Shark's and texted him my order with instructions to pick it up while I was on my way home. I was too much looking forward to putting on lounge pants and pouring a glass of rosé to go out, but if he would pick it up, I would write it up.
He Said: I was not aware of this place before today. The menu did seem pretty extensive with not only fish and chicken dishes, but burgers and salads as well. I wasn't sure where it was, but it was easy to find: It's in one of those little shopping centers on North Donaghey after Donaghey makes its turn to the east to head toward Harkrider.
Ambience:
She Said: I have no personal knowledge of this, but based on He Said's description, I didn't miss anything.
He Said: Yeah, it's essentially a not-very-big and pretty noisy fast food place. I actually was happy to be picking the order up rather than eating there, since it didn't look to be all that comfortable an atmosphere.
Drinks
She Said: I had a rosé from my fridge, so y'all are on your own when it comes to drinks here.
He Said: Yeah, we didn't get drinks with our carryout order, but this was one of the interesting things about Shark's that I noticed while waiting for my order: They had a refrigerated case with BOTH Pepsi and Coke products—I didn't think that was even legal!
Food
She Said: I perused an online menu, and had trouble choosing, as Shark's offers many of my favorites, cat fish, chicken dinners, wings. I finally chose the 4-piece, whole wings dinner, which is served with fries and coleslaw. The chicken breading was pretty peppery, and while the BBQ sauce helped with that a bit, it wasn't very pleasant eating. The fries were soggy, and the coleslaw was okay. I also got two pieces of bread, which I guess were included to absorb wing grease, though the wings were not greasy. The bread was very unappetizing, so I gave it to my dogs.
And then I got an Alyssa's oatmeal vegan bite from my pantry and ate it to apologize to my body.
He Said: I ordered fish since She Said was taking on the chicken. I had the three-piece small ocean perch meal. This, too, came with fries, coleslaw, and that same bread. It also had two small hush puppies that came with the meal. The perch was about what you'd expect of a kind of deep-fried battered fish. I'm fairly certain that the batter was exactly the same on She Said's mother's catfish, and that the fish probably tasted pretty much the same. If you like fish in a deep-fried batter, you'll be fine with this. It's not really good for my pancreas, so I'm hoping I don't have any issues.
The hush puppies were a kind of surprisingly tasty treat. And the coleslaw was not bad at all—kind of sweet. I liked it all right, and normally I don't like coleslaw much. The fries didn't taste bad, but they were definitely limp and soggy, and so would have to be regarded as disappointing. As for the two slices of soft white bread—they seemed like slices of Wonder Bread. I gave mine to the dogs as well. The dogs did not complain. But the bread is nothing to write home about.
My Mom: The fries were soggy, maybe from sitting around too long. The catfish was okay. It was catfish.
Service
He Said: I called in the order, and it was taken pretty promptly. The young woman who answered the phone told me it would be ready in 15 minutes. About 15 minutes later I arrived, walked in, and the order was ready. No hassles, no waiting. I can't complain about the service.
What We Got and What We Paid: One small catfish dinner (two pieces); one four-piece chicken wings with barbecue sauce; one small (three piece) ocean perch meal, all for $24.33 (for three people. With no drinks.)
Elapsed Time from Our Arrival to Food Arrival: Well, 15 minutes, as I said, from my phone order to my pickup.
Rating:
She Said: Un-special.
He Said:Yeah, I might have liked it a little more than She Said, but it's not one of my favorite places in Conway.
Is Shark's Fish and Chicken good at what it's good for? As long as there are places like Eat My Catfish, the answer is not good enough.
NOW AVAILABLE!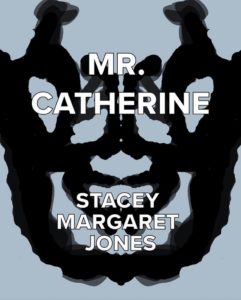 Stacey Margaret Jones's novel, Mr. Catherine, is available online from the following sellers (ebook only through June 24, ebook and paperback as of June 25, 2019): Amazon, Barnes & Noble, Google Play and Apple Books.
Where is Catherine? Catherine has gone missing, a year after confessing to having an affair. Her husband, a marriage and family therapist, hides her infidelity from the police to protect her reputation—and to shelter his pride.
As the secrets begin to pile up, Mr. Catherine, the unnamed husband of the missing woman, is plunged into a world of underground dealings, kidnappers, ex-lovers and drug running in Little Rock, Arkansas, all while grappling with his part in the highs and lows of the life they led together.
With each passing day, a sleepless Mr. Catherine grows more frantic, drinking and popping pills, which stir up painful visions and remembrances that hold a mirror up to the narrator as he comes to terms with his own emotional betrayals.
Mr. Catherine is a fast-paced domestic noir that explores the dangerous secrets between a husband and a wife, as well as a deeper meditation on marriage, connection and honesty.
Comments
comments
http://jayruud.com/wp-content/uploads/2019/07/IMG_6155.jpg
458
640
Jay Ruud
http://jayruud.com/wp-content/uploads/2014/08/JayRuud.png
Jay Ruud
2019-07-01 09:28:49
2019-07-01 09:28:49
Shark's Fish and Chicken