Review No. 136: Slim Chickens
550 East Salem Road
(501) 450-7546
61.9 percent finished reviewing Conway restaurants
The Situation
He Said: The first Slim Chickens opened in Fayetteville in 2003, and the brand has been an Arkansas tradition for 15 years. Calling itself a "fast casual" restaurant, the chain specializes in wings and chicken tenders, and currently has 14 locations in Arkansas, including five in Fayetteville alone, plus restaurants in 13 other states and in the United Kingdom and Kuwait as well, for more than 60 locations overall. The one in Conway is on Salem Road, near a plethora of other chain restaurants in the neighborhood of the Kroger. She Said, as Keeper of the List, told me it was our turn to review Slim Chickens. So off we went.
She Said: It was the day before Thanksgiving, and we were much more focused on what we were going to be cooking the next day instead of cooking that day, so the only question about lunch was where to go.
Ambience:
He Said: There is a rather large dining area with a tall white-beamed ceiling and TVs tuned to sports stations around the room, and company slogans painted on the walls. There's also a dining area outside, but it was a bit chilly the day we were there. It was clean, bright and comfortable enough, though the chairs were metal with no cushions, so I'm not sure I could have sat in them for hours on end.
She Said: The style was definitely Franchised Down Home complete with shiplap (for all you Joanna Gaines fans who love to love shiplap—or love to hate it), brick as well with lots of windows. Marketing messages are painted on the walls in attractive script, and there are booths, tables and various seating arrangements to choose from. It was bright and pleasant.
Drinks
He Said:They have Coke products from a help-yourself fountain, and these included Barq's Root Beer. I had some, and, lo and behold, it was good.
She Said: I chose unsweetened iced tea, and it was good, not too strong, but it held up against the ice.
Food
He Said: I think I had the wrong idea in my head about what a Slim Chickens place would serve, and thought when I walked in I might be having an order of fried chicken or perhaps a grilled chicken sandwich. Alas, these are not on the menu (though looking at a menu after the fact, I believe I could have had a grilled chicken tender wrap). Seeing that the chief choices were in the area of tenders and/or wings, I made the snap decision to have a six-piece wing plate, which came with a drink, Texas toast, and one side, for which I chose fries as the easiest thing I could think of without pondering over the menu for another twenty minutes. From the long list of possible sauces, I chose honey barbecue, thinking it sounded quite tasty and that it was probably the lowest-fat possibility (unless they tried to sneak in some mayonnaise or something without telling you, as restaurants are wont to do).
Turns out I made the right choice, as in looking at the nutritional guide posted by Slim Chickens online, it says the wings have three grams of fat apiece (a total of 18 grams), while the honey barbecue sauce has no fat at all. Unfortunately, the fries did contain 22 fat grams, though I'm not sure any of the other sides would have been much better for a low-fat diet, except maybe the side salad, but that would depend on whether you could get a low-fat dressing.
The honey barbecue sauce was quite tasty, and the wings themselves were fine, though I'm not sure they were any better than at other wing spots in town. One thing Slim Chickens does have going for it is that each order is made fresh, so you know the wings haven't been sitting around for awhile. But some other places can probably say the same.
The fries were pretty good, thin and fairly crispy, so perhaps they were worth those 22 grams of fat. As for the Texas Toast, it was hardly worthy the name. Texas Toast is, by definition, toast with butter and usually garlic that is thicker than normal toast. This bread was a normal thin slice, with perhaps a little butter (it was hard to tell) and no garlic.
I did try a couple of bites of She Said's chocolate chip cookie, and it was fine, though again, nothing special, and I've had better at a number of restaurants in town.
She Said: I was all geared up for a fried chicken sandwich, and I was sure this was my place for this decadent treat. But the only such offering on the menu is a spicy chicken sandwich, which I did not want. (On the wall it says they make every dish to order, so could I have asked them for a plain chicken sandwich?) Panicked, I chose the wings and chicken strips meal, three pieces of each, with fries. I didn't really understand the sauce and dipping questions I was asked, and what I got was two blue cheese dipping sauces for my barbecue-flavored wings. It was a Thanksgiving miracle, because that's what I would have chosen if I'd known what I was doing.
The chicken strips were the best offering on my plate—or in my basket, rather. The breading was crisp and the chicken was tender, and I ate all three of these. I'm not a huge chicken tenders fan because I don't prefer white meat, but if I were in the mood for some, I'd eat these again. I didn't care for the wings. I found them tough and a little dry, and I didn't eat all of them. Nor did I eat all the fries, because I found them a little wilted and not worth the calories. As He Said said, the cookie also was nothing special, and I was happy to share it—because that's just the kind of nice wife I am.
Service
He Said: Having never been here before, we had no idea what the menu would look like, so we stood from several minutes carefully reading the menu as posted above the counter where you order, allowing other patrons to go ahead of us if they came in knowing what they were doing. The server there was infinitely patient and then answered our questions patiently when we ordered. She wasn't gushing friendliness but she was professional and helpful, and brought our food out to us fairly quickly.
She Said: The server was patient, though I was a little confused and she wasn't that clear. She was no-nonsense and got the job done.
What We Got and What We Paid: One "3 and 3 Plate" with a side of fries, one "6 Wing Plate" with a side of fries, one chocolate chip cookie, one regular Barq's Root Beer and one regular unsweetened Iced Tea, all for $23.30.
Elapsed Time from Our Arrival to Food Arrival:15 minutes from entering the store to delivery of our food.
Rating:
He Said: It is possible to eat a low-fat meal here that is tasty, but overall the food is pretty average.
She Said (or is it worth the weight I gained): No. I gained 1.2 pounds eating part of a meal here (and ate small healthy meals the rest of the day). If I'm going to get bad news from the scale, it won't be for chicken tenders.
Is Slim Chickens Good At What It's Good For? It's okay at what it's good for. But there may be better chicken places in town, though they offer less shiplap.
NOW AVAILABLE!!!
Jay Ruud's most recent novel, Lost in the Quagmire: The Quest of the Grail, IS NOW available. You can order your copy direct from the publisher (Encircle Press) at http://encirclepub.com/product/lost-in-the-quagmire/You can also order an electronic version from Smashwords at https://www.smashwords.com/books/view/814922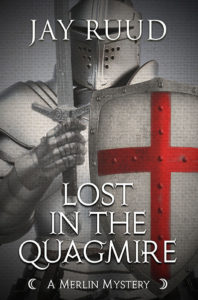 When Sir Galahad arrives in Camelot to fulfill his destiny, the presence of Lancelot's illegitimate son disturbs Queen Guinevere. But the young knight's vision of the Holy Grail at Pentecost inspires the entire fellowship of the Round Table to rush off in quest of Christendom's most holy relic. But as the quest gets under way, Sir Gawain and Sir Ywain are both seriously wounded, and Sir Safer and Sir Ironside are killed by a mysterious White Knight, who claims to impose rules upon the quest. And this is just the beginning. When knight after knight turns up dead or gravely wounded, sometimes at the hands of their fellow knights, Gildas and Merlin begin to suspect some sinister force behind the Grail madness, bent on nothing less than the destruction of Arthur and his table. They begin their own quest: to find the conspirator or conspirators behind the deaths of Arthur's good knights. Is it the king's enigmatic sister Morgan la Fay? Could it be Arthur's own bastard Sir Mordred, hoping to seize the throne for himself? Or is it some darker, older grievance against the king that cries out for vengeance? Before Merlin and Gildas are through, they are destined to lose a number of close comrades, and Gildas finds himself finally forced to prove his worth as a potential knight, facing down an armed and mounted enemy with nothing less than the lives of Merlin and his master Sir Gareth at stake.
Order from Amazon here: https://www.amazon.com/Lost-Quagmire-Quest-Merlin-Mystery/dp/1948338122
Order from Barnes and Noble here: https://www.barnesandnoble.com/w/lost-in-the-quagmire-jay-ruud/1128692499?ean=9781948338127
Comments
comments
http://jayruud.com/wp-content/uploads/2018/11/IMG_7837.jpg
2385
3011
Jay Ruud
http://jayruud.com/wp-content/uploads/2014/08/JayRuud.png
Jay Ruud
2018-11-26 09:27:18
2018-11-26 09:27:18
Slim Chickens