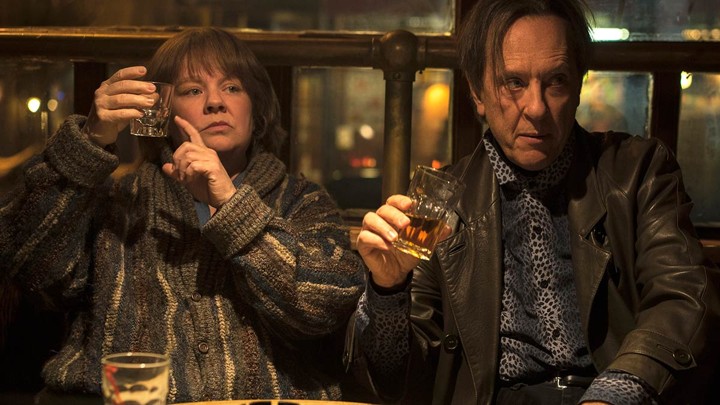 Can You Ever Forgive Me?
Marielle Heller (2018)
Melissa McCarthy is, of course, well-known for her comic talents, and she was brilliant in her premiere screen role in 2011's Bridesmaids. She has gone on to create other memorable comic performances, notably in films created by Bridesmaids director Paul Feig—The Heat and Spy. Feig and McCarthy clearly have a working relationship that brings out the best in her. But her career has not really taken off as might have been predicted largely because her choices of roles in non-Feig films has been, shall we say, unwise. Thus The Boss, Identity Thief, Tammy, and this year's Life of the Party have been, to put it kindly, largely forgettable movies. But in her current film, Can You Ever Forgive Me?, McCarthy takes a serious turn, and turns in the best work of her career, a performance so moving that it is generating Oscar buzz.
Of course, those earlier terrible films were screened at every theater in Little Rock and its environs when they were first released, while you have to search diligently to find the one screen in Central Arkansas where you can see Can You Ever Forgive Me? (and that, by the way, is at Riverdale 10). This seems to be a particularly frustrating marketing plan coming out of Hollywood, one that ensures that a universally maligned movie like, say, The Nutcracker and the Four Realms, panned by critics and audiences alike (with a below-40 percent rating in both categories on the review aggregator rottentomatoes.com), remains on several screens at every theater complex in the region, while a universally praised one, like this one, can only be found on one screen after a thorough and rigorous search. I suppose the idea is that if you put garbage on enough screens, people may wander into the film by chance, while (in a cynical appraisal of their own audience) Hollywood marketers assume a serious film that critics praise is not going to be for a mass audience, who might be driven away by the impression that it must be boring if there are no superheroes or special effects.
This film's screenplay, by Jeff Whitty (Tony Award-winning playwright of Avenue Q) and Nicole Holofcener (Enough Said)—who was originally intended to direct the film—is adapted from Lee Israel's confessional memoir of the same name, published in 2008. Israel, a successful magazine journalist, had some success in the 1970s and '80s writing biographies of Tallulah Bankhead and of Dorothy Kilgallen (which had been on the New York Times Bestseller List), but then had published an unsuccessful and critically derided unauthorized biography of Estee Lauder in 1985 that eventually led, by the early '90s, to her inability to find publishers interested in her work, and, ultimately, to her turning to the idea of forging celebrity letters to sell to collectors in order to make ends meet. In the course of her illegal pursuits, she made thousands of dollars, selling some 400 letters over three years before she was ultimately apprehended by the FBI.
The film, deftly directed by Marcielle Heller (Diary of a Teenage Girl), wastes no time with exposition, as we are introduced to Israel (McCarthy) just as she is being fired from a minor copyediting job in a large cubicled office area for drinking on the job and cursing at her fellow employees. This is precisely the reason that her prospects as an author have all but dried up: She's working on a new biography of Fanny Brice that nobody seems to want and that her agent (a terrifically bitchy Jane Curtin) can't get an advance for, largely because Lee's prickly personality and uncooperative attitude make her somebody nobody, including her agent, wants to help. Turns out she's a lonely lesbian who has not been in a relationship with anybody but her cat for years, and lives in a gritty apartment on Manhattan's west side for which she's behind on her rent and which is fly-infested because she hasn't cleaned up after herself—or her cat—in recent memory. But she's got to live, right? So she tries selling off some of her personal books at used bookstores, though she can't get much for them, even the ones bookstores are willing to buy. She does have a framed letter from Katharine Hepburn which she is able to sell to a neighborhood bookseller Anna (Dolly Wells of TVs Portlandia) for more than any of her books, and this inadvertently is the spark that sets her on her career of crime.
While researching her Fanny Brice biography, she comes across two genuine Brice letters tucked into a book, and makes off with them. When she tries to sell them, she learns that if there is some sort of unique personal touch to the letter, it will fetch a higher price, so she composes a P.S. to one of the letters, takes it to a different collector, and cashes in. Now she's into her forgery business full time, and learns to imitate the style, as well as the signatures, of Noel Coward, Dorothy Parker, Lillian Hellman, Marlene Dietrich, Fanny Brice and Fred Astaire. "I'm a better Dorothy Parker than Dorothy Parker," she is able to say at the height of her success.
Financial security doesn't lift Lee from the loneliness of her personal life, which she spends knocking back Scotch at a low-end Manhattan bar. It's here that she meets another lonely, and possibly homeless, barfly, the charmingly gay and British Jack Hock, played by veteran actor Richard E. Grant, who's been around long enough to have been in Robert Altman's Gosford Park and Martin Scorsese's Age of Innocence, but this is the best role and the best performance of his career. When buyers become suspicious of Lee's wares, she drafts Jack to peddle her later creations, and he turns out to be a pretty good salesman. "Do not underestimate sparkling blue eyes and a little bit of street smarts," he tells Lee. When they are handing out Oscar nominations for this film, let's hope they don't forget Grant.
Since the film is based on Israel's best-selling confessional, it's not a spoiler to reveal that Lee ultimately does get caught, but I won't reveal exactly how or any of the rest of it. But let me just say that this little unpretentious film, the story of an unimportant character engaged in a rather petty form of crime, turns out to be one of the best movies I've seen this year. McCarthy's understated range of emotion is remarkable, and the depth of her characterization of this obnoxious, unpleasant and lonely woman may be surprising given her previous exclusive work in comedy (though you know what they say: Dying is easy. Comedy is hard.). McCarthy makes it look easy here, and is able, against all odds, to make us feel sympathy for the largely unsympathetic—and unrepentant—Israel. Her last scene with Clark, in which they meet at a bar and she tells him she's escaped her court-ordered house arrest by saying she was going to an AA meeting, is brilliantly and subtly touching, as she tells him she's writing a book about her adventures and asks him for permission to write about him.
The film also boasts a moody visual landscape of the grungier side of Manhattan in the early '90s, kind of the darker side of Woody Allen films of the time, as well as a bluesy score that underscores the film's blue mood, with music by the likes of Chet Baker, Peggy Lee, Jeri Southern and Blossom Dearie. But the film belongs to McCarthy. Kudos to her and four Shakespeares for the movie.
NOW AVAILABLE!!!
Jay Ruud's most recent novel, Lost in the Quagmire: The Quest of the Grail, IS NOW available from the publisher AS OF OCTOBER 15. You can order your copy direct from the publisher (Encircle Press) at http://encirclepub.com/product/lost-in-the-quagmire/You can also order an electronic version from Smashwords at https://www.smashwords.com/books/view/814922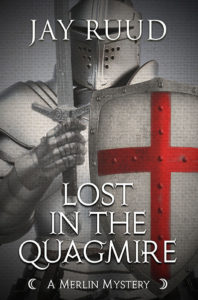 When Sir Galahad arrives in Camelot to fulfill his destiny, the presence of Lancelot's illegitimate son disturbs Queen Guinevere. But the young knight's vision of the Holy Grail at Pentecost inspires the entire fellowship of the Round Table to rush off in quest of Christendom's most holy relic. But as the quest gets under way, Sir Gawain and Sir Ywain are both seriously wounded, and Sir Safer and Sir Ironside are killed by a mysterious White Knight, who claims to impose rules upon the quest. And this is just the beginning. When knight after knight turns up dead or gravely wounded, sometimes at the hands of their fellow knights, Gildas and Merlin begin to suspect some sinister force behind the Grail madness, bent on nothing less than the destruction of Arthur and his table. They begin their own quest: to find the conspirator or conspirators behind the deaths of Arthur's good knights. Is it the king's enigmatic sister Morgan la Fay? Could it be Arthur's own bastard Sir Mordred, hoping to seize the throne for himself? Or is it some darker, older grievance against the king that cries out for vengeance? Before Merlin and Gildas are through, they are destined to lose a number of close comrades, and Gildas finds himself finally forced to prove his worth as a potential knight, facing down an armed and mounted enemy with nothing less than the lives of Merlin and his master Sir Gareth at stake.
Order from Amazon here: https://www.amazon.com/Lost-Quagmire-Quest-Merlin-Mystery/dp/1948338122
Order from Barnes and Noble here: https://www.barnesandnoble.com/w/lost-in-the-quagmire-jay-ruud/1128692499?ean=9781948338127
Comments
comments
http://jayruud.com/wp-content/uploads/2018/11/lead_720_405.jpg
405
720
Jay Ruud
http://jayruud.com/wp-content/uploads/2014/08/JayRuud.png
Jay Ruud
2018-11-20 20:41:54
2018-11-20 20:41:54
Can You Ever Forgive Me?