Review No. 135: Mulan's Chinese Buffet and Sushi
790 Elsinger Boulevard
(501) 205-0896
61.4 percent finished reviewing Conway restaurants
The Situation
She Said: Thinking of somewhere to go for Sunday Dinner (proper noun), we settled on Mulan's as it is not far away, and we'd always been happy with their to-go food. We've never dined in, so it was finally time. After a trip to the Bahamas, Chinese cuisine was something we hadn't enjoyed recently, so I was craving it. Of course, we are not big fans of buffets, but we were willing to give it a try.
He Said: I personally like buffets a lot more than She Said does. I like the idea of trying a little bit of all kinds of things. Although it is probably true that there are so many things at a buffet that most people go to them looking for quantity rather than quality of food. Still, with such a variety, it's not difficult to find things you like.
Ambience:
She Said: Mulan's is a large restaurant in a shopping center, but it is divided into smaller rooms, so eating there doesn't feel like you're feeding in a cattle pen. The décor is muted colors with some dark wood accents. We sat right by the buffet, so we witnessed the to and fro, but though the restaurant was filling up, it never felt hectic or overly crowded.
He Said:  It's true, we were seated in a small area near the buffet itself, and while the buffet did get a little crowded with the after-church Sunday diners, the small dining area we were in was not unpleasant.
Drinks
She Said:I ordered unsweetened iced tea, which came in a huge tumbler and was nicely mixed with the ice (not too strong). I was offered plenty of refills but declined. That was A LOT of tea. We were not given a menu, so I don't know much about what else may have been on offer.
He Said: I asked for a Coke, but the guy who seated us, like John Belushi on the old SNL "cheeburger, cheeburger, cheeburger…" sketch, told me "No Coke. Pepsi." To which I replied with rising glee, "Then do you have Mountain Dew?" YES! So that's what I had. I drank it with impunity and enjoyed every sugar-soaked, caffeine-laden drop of it.
Food
She Said: Sadly, I didn't find my favorite Chinese dish on the buffet: cashew chicken. But pretty much everything else was represented that I could think of, along with many other favorites, old and new. I gave myself a small scoop of the veggie fried rice, which is a distinctive yellow color at Mulan's. I hope this means there is turmeric in this dish, as that is a super-healthy spicethat does a body all kinds of good. As I perused all the main dishes, I selected sesame chicken, butter shrimp and something I'd never had before: peanut-butter chicken. I also scooped up a custard dumpling, sautéed mushrooms and half a bowl of egg-drop soup with a healthy sprinkling of crunchy wantons. And, for healthy fiber, I scooped up the cucumber and tomato salad.
I ate the soup first before the wantons became soggy, and it was a winner. The broth was thick and tasty, with lots of egg, and the crunchies made it even better. I would have been very happy to slurp up a big bowl of this for my entire lunch. But there was more to do! The sesame chicken, mixed with the fried rice was a solid, standard American-Chinese food offering. The butter shrimp, basically a scampi, was good, and nicely cooked, even for a buffet. The cucumber-tomato salad was a little spicy, with crispy, non-bitter cucumbers (I left the tomatoes… I don't like those, you know). The custard bun was a real treat, as I'm a known lover of dim sum, but they were offered in little white paper wrappers that clung to the dumplings, and ended up chewing some of the paper and having to spit it out. The filling was only slightly sweet. The big star of the first plate was the peanut-butter chicken. This was amazing! Tender chicken in a peanut-butter sauce that contributed those nutty flavors without overwhelming the dish. I had a small piece because it was so rich, but it was delicious.
I took a shorter second pass, considering dessert. I stopped at the sushi bar, but I usually think it's strange to get sushi at a Chinese place so I merely sampled instead of grazing with two tasty pieces of a California roll. I also found fried dumplings, so grabbed one, and then got one of the sweet fried buns for my dessert, not being tempted by anything else on the dessert buffet (there's also ice cream in coolers if you're so inclined). The fried dumpling was good, and the sweet bun was the perfect dessert—sugary bread is a pretty big treat for me, especially when I'm on post-vacation weight-loss lock-down.
He Said: I started with the salad bar, which was nothing to write home about (especially the choices of dressings), but I did add the egg-drop soup with wontons which She Said has already talked about and with which I agree, and an egg-roll, which I had with a dash of sweet-and-sour sauce and was pretty tasty.
I made the rounds with a second plate to try as many things as I could find that I thought might be relatively low in fat. I too had the sesame chicken, which was very tender and tasted quite good with the veggie fried rice, which was excellent (they have brown rice and white rice as well if you have a hankering for one of those). I had a bit of the sweet-and-sour chicken, which was fine, though pretty typical. There was also a pepper chicken which was probably lower in fat because it didn't have a fried coating on it, but be careful if you get this because those green things that you might think are green peppers are in fact jalapeños. They also have a few fish dishes that I was glad to see—a tasty smoked salmon that I liked fine, and my favorite item of the day, a baked flounder in a tasty sauce that I had to go back and have a second helping of. I had a taste of fried zucchini, which was pretty good, and some of the sautéed mushrooms, which were also quite tasty. But nothing beat the flounder.
I did do a third round to have some dessert, and for this I tried a chocolatey tiramisu, which was quite nice, and a small cream puff, the taste of which took me back to the Wisconsin State Fair back in the 1970s and 1980s, when I would have the gigantic cream puffs there. I'm not saying it was just as good, but the taste was certainly in the ballpark.
Service
She Said: One thing I liked here is that they didn't confront you with the PAY NOW of many buffet restaurants when you walk in the door (you pay at the counter as you leave). Everyone was very friendly, and we had many servers stop by to clear plates, offer more drinks and make sure we found everything.
He Said: This is true, it was an easier entry than other buffets. And the folks were helpful, with several people coming by to check on us and make sure we had everything we needed.
What We Got and What We Paid: Two adult buffets and two drinks for $28.63.
Elapsed Time from Our Arrival to Food Arrival:6 minutes from entry until we both sat down with food.
Rating
She Said (or is it worth the weight I gained): Mulan's offers some of the better Chinese buffet food in Conway, and while it's certainly worth a bump up on the scale, I lost half a pound, so Mulan's for the win!
He Said: This is as good a Chinese buffet as there is in Conway, especially, I would say, in the fish department.
Is Mulan's Good At What It's Good For? Definitely! A delicious variety of standards and more inventive American-Chinese and sushi offerings in a pleasant environment.
NOW AVAILABLE!!!
Jay Ruud's most recent novel, Lost in the Quagmire: The Quest of the Grail, IS NOW available. You can order your copy direct from the publisher (Encircle Press) at http://encirclepub.com/product/lost-in-the-quagmire/You can also order an electronic version from Smashwords at https://www.smashwords.com/books/view/814922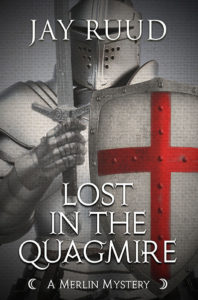 When Sir Galahad arrives in Camelot to fulfill his destiny, the presence of Lancelot's illegitimate son disturbs Queen Guinevere. But the young knight's vision of the Holy Grail at Pentecost inspires the entire fellowship of the Round Table to rush off in quest of Christendom's most holy relic. But as the quest gets under way, Sir Gawain and Sir Ywain are both seriously wounded, and Sir Safer and Sir Ironside are killed by a mysterious White Knight, who claims to impose rules upon the quest. And this is just the beginning. When knight after knight turns up dead or gravely wounded, sometimes at the hands of their fellow knights, Gildas and Merlin begin to suspect some sinister force behind the Grail madness, bent on nothing less than the destruction of Arthur and his table. They begin their own quest: to find the conspirator or conspirators behind the deaths of Arthur's good knights. Is it the king's enigmatic sister Morgan la Fay? Could it be Arthur's own bastard Sir Mordred, hoping to seize the throne for himself? Or is it some darker, older grievance against the king that cries out for vengeance? Before Merlin and Gildas are through, they are destined to lose a number of close comrades, and Gildas finds himself finally forced to prove his worth as a potential knight, facing down an armed and mounted enemy with nothing less than the lives of Merlin and his master Sir Gareth at stake.
Order from Amazon here: https://www.amazon.com/Lost-Quagmire-Quest-Merlin-Mystery/dp/1948338122
Order from Barnes and Noble here: https://www.barnesandnoble.com/w/lost-in-the-quagmire-jay-ruud/1128692499?ean=9781948338127
Comments
comments
http://jayruud.com/wp-content/uploads/2018/11/IMG_7811.jpg
2484
3316
Jay Ruud
http://jayruud.com/wp-content/uploads/2014/08/JayRuud.png
Jay Ruud
2018-11-19 09:52:22
2018-11-19 09:52:22
Mulan's Chinese Buffet and Sushi