Review No. 103: Taqueria Gonzalez
505 Dave Ward Drive
51.6 percent finished reviewing Conway restaurants
(501) 358-5875
The Situation
She Said: After a morning of conference calls, I wanted to get out of my home office and eat something delicious for lunch. We'd been hearing about Taqueria Gonzalez for a little while, so off we went.
He Said: This is a place that has gotten a reputation for serving authentic Mexican food. A look at the menu brings that home to you pretty quickly, since it features things like Cabeza de Res (Steamed Cow Head Meat), Tripa (Fried Small Intestines), and Lengua (Beef Tongue)—items that on their own are not likely to bring in a whole lot of Conway diners. But such items do give some legitimacy to the claim of authenticity—the tacos and quesadillas are a good deal more genuinely Mexican than the Anglo-cized Mexican fast food of a lot of other places.
Ambience
She Said: The little dining room is decorated in warm colors and feels like a neighborhood taco joint. There are Mexican objet d'art (objeto de arte?) about the room and on the walls, which are pretty and contribute to the taco-centric mood. The industrial fridge hum isn't too pleasant, though, but we weren't lingering too long.
He Said:  You order at a counter here and pay for it there, as in a fast food restaurant. There is an option for a tip on your receipt, which is something that more and more counter-order places seem to be going to. Someone then brings the food out to your table. I didn't find the dining area all that comfortable—it was small and bare-bones, so I felt a little cramped. There is a drive-through here, though, which I might be more likely to use next time I come here.
Drinks
She Said: They have a number of fruit waters, but I stuck to plain old bottled water, which was very cold.
He Said: Their drinks are in bottles and cans. I had a can of Mountain Dew, which I liked. If I were to give Taqueria Gonzalez any advice, I'd suggest they provide glasses (paper cups anyway) to folks for their drinks. Or at the very least provide straws. Perhaps they were there for the asking, but I didn't see them.
Food
She Said: The menu is not extensive: You can choose from tacos (for which there are lots of meat choices as He Said mentioned above) and a few other offerings, such as mulitas and quesadillas. The mulitas sounded good to me, as they are described as a double corn tortilla with your choice of meat, along with cheese. It also comes dressed, if you like, with onions, cilantro and avocado sauce. They don't offer sides, such as salsa or guacamole, so I stuck with this one dish, though you could easily add on a taco if you thought this wouldn't be enough food. I chose chicken from the meat offerings, which included chorizo, tripe, head meat, steak and pork strips. Mulitas are about as big as a small plate, and mine was absolutely delightful. The tortilla was cooked perfectly so that it was both soft (and malleable for folding up and eating by hand) and crispy from the pan. All the ingredients tasted so fresh and complemented each other well, so each item could be detected, but also made a great team of flavors in the tortilla. I could eat the whole thing and felt pleasantly satisfied rather than stuffed (like the mulitas themselves). I will definitely order this again, and I can see it becoming comfort food for me, because the whole experience was like I went to someone's house and they cooked for me with homemade goodness and love. I'm already thinking about when I will be able to eat this delicious food again.
He Said: You can have tacos on fairly small (three-inch) soft flour tortillas with, as She Said said, a variety of meat fillings, for $2 each. I opted for two with the grilled chicken, which came with onions and cilantro and, typically, with avocado sauce. I had mine without the avocado sauce, which is a little bit high in fat for my pancreatic diet, but we were provided with a red and a green salsa. I had the red on one taco and the green on the other. The red was a little hot for my taste, but a lot of people would probably like it. The green was a little mellower and more to my liking.
I think in hindsight that I would have done better to get three tacos. I didn't realize they would be quite as small as they were. But they were really delicious—everything was very fresh and flavorful.
Service
She Said: At Taqueria Gonzalez, you order at the counter, and then the food is brought out to your table when it is ready. The woman who took our order was very helpful with us as newbies and patient while we looked at the menu. She also checked on us to make sure everything was satisfactory and that we were happy with our food.
He Said: What She Said said. Service was friendly and efficient.
What We Got and What We Paid: One mulitas, one bottled water, two chicken tacos and a can of Mountain Dew for $10.01 before tip.
Elapsed Time from Our Arrival to Food Arrival: 8 minutes
Rating
She Said: Are these the best tacos in Conway? They are the best mulitas, that's for sure. Next time I want tacos, mulitas or quesadillas, I won't even think of going anywhere else.
He Said: I did enjoy the tacos. I won't say they are the best in Conway, because there are now, with the addition of this restaurant, an even eight million Mexican restaurants in town. But they are certainly among the best, and very possibly the least expensive.
So… He Said and She Said: Go here for authentically delicious tacos and such like, and be prepared to return again and again.
NOW AVAILABLE:
If you like these reviews, you might enjoy Jay Ruud's most recent novel, now available from the publisher at https://encirclepub.com/product/the-bleak-and-empty-sea/. Also available from Amazon or Barnes and Noble.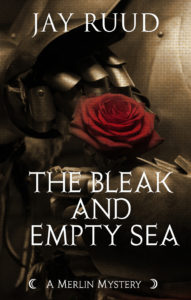 When word comes to Camelot that Sir Tristram has died in Brittany of wounds suffered in a skirmish, and that his longtime mistress, La Belle Isolde, Queen of Cornwall, has subsequently died herself of a broken heart, Queen Guinevere and her trusted lady Rosemounde immediately suspect that there is more to the story of the lovers' deaths than they are being told. It is up to Merlin and his faithful assistant, Gildas of Cornwall, to find the truth behind the myths and half-truths surrounding these untimely deaths. By the time they are finally able to uncover the truth, Gildas and Merlin have lost one companion and are in danger of losing their own lives.
Order from Amazon here: https://www.amazon.com/Bleak-Empty-Sea-Tristram-Mystery/dp/1893035735/ref=sr_1_1?s=books&ie=UTF8&qid=1503328086&sr=1-1&keywords=Bleak+and+Empty+Sea
Order from Barnes and Noble here: https://www.barnesandnoble.com/w/the-bleak-and-empty-sea-jay-ruud/1126958139?ean=9781893035737
Comments
comments
http://jayruud.com/wp-content/uploads/2018/04/IMG_9305.jpg
3024
4032
Jay Ruud
http://jayruud.com/wp-content/uploads/2014/08/JayRuud.png
Jay Ruud
2018-04-14 21:21:32
2018-04-14 21:21:32
Taqueria Gonzalez