Review No. 100: TC's Midtown Grill
1611 East Oak Street
51.1 percent finished reviewing Conway restaurants
(501) 205-0576
The Situation
He Said: We had thought about reviewing this place before, but were put off because it is the only eating establishment in Conway where smoking is permitted. While for some of our readers this may be a significant positive for the place, it was a distinct negative for us. Thus we decided to make our visit early in the day for an early lunch, before it became crowded with smokers making it difficult to enjoy, or taste, the meal. So just after 11 a.m. we pulled into the parking lot and headed for TC's.
I should say that it's a little difficult to find the place—you kind of have to be looking for it. There is a bright yellow sign on the street, but it is on a pole with several other signs, and the bar itself is at the end of a long building that houses several other businesses. And by the way, I don't understand the name. How is this a "Midtown Grill" when it is essentially on the outskirts of town heading east on Highway 64?
She Said: Yeah, I'm not sure what this is Mid- of, but, regardless, we did have to strategize the smoking angle; we are both very sensitive to cigarette smoke and given the current laws, we rarely have to cope with it anymore, making us even more delicate flowers. I decided to just roll up there in my running clothes after the morning outing with my dog as I'd be throwing the whole ensemble in the wash when I got home. And given the enthusiasm I've heard over the course of the Eat It, Conway! project for the burgers here, I was excited to finally try one for myself.
Ambience:
He Said: This is a real neighborhood bar. It's a kind of a throwback, reminding me of the bar my dad used to stop at for a beer in the 1950s on his way home from the factory. It's fairly dark. There are seats along the bar, maybe three booths and probably fewer than ten tables, plus several pool tables and a stage where live music plays at night. So I have to say we did not get the full TC's experience at all coming as we did to a nearly empty bar at the beginning of lunchtime. There are several TVs playing up on the walls, and large black and white pictures of popular music stars, from Johnny Cash to Ozzie Osbourne to the Beatles, decorate the walls. It has a comfy pub feeling during the day, and, I'm guessing, a raucous honky-tonk feel at night. The place is open until 2 a.m., and the kitchen doesn't close until 1:30 a.m., in case you're hungry late.
She Said: It's definitely on the dive-bar side of the pub continuum with no natural light, but in a super friendly, clean and cool way. I loved the big prints of country and rock stars, and even when it was pretty empty, it felt friendly. It's good to know of places that serve food late, but I'm sure it does have a different vibe at night with a band and lots more people.
Drinks
He Said: It's basically a bar, and you have to show your ID to be scanned when you walk in. Even I had to show mine, and I've been legal for, well, let's just say since the Nixon presidency. But if you're not having alcohol, you don't have a lot of drink choices. I could get a Coke, and got one.
She Said: When we walked in and showed our IDs, our friendly neighborhood bartender asked, "Eating? Drinking? Both?" It was 11:15 a.m., and there was no judgment of the answer—mine was "Both!" I wasn't sure I wanted a G&T before noon (I wasn't on vacation after all, and this wasn't brunch), but sometimes bars like this don't have the tastiest red wine to offer. I asked about the selection and was told, "We have Big House red," and that was good enough for me! It was a generous pour and went well with my meal.
Food
He Said: TC's is known, as I understand it, especially for its burgers, but beef, and pretty much all red meat, is anathema to my low-fat diet, so I was a bit anxious about what I'd be able to find on the menu to eat. The low-fat, non-fried options on the menu were few and far between, but there were a couple of grilled chicken options—one was a sandwich, though that involved mayonnaise (one of the secret diet killers), and the other was a wrap that included ranch dressing (which, I found out later on my home computer, has even more fat in it than mayonnaise. Oh well). I didn't want to eat a dry chicken sandwich or wrap, so I opted for the wrap with the ranch. It was actually excellent—the chicken breast was tender and cooked fresh, and the wrap included lettuce, tomato, onions, and a slice of cheddar cheese as well as the ranch dressing. It was as good as I've had at any other sandwich place in town, and better than most.
The wrap came with crinkle-cut French fries, which were perfectly fried and generously salted, and despite She Said's aversion to ketchup, I dipped them with impunity. Of course, they also added a good deal of fat to the experience, so I did not finish them. I was also getting full by then, having eaten the entire sandwich, which was not skimpy.
She Said: I went for the burger, and the burger is what I got! Specifically, I chose the classic burger that comes with the usual fixin's, like lettuce, cheese (choice from three varieties), pickles, tomatoes, ketchup, mustard AND mayonnaise. All the things! I, of course, asked the bartender to hold the tomatoes and the ketchup and to give me mayo on the side for my fries. The menu warns diners that burgers take 15 to 20 minutes, and that warmed my burger-loving heart, because that means it's made just for me. We collected our drinks and chose a booth to while away the minutes of happy anticipation. Our food arrived, and I was thrilled at the sight of my burger. A thin grilled patty, with just enough char was buried in accompaniments on a white-bread bun that was buckling under the weight of the goodness heaped inside it. I started getting full before I finished the first half, but I could not stop eating this rare treat of a beautiful and perfectly cooked bar burger. The crinkle fries were a nostalgic surprise and quite delicious as well, with crispy outsides that dipped nicely into my mayo. I will be eating this burger again, oh yes, it will happen.
Service
He Said:  We came in and were met by a very friendly bartender, who took our IDs and asked if we were eating or drinking. We ordered at the bar and then went to have a seat, the friendly bartender noting, as She Said said, that the food would be ready in about 20 minutes. This is not fast food; it really is made fresh. The same bartender brought the food out to us, and did check on us a couple of times, asking how the food was (there was a new cook, so he was interested in our reactions), and came back again to see if we needed anything, at which point I asked for another Coke, which he brought. We went back up to the bar to pay—I suppose eventually he would have brought the check, but we were ready to go, so we paid at the bar without a hitch.
She Said: Yes, the service was super friendly and welcoming. By the time we left there were a number of people at the bar enjoying each other's company and their lunches as well. We felt very welcomed here and enjoyed a very relaxing lunch because of the easy-going, casual attitudes that took the food and drink seriously.
What We Got and What We Paid: One grilled chicken wrap with French fries and a Coke; one hamburger with French fries and a glass of red wine, all for $20.50 before tip.
Elapsed Time from Our Arrival to Food Arrival: 21 minutes
Rating
He Said: The food here was surprisingly appetizing, made fresh and relatively inexpensive, but you might want to come early if you're not a smoker.
She Said: We know we can't assess the character of the place when it's more crowded or when there are bands, but we can highly recommend it as a lunch joint, and I'll be back for just that regularly.
So… He Said and She Said: Go here for excellent pub food (especially the burgers and fries), a friendly welcome and a chill vibe…at least for lunch.
NOW AVAILABLE:
If you like these reviews, you might enjoy Jay Ruud's most recent novel, now available from the publisher at https://encirclepub.com/product/the-bleak-and-empty-sea/. Also available from Amazon or Barnes and Noble.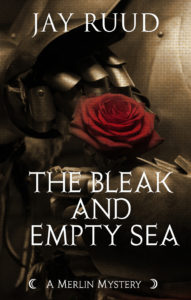 When word comes to Camelot that Sir Tristram has died in Brittany of wounds suffered in a skirmish, and that his longtime mistress, La Belle Isolde, Queen of Cornwall, has subsequently died herself of a broken heart, Queen Guinevere and her trusted lady Rosemounde immediately suspect that there is more to the story of the lovers' deaths than they are being told. It is up to Merlin and his faithful assistant, Gildas of Cornwall, to find the truth behind the myths and half-truths surrounding these untimely deaths. By the time they are finally able to uncover the truth, Gildas and Merlin have lost one companion and are in danger of losing their own lives.
Order from Amazon here: https://www.amazon.com/Bleak-Empty-Sea-Tristram-Mystery/dp/1893035735/ref=sr_1_1?s=books&ie=UTF8&qid=1503328086&sr=1-1&keywords=Bleak+and+Empty+Sea
Order from Barnes and Noble here: https://www.barnesandnoble.com/w/the-bleak-and-empty-sea-jay-ruud/1126958139?ean=9781893035737
Comments
comments
http://jayruud.com/wp-content/uploads/2018/03/IMG_8724.jpg
2388
3512
Jay Ruud
http://jayruud.com/wp-content/uploads/2014/08/JayRuud.png
Jay Ruud
2018-03-25 20:53:21
2018-03-25 20:53:21
TC's Midtown Grill