Three Billboards Outside Ebbing, Missouri
Martin McDonagh (2017)
Some movies are hard to pigeonhole. Pretty much all of Martin McDonagh's work falls into this category. The toast of the London and New York stages while still in his twenties, the author of  such darkly comic plays as The Cripple of Inishmaan and The Pillowman, McDonagh won an Academy Award for his first film, the short Six Shooter in 2006. He went on to stun audiences with In Bruges, the violent, tragic, yet often hilarious and bizarrely quirky story of a hit man vacationing in the Belgian city of Bruges with a companion assigned to terminate him. McDonagh went on to write and direct Seven Psychopaths, violent and comic in the same vein. Now he brings us Frances McDormand in her most memorable role since Fargo, as the bereaved mother of a teenaged daughter Angela (Kathryn Newton, currently also seen in Lady Bird), who was raped and murdered but whose case the local police have not been able to solve in seven months. It's not the most promising basis for a comedy. But this is one you will remember.
McDormand plays Mildred Hayes, whose frustration over the lack of progress in her daughter's case leads her to rent three billboards near her home outside of the small town of Ebbing, Missouri. The first reads "Raped While Dying"; the second "And Still No Arrests"; and the third "How Come, Chief Willoughby?" The bold protest is noted almost immediately by Ebbing police officer Dixon (played by Sam Rockwell, who worked with McDonagh previously in Seven Psychopaths as well as in his play A Behanding in Spokane), riding by in his squad car. Dixon informs the police chief, William Willoughby (played by Woody Harrelson, another veteran of Seven Psychopaths), who is just sitting down to Easter dinner with his family. At this point you are almost certain to be making assumptions about how this film is going to progress. Willoughby, you are likely assuming, is an incompetent good ol' boy running a corrupt police force, and Mildred's billboards are going to either shame him into solving the case or anger him into stonewalling and carrying out a police vendetta against Mildred and against poor Red Welby (Caleb Landry Jones of Get Out and American Made), the local advertising representative who has provided the billboards.
But one thing this film teaches you quickly is that any assumptions you make are almost certainly destined to be wrong. Turns out Willoughby is as decent a cop as you're likely to find, in real life or the movies, and he's well-respected in the town. He also happens to be dying of pancreatic cancer, and there's a good deal of backlash against Mildred for kicking the poor man when he's down. And he does ask for the file on Angela's case to review right away. But he explains to Mildred that the DNA evidence taken from the crime scene matches no one in any database. In the absence of any witnesses or other evidence there seems nothing the department can do.
If Willoughby has a fault as police chief, it is his apparently indulgent attitude toward Dixon, who is about as inept and thuggish a cop as you're likely to find, in real life or the movies. When Mildred makes an angry taunt that the Ebbing police are "too busy torturing black folks" to solve her daughter's murder, the remark is directed toward Dixon, and Willoughby's answer to that is the rather unconvincing "there was no real evidence of that." Still, Dixon, fiercely loyal to Willoughby, is the embodiment of the racism and homophobia that a number of people see as riddling Ebbing's police force, undermining public trust in the department particularly among African Americans in the community. And it is from Dixon that we do see some of the backlash we may have anticipated coming at Mildred from the town police.
But if you're hoping to see Dixon get his comeuppance, once again you may be only partly satisfied, but then you may also be surprised. And if you're expecting this film to be a whodunit and anticipate the kind of closure that a solved mystery gives you in the end, expect to be frustrated. This just isn't the kind of film that wraps things up neatly, or gives you that warm and comfy sense of closure. More than almost any film you can name, this is closer to real life than a narrative. And in real life there are no neat denouements.
Just as in real life there are no pure heroes or villains. As Willoughby turns out to be no kind of demon, so Mildred turns out to be no kind of angel. Her anger sometimes crosses over into rage, in part because she feels some culpability in her daughter's death. She puts up the billboards out of desperation, knowing Willoughby isn't personally to blame but believing that putting his name up in giant letters will keep her daughter's case in the public spotlight, where it will have a better chance of being solved. But mostly she is trying to battle the dark cloud that says to her "there ain't no God and the world's empty and it doesn't matter what we do to each other."
So the film is not so much about solving the crime as it is about Mildred's redemption. This comes about through her interactions with Willoughby, who continues to surprise her even after you'd expect; with her son Robby (Lucas Hedges of Manchester by the Sea), who wishes she would stop her crusade since it won't bring her sister back; with her ex-husband Charlie (John Hawkes of Everest and Lincoln), who feels the same and who also surprises her in a less positive way; and from James, the "town dwarf" (Peter Dinklage, on a break from Game of Thrones), whose budding romance with her—you guessed it—doesn't turn out the way you might anticipate.
But unlooked for as it may seem, this film turns out to be even more significantly about the unlikely redemption of Officer Dixon—brought about again in part by Willoughby's influence, and contributing again in part to Mildred's character arc. Sam Rockwell has always been an excellent actor but his performance in this film is every bit as masterful as McDormand's. I've seen no better performances on film this year, and would be surprised if Oscar nominations did not wait for both of them—and perhaps for Harrelson as well. In a year when he starred in six films (including the major critical and popular hit War for the Planet of the Apes), this is far and away Harrelson's most memorable performance, and one that may garner him his third Oscar nomination. As for McDonagh, he may be looking at another nomination for the screenplay as well as, perhaps, one for best picture. The film has already won this year's People's Choice Award in Toronto, and is nominated for 11 British Independent Film awards. Look for more success in awards season here. Four Shakespeares for this one.
NOW AVAILABLE:
If you like these reviews, you might enjoy Jay Ruud's most recent novel, now available from the publisher at https://encirclepub.com/product/the-bleak-and-empty-sea/. Also available from Amazon or Barnes and Noble.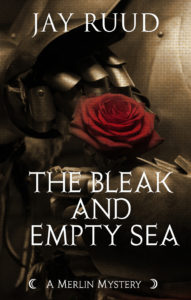 When word comes to Camelot that Sir Tristram has died in Brittany of wounds suffered in a skirmish, and that his longtime mistress, La Belle Isolde, Queen of Cornwall, has subsequently died herself of a broken heart, Queen Guinevere and her trusted lady Rosemounde immediately suspect that there is more to the story of the lovers' deaths than they are being told. It is up to Merlin and his faithful assistant, Gildas of Cornwall, to find the truth behind the myths and half-truths surrounding these untimely deaths. By the time they are finally able to uncover the truth, Gildas and Merlin have lost one companion and are in danger of losing their own lives.
Pre-order from Amazon here: https://www.amazon.com/Bleak-Empty-Sea-Tristram-Mystery/dp/1893035735/ref=sr_1_1?s=books&ie=UTF8&qid=1503328086&sr=1-1&keywords=Bleak+and+Empty+Sea
Pre-order from Barnes and Noble here: https://www.barnesandnoble.com/w/the-bleak-and-empty-sea-jay-ruud/1126958139?ean=9781893035737
Comments
comments
http://jayruud.com/wp-content/uploads/2017/12/hero_Three-Billboards-TIFF-2017.jpg
500
1200
Jay Ruud
http://jayruud.com/wp-content/uploads/2014/08/JayRuud.png
Jay Ruud
2017-12-05 15:13:07
2017-12-05 15:13:07
Three Billboards Outside Ebbing, Missouri