Review No. 86: WunderHaus
900 Locust Avenue
(501) 358-6806
43.5 percent finished reviewing Conway restaurants
The Situation
She Said: After a morning meeting in Little Rock, I had a Friday kind of feeling and remembered that WunderHaus was having its opening day after an extended soft opening. It seemed like a great idea for a kick-off-the-weekend lunch.
He Said: So I met her there, at this former gas station at the western edge of downtown Conway. You know what? The parking is not ideal. The lot is pretty tiny, and you're downtown.
Ambience:
She Said: WunderHaus reminds me of one of my favorite Little Rock haunts, The Fold, because both are restaurants inside rehabbed automotive shops or stations. There is a lot of natural light, and the tables are not too close together—in fact they don't have a lot of tables so it's not a place that will accommodate crowds. All the better once you have a seat. The natural light and glass are balanced by dark wood accents and natural materials, and the retro dinner plates remind me of meals at my great aunts' homes in the 1970s. Even though it's small, it feels spacious and comfortable. One thing I particularly appreciate is that even though space is limited, there is room to wait.
He Said: Yes, it's not very large, so if you're going for lunch, you might have trouble getting back to work on time. And the windows are huge, so it's full of natural light. I actually had to wear sunglasses sitting in the front corner. They could use some kind of curtain in that front window.
Drinks
She Said: I ordered a cabernet without seeing a drink menu or a label, but it was nice and dry and went well with lunch. I also had coffee with cream with my dessert, and the coffee was rich and was up there with the coffee specialty houses for me.
He Said:  IBC Root Beer. It was the good kind.
Food
She Said: The lunch menu is fairly limited, but has a variety of options, so I found a couple of things I was choosing between, depending on what He Said chose. After he made his selection, I picked the Farmer's Daughter: roasted, pasture-raised happy-chicken salad with vegetables that change daily. Mine were pickled beets, pickles and fresh carrots, and of course, salad greens (no iceberg lettuce, thank you very much!). As a surprise treat, the salad also includes bacon and cheese. The latter was, I think, queso fresco that I started munching on, but then realized I should probably crumble it into the mix. I was imagining a conventional chicken salad, with chopped chicken bathing in mayo, but what I got was a plate of beauty with shredded chicken and pickled and fresh veggies on the salad greens with a mayo-based dressing drizzled over it all (über alles?). The chicken was tender and tasty in a fresh, natural way, and went well with the pickled and fresh vegetables, dressing and embellishments. I would have preferred more fresh veggies and fewer pickled ones, but it was still delicious, and had that dual quality that is the unicorn of restaurant dishes: it was fresh and light yet still satisfying and filling.
So, I had room for dessert and I was feeling my Friday, so I went for the chocolate bread pudding. I could not even come close to eating that whole rich, delightful dessert, but I'm glad I tried. Bread itself is kind of a treat for me, so this was to-die-for. The chocolate was mild so the bread-pudding experience still shone through.
He Said: Most of the things on the menu were just not possible on my low-fat diet. They did have a vegetarian dish, though, called the Peter Rabbit. Essentially, it's a kind of vegetable hash with fried potatoes, and topped off with a honey mustard dressing and the fried egg, which you can have your own way—I don't like runny yolks so I had it well done and solid. The vegetables included a lot of sweet potatoes—actually, maybe those were the fried potatoes they were talking about, But the vegetables were warm and there were some greens as well. I have to say, particularly with the honey mustard to add a little tanginess there as well, it was a very tasty lunch. I might have been coveting the hamburger with which the menu leads off, but the Peter Rabbit was definitely a worthwhile lunch if ya gotta go low fat.
And having gone low fat, I figured I'd saved up enough fat grams to try a dessert—the chocolate cake with whipped cream, naturally. Even with my avoiding the whipped cream as perhaps a little too much for the old pancreas, this rich cake was delicious.
Service
She Said: It was a busy opening day, and we felt the flurry (and the fluster) of that, even though WunderHaus had been open for lunch for some time. It took a long time to put our orders in, and then longer to get our food. There was some confusion over some of our orders, including my dessert. (He Said got his dessert and then the table next to us got a dessert that was also the one I ordered. I told the waitress I had ordered that bread pudding, and she seemed a little surprised, but no worries, dear readers, the next-door table gave me theirs and waited for one to share so we could eat together.) However, the service was always friendly and energetic. This was not a deal-breaker for me, especially considering the restaurant's transition to fully open status. The people next to us had arrived before us and didn't seem sad to leave after us—I noticed they kept ordering dishes and laughing. So, I don't think they minded either. I've been to new restaurants were that was definitely not the vibe, so WunderHaus was handling it right.
He Said: Yes, it definitely took some time to get everything and to get it right. But everyone was friendly and eager to please. The food was worth waiting for, but at least at this point, as with many new restaurants, you might have to expect a bit of a wait.
What We Got and What We Paid: A glass of cabernet sauvignon, the Farmer's Daughter chicken salad, coffee with cream, chocolate bread pudding; a bottle of root beer, the Peter Rabbit vegetarian hash lunch, and a piece of chocolate cake, all for $49.75.
Elapsed Time from Our Arrival to Food Arrival: 39 minutes (of note: we arrived at 12:10 p.m. and left after the restaurant was closed for lunch at 2 p.m., this included a lunch entrée and dessert course for each of us)
Rating
She Said: The food offerings here are singular to Conway, and the local sourcing the restaurant is doing is meaningful to me, so I will assume the service issues were temporary and come back as soon as I can finagle it.
He Said: The food is good, natural, and local, and it's unusual. And it comes slowly.
So… He Said and She Said: Go here for tasty, inventive food, carefully crafted and energetically served (but allow a little extra time to wait for a table and/or your food).
NOW AVAILABLE:
If you like these reviews, you might enjoy Jay Ruud's most recent novel, now available from the publisher at https://encirclepub.com/product/the-bleak-and-empty-sea/. Also available from Amazon or Barnes and Noble.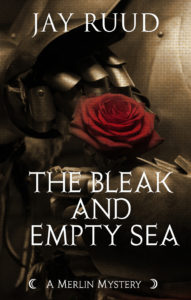 When word comes to Camelot that Sir Tristram has died in Brittany of wounds suffered in a skirmish, and that his longtime mistress, La Belle Isolde, Queen of Cornwall, has subsequently died herself of a broken heart, Queen Guinevere and her trusted lady Rosemounde immediately suspect that there is more to the story of the lovers' deaths than they are being told. It is up to Merlin and his faithful assistant, Gildas of Cornwall, to find the truth behind the myths and half-truths surrounding these untimely deaths. By the time they are finally able to uncover the truth, Gildas and Merlin have lost one companion and are in danger of losing their own lives.
Order from Amazon here: https://www.amazon.com/Bleak-Empty-Sea-Tristram-Mystery/dp/1893035735/ref=sr_1_1?s=books&ie=UTF8&qid=1503328086&sr=1-1&keywords=Bleak+and+Empty+Sea
Order from Barnes and Noble here: https://www.barnesandnoble.com/w/the-bleak-and-empty-sea-jay-ruud/1126958139?ean=9781893035737
Comments
comments
http://jayruud.com/wp-content/uploads/2017/12/FullSizeRender-3.jpg
3024
4032
Jay Ruud
http://jayruud.com/wp-content/uploads/2014/08/JayRuud.png
Jay Ruud
2017-12-04 09:50:44
2017-12-04 09:50:44
WunderHaus