Review No. 23: Wendy's
311 Oak Street
(501) 327-0311
14.7 percent finished with reviews of Conway restaurants
The Situation
She Said: In our insane plan to dine in and review every single restaurant in Conway, we know we need to keep on top of covering the fast-food joints, especially those like Wendy's that have multiple locations in our fair city. And I was looking forward to this, because I could not recall the last time I had eaten in a Wendy's; maybe I ate there once when I lived in Aberdeen, South Dakota, but I'm not sure. I have a dim memory of getting a Frosty at a Wendy's, and that might have been in high school. So, after a meeting I had at UCA, I texted Ruud that it was time: "Let's go eat some calories!"
He Said: And there are certainly calories to be had at Wendy's. I haven't eaten at Wendy's in about 25 years, so it was an interesting experience—and one I'm likely to be repeating twice more over the next couple of years as we work our way through the many eateries of Conway. As with most fast-food places, you've really got to be careful, and proactive, if you want to eat healthy here. Look up the nutritional value of their meals online before going there.
Ambiance
She Said: I really liked the interior here, and was glad we didn't get our food to go as it was very pleasant. We arrived a little after 11 a.m. for lunch (I'm not going to eat all those empty fast-food calories any later in the day than I have to!), and there were a few other diners scattered about the appealing dining area. Wood (or wood-esque) floors, light-wood tables and chairs, Wendy's-brand-red accent walls and soft chairs around low tables by a faux fireplace make an appealing place to chill. There was a large, flat screen TV playing Fox News, though you could probably turn the channel, I assumed. I give high marks for visual appeal and a tidy and clean look and feel to this location.
He Said: It was indeed a bright and cheery atmosphere, so that eating here was not at all an unpleasant experience. A lot of fast food joints seem designed to get you out of there fast, with uncomfortable plastic seats. Not so this Wendy's on Oak.
Drinks
She Said: Well, I wanted a Frosty. If I was going MIA from clean-eating for lunch, I wanted to go big … and then go home and avoid the scale. But when I ordered, the waiter at the counter said very quickly that they only had vanilla, no chocolate Frostys. "That's a deal-breaker for some," he said. It was for me. At 460 calories and 63 grams of sugar, I wasn't going to consume nearly a third of my lunch-time calories unless they were exactly what I wanted, so I went for the unsweet tea, and it was good and calorie-free. I was also glad because the high-tech drinks machine was a little slick and intimidating. I'll let Ruud tell you more.
He Said: This place really is high tech! I've never seen a machine like the space-age drink dispenser they had. You have to make selections on a computer screen—it's what I suppose my tech-savvy wife would call "intuitive." For a Baby Boomer like me, though, what's "intuitive" is to tell the guy what you want to drink and he gives it to you. But I'm sure that most of you will be pleased with the high-tech drink machine. I opted for lemonade here, and it was very good pink lemonade.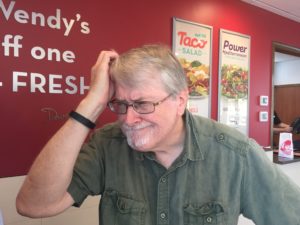 Food
She Said: I knew I should probably get a burger because anyone who was growing up in the '80s knows about "Where's the beef?" But I'm not a frequent burger eater anymore, so I decided to get the most appealing sandwich on the menu (I'll try one of their burgers and their salads at their other locations), the homestyle chicken sandwich, a "crispy" or, actually, a deep-fried chicken sandwich. Who doesn't love crispy chicken? I got the combo, which came with a medium drink and small fries. The sandwich was good. The bun was the prototypical fast-food sandwich bun of white bread, but there was mayo, tomato (which I removed) and lettuce on the sandwich. The chicken wasn't particularly flavorful, or thick, but it wasn't dry and boring, either. It was just fine. I enjoyed the fries, as they seem less greasy than some other chains' fries, and, indeed, the Eat This Not That Website ranks them as No. 5 on the best chain fries to order (behind Dairy Queen and Burger King, for example, but healthier than McDonald's). The sandwich was 510 calories, so in itself is a big meal for me, and when I added the fries at 320 calories, I was closing in on normal calorie consumption for two nice-sized meals in one sitting. The carbohydrates in the breading, bun and potatoes were probably the source of my heavy-duty lunch low when I got home; it was hard not to slip into a nap while my body turned all those carbs into super-storable fat. I also seemed to be allergic to something I ate, because I got my preservative-averse swollen glands before I left the restaurant.
He Said: The healthiest choice here for anyone on a low-fat diet is the new Grilled Chicken sandwich. This is an all-white meat filet with lettuce and tomato (for me, extra tomato, since I ate Jones's as well), with a very tasty honey-mustard sauce. It comes in at 360 calories and only 8 grams of fat. By contrast, Jones's fried chicken sandwich contained 21 grams of fat. (Again, be careful: if you have, say, the Dave's Double Cheeseburger here, you're going to eat 800 calories and 48—yes, you read that right, 48—grams of fat—pretty much what I'm allowed for an entire day. )
But the grilled chicken sandwich was very tasty, mainly, I think, because of the honey-mustard sauce. The fat content of the sandwich was low enough that I lived dangerously and had some fries. Wendy's small fries have 16 grams of fat, and so are not as bad as some others, as Jones mentioned. With a dash of salt and some ketchup, they tasted like—well, like your basic fast-food French Fries.
Service
She Said: Our waiter at the counter was very friendly. I wasn't familiar with the menu at all, and I wanted to know what "homestyle" meant on the chicken sandwich, and he was patient and helpful regarding our questions. As I mentioned, he was very up-front with me about the Frosty situation, as well. He got our orders out quickly and was agreeable and professional. We didn't interact with anyone else in the restaurant.
He Said: What she said. Fast, courteous service. They probably even would have helped me with that mysterious drink machine if I'd asked.
What We Got and What We Paid: We got two combo chicken sandwich meals for $15.04. (We had a coupon to get the new grilled chicken sandwich free with an order of fries and a drink, but we left that at home.)
Rating:
She Said: I'd like to sample more of the menu, and I think Wendy's is worth a return visit for the pleasing and tidy interior alone. Also, I want a chocolate Frosty!
He Said: Again, the food was good and relatively healthy. For me, of all the fast-food places we've been, this has been the best in Conway so far.
So…He Said and She Said: Just-fine fast food with appealing décor and dining spaces. Call ahead about the Frosty Situation. And really, check the nutrition charts online.
Comments
comments
http://jayruud.com/wp-content/uploads/2016/10/IMG_7885.jpg
2448
3264
Jay Ruud
http://jayruud.com/wp-content/uploads/2014/08/JayRuud.png
Jay Ruud
2016-10-17 09:17:30
2016-10-17 09:17:30
Wendy's (Oak Street)