Review No. 129: Whole Hog Cafe
150 East Oak
501-513-0600
58.6 percent finished reviewing Conway restaurants
The Situation
She Said: After a pretty active morning (walking the dogs, a run on the treadmill and my adult ballet class), I was hungry and decided it was time for us to dine at Whole Hog Café for our Eat It, Conway! project. I did wonder how many diners at this establishment roll up in their leotards, ballet skirts and tights, but I imagine restaurants see all kinds of strange attire—and people.
He Said: Though not quite at the level of Mexican restaurants, Conway does have a plethora of barbecue joints. Whole Hog is perhaps the best known of all of these, regularly taking home awards for "Best Barbecue" from the Arkansas TimesPeople's Choice Awards and suchlike. It's something of an Arkansas Tradition, with nine locations in the state, including North Little Rock, Bryant, Searcy and two in Little Rock. There are also seven other locations scattered around Missouri, New Mexico, and, of all places, New Jersey (I got your BBQ right here. Whaddayagonnado? Fahgetabahtit).
Ambience:
She Said: The décor here is "Upscale Dive" probably to evoke the down-home, hole-in-the-wall authentic BBQ joints all over the south, but scrubbed cleaner for wider appeal and just by virtue of the process of replication over multiple sites. The deep reds, wood grains and finished concrete flooring create a warm BBQ cave feeling, but the natural light from the windows makes it cheery, too. The blues music was a bit loud where we were sitting, but overall, I found it pleasantly bland… or blandly pleasant.
He Said: There's a fairly large dining room with plenty of tables. The space isn't really broken up, so it was reminiscent of someplace like, say, David's Burgers. Not uncomfortable. Just kind of big and, well, bland, as She Said said.
Drinks
She Said: I chose unsweetened iced tea, and it was good, a tasty, strong-enough brew that held up to a healthy amount of cooling ice.
He Said:Fountain drinks. Coke products. Barq's Root Beer. Nuff said.
Food
She Said: While Whole Hog has other options besides pulled pork sandwiches (on the salad side of the menu, the restaurant notes when the salad doesn'tinclude meat), I was pretty sure what I was going to eat when I arrived: pulled pork sandwich with coleslaw. At Whole Hog, you can get a "plate," which includes two sides (one of which could be a dessert, like a brownie). I chose the potato salad and the baked beans, because I knew I was also having pie. The sandwich was satisfying (I ate about two thirds of it), packed with a lot of pulled pork, though the meat seemed a little dry to me. The barbecue sauce choices are on the table here, and I used a lot of No. 1. There was plenty of coleslaw, which I did enjoy, though the bun was nothing special (very grocery-store generic). The baked beans were too spicy for my taste, and there is also meat in these, but it was tender; I ate just a few bites before pushing this aside. The best part of the meal was the potato salad, which has a sour-cream base, though it is not too heavy or soggy. I could probably live on this—if I got bigger clothes.
Finally, I ordered pecan pie from the choices of the day. Since we were dining in, the server offered to hold it for me until I was ready. When I did ask for it, they also offered to heat it, though I declined the whipped cream option. It was good, with rich filling and crunchy pecans, and the crust was satisfying. It wasn't as good as my brother makes, but it was a solid offering.
 He Said: I picked the pulled chicken plate, pork being on my list of Things the Pancreas Objects To. The chicken was tender and the coleslaw was a nice accent—it didn't overpower the meat. There are six choices of sauces on the table, and since She Said was having the No. 1, I probably should have had a different sauce for the sake of you, dear readers, but the truth is I didn't want another sauce because I really liked that one, which is sweet and mild, and I had plenty of it. The sandwich was quite tasty, though I can't swear it was any better than a number of other places in town where I've had BBQ chicken sandwiches.
For me the highlight of the meal was the baked beans. Unless like She Said your favorite flavor is "Bland," you might not want to go by her assessment of these. I found them to be just a little spicy, but that only gave them a nice tangy taste. If you really like baked beans, as I do, you'll like these.
And if you really like brownies, as I do, then I wouldn't recommend getting the brownie as a side here. It comes prepackaged in cellophane—never a great sign—and it was dry, chewy, and not particularly chocolatey. Now thiswas bland. There isa "Hot Fudge Brownie" on the menu, which I suspect is far more palatable, and that, my friends, is what I would try if I were you.
Service
She Said:Here you order at the counter, and they announce your order number for pick up when it's ready. Everyone was very friendly and helpful to us, which is nice as we aren't frequenters of this or other barbecue establishments. As mentioned, they offered to hold the pie until I was ready for it, and then heated it for maximum dessert enjoyment.
He Said:  Yeah, no complaints about the service, it was as good as you'd hope or expect at this kind of establishment. They also have the option of ordering online, I suppose for those who want to pick up their lunch, which might be handy for some of you out there in Reader Land.
What We Got and What We Paid: One regular pork plate, with potato salad and baked beans sides; one regular chicken plate with baked beans and brownie sides; one slice of pecan pie; one unsweet tea and one root beer, all for $25.15.
Elapsed Time from Our Arrival to Food Arrival:7 minutes
Rating
She Said (Or Was It Worth the Weight I Gained): I gained 1.2 pounds eating about two-thirds of the meal (dessert included), and I am not sure it was worth that, especially since I skimped on my other food all day for it. I'd say it was worth about half a pound, though I'd go up to 1 pound for the potato salad alone.
He Said: Go here if you want a good BBQ sandwich and baked beans. Don't order the brownie as a side.
Is Whole Hog Café Good at What it's Good For? It's good enough and certainly friendly, though there might be brighter stars of barbecue in the Conway galaxy.
COMING SOON!
Jay Ruud's most recent novel, Lost in the Quagmire: The Quest of the Grail, will be available from the publisher on OCTOBER 15. You can preorder your copy direct from the publisher (Encircle Press) at http://encirclepub.com/product/lost-in-the-quagmire/You can also order an electronic version from Smashwords at https://www.smashwords.com/books/view/814922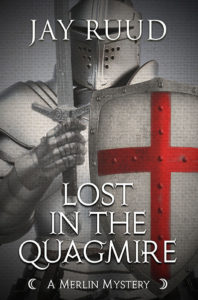 When Sir Galahad arrives in Camelot to fulfill his destiny, the presence of Lancelot's illegitimate son disturbs Queen Guinevere. But the young knight's vision of the Holy Grail at Pentecost inspires the entire fellowship of the Round Table to rush off in quest of Christendom's most holy relic. But as the quest gets under way, Sir Gawain and Sir Ywain are both seriously wounded, and Sir Safer and Sir Ironside are killed by a mysterious White Knight, who claims to impose rules upon the quest. And this is just the beginning. When knight after knight turns up dead or gravely wounded, sometimes at the hands of their fellow knights, Gildas and Merlin begin to suspect some sinister force behind the Grail madness, bent on nothing less than the destruction of Arthur and his table. They begin their own quest: to find the conspirator or conspirators behind the deaths of Arthur's good knights. Is it the king's enigmatic sister Morgan la Fay? Could it be Arthur's own bastard Sir Mordred, hoping to seize the throne for himself? Or is it some darker, older grievance against the king that cries out for vengeance? Before Merlin and Gildas are through, they are destined to lose a number of close comrades, and Gildas finds himself finally forced to prove his worth as a potential knight, facing down an armed and mounted enemy with nothing less than the lives of Merlin and his master Sir Gareth at stake.
Pre-Order from Amazon here: https://www.amazon.com/Lost-Quagmire-Quest-Merlin-Mystery/dp/1948338122
Pre-Order from Barnes and Noble here: https://www.barnesandnoble.com/w/lost-in-the-quagmire-jay-ruud/1128692499?ean=9781948338127
Comments
comments
http://jayruud.com/wp-content/uploads/2018/10/IMG_6675.jpg
2131
3379
Jay Ruud
http://jayruud.com/wp-content/uploads/2014/08/JayRuud.png
Jay Ruud
2018-10-08 08:29:00
2018-10-08 08:29:00
Whole Hog Cafe