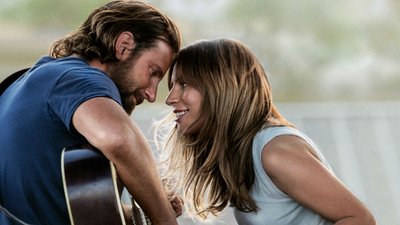 A Star Is Born
Bradley Cooper (2018)
Why, I ask myself, has this well-worn story of an up-and-coming star married to a crashing-and-burning one been so popular (for more than eighty years) that Hollywood has turned it into a popular movie on four separate occasions—and nobody's complaining? I suppose the simplest answer is that it's what my Mom would have called a "tearjerker." Yes, it's a story designed to play on your heartstrings, and in that way it's melodramatic, and in this cynical day and age nobody wants to be accused of that, but the fact is, people have emotions and sometimes honest emotion appeals to them.
The other reason the story has been around so long is that each time it is remade, it's remade in a way that updates it and makes it "relevant" to the decade it's speaking to. The original film, made in 1937, starred Frederic March (a native of my hometown of Racine, Wisconsin) in the role of Norman Maine, a famous film actor at the height of his popularity but who has a bit of a drinking problem, and Janet Gaynor in the role of Esther Victoria Blodgett, a girl from North Dakota who comes to California (like many young women during the Great Depression) with the naïve hope of getting into films. With Maine's help, she gets her chance, changes her name to Vicki Lester, and ultimately eclipses her husband and benefactor, whose alcoholism torpedoes his career. Vicki Lester wins an Academy Award in the film, and Norman Maine drowns himself in the end—in the ocean, not the bottle. March had won an Oscar for Dr. Jekyll and Mr. Hyde in 1932, and Gaynor had won the very first Oscar for Best Actress for 1927/28, so there were some heavy hitters involved in the making of the movie. Director William Wellman won the Oscar for best screenplay, and Gaynor and March were both nominated for their roles.
In 1954, Warner Brothers released the musical remake of A Star Is Born as their first film in CinemaScope. George Cukor had been tagged to direct the film by Sid Luft, who was trying to put together a deal for his wife Judy Garland to make the film as her comeback role. Cukor was hesitant, knowing Garland's reputation for instability on the set, but agreed because he wanted to work with Moss Hart, who was revising the screenplay. They wanted Cary Grant for the part of Norman Maine, but Grant turned them down, Humphrey Bogart and then Frank Sinatra were considered, then Stewart Granger seemed to be the choice, but finally the role fell to James Mason, who was then just reaching the height of his career, having starred as Erwin Rommel in The Desert Fox and as Brutus in Julius Caesar with Marlon Brando. Ironically, Garland's substance abuse issues plagued the film, but it was Mason whose alcoholic character kills himself at the end, when he overhears his Vicki Lester telling her manager she is giving up her career to take care of her drunken husband. The film was a marathon three hours long, and was nominated for six academy awards, including best actor and actress, but won none as Brando's On the Waterfront swept the awards, and Grace Kelly surprised everyone by beating Garland, the favorite, for the best actress Oscar.
The third iteration of the story appeared in 1976, and was something of a vanity project for Barbra Streisand, who wanted to make the film as a kind of comeback of her own. After starring in a series of lightweight comedies following her Oscar for Funny Girl, she wanted to remake A Star is Born and play the serious role as the Judy Garland-Janet Gaynor character. But she wanted to reimagine the movie as a statement about the rock music industry rather than Hollywood, and had the initial idea of casting Elvis Presley in the Norman Maine part. Elvis apparently was interested—he, too, could have used a comeback film role—but he wanted too much money and his manager, Colonel Tom Parker, didn't like the idea of Elvis playing a character who was on his way down in the music industry. Streisand's old school chum Neil Diamond (who went on himself to remake The Jazz Singer) was also a possibility, but he couldn't fit it in, so Kris Kristofferson took the role. Kristofferson begins the film as a self-destructive rock star named John Norman Howard (the "Norman" in homage to the original character) drunkenly stumbling through a concert, who meets Esther (Streisand) singing at a bar later and ultimately gets her to sing onstage with him, launching her own career, which skyrockets as his goes south. There is an embarrassing scene at the Grammys, when Esther wins the Grammy and John makes a drunken spectacle of himself. But in this mildly feminist version Streisand is a more independent Esther, not quite so much of the sacrificing little woman who in the previous films declares in the end "This is Mrs. Norman Maine!" Also in this version of the story, Howard does not kill himself deliberately but rather dies in a car accident. But the film ends with Esther singing one of John's new songs at a concert.
All of this Chaucer would call a long preamble of a tale. But it's hard for me to say anything about this remounting of the old war horse without seeing it in context. Bradley Cooper, who has made this project his personal Citizen Kane by directing, co-writing, and starring in the current remake, has taken bits from each of his predecessors in his remaking of the story in his own image. Like the Streisand musical he's made the male character (now renamed Maine as in the first two films but Jackson Maine to make him more contemporary) a self-destructive country-rock star, who also meets the female character singing in a bar (now Ally, no Esther or Vicki here), and has cast in that role the contemporary equivalent of a Barbra Streisand or a Judy Garland: the remarkable Lady Gaga. The fact that she is singing in a gay bar on a program with drag performers is one nod to the contemporary concerns of the current film.
While other details of the new film recall the Streisand-Kristofferson version, including Jackson's bringing Ally onstage to sing during his concert and the revisiting of the Grammys debacle, in other ways the current version skips back to return to the spirit of the older films. There are two significant differences that make this version of the story more palatable for 2018: One of these is the depiction of Jackson and his addictions. There is a much more sophisticated understanding of alcoholism and drug addiction that comes through in this film, with Jackson's demons more clearly motivated, laid out and portrayed. He is probably a more sympathetic Maine than we have seen before, because we understand him better and because his motivations are more complex. He does not sink lower into his darkness simply because of depression over his diminishing career and envy of his wife's successes. He has earlier griefs involving his father and his much older brother Bobby, played by the remarkable Sam Elliott, and he also has legitimate professional reasons to dislike the slick pop version of Ally that her manager Rez (Rafi Gavron of Nick and Nora's Infinite Playlist) creates, which he thinks betrays her sincere originality. And aside from all of that, this Maine checks himself into rehab and really tries to overcome his addictions.
The other major difference is Ally's independence. As Gaga portrays the character, Ally doesn't coddle Jackson's bad habits. She's never going to climb on the back of his motorcycle when he's been drinking, she tells him almost immediately. She does stay with him, but she doesn't condone or overlook his behavior. She also finds her success largely independent of him, though Rez does first see her perform at one of Jackson's concerts. But she does one thing that Streisand didn't do: She celebrates her marriage as well as her independence when she identifies herself as  "Ally Maine" as she sings Jackson's song at the end.
Gaga has surprised some people with her performance in the film, which is convincing, bold, and sympathetic. But surely we should have expected this: She has always played a character as "Lady Gaga," someone quite different from  Stefani Joanne Angelina Germanotta, a name she originally said she would use in the movie's credits (but that didn't happen). She is scarcely recognizable in the early scenes, without the usual trappings of her stage persona, though she becomes much more Gaga-like by the end.
Cooper's performance is less surprising. As a three-time Oscar nominee, he could be expected to give the kind of performance he does here—charming, self-destructive, sympathetic, enraging and engaging. Nor will it be surprising if, as in 1937 and in 1954, the 2018 version of A Star Is Born nets Oscar nominations for both its principals. Maybe one will win this time.
Bradley Cooper's direction is more surprising. For a first time director, he seems to have a sure hand as the story progresses. He doesn't milk the concert scenes but keeps the story moving forward with confidence, and shoots a lot of that raw emotion this tearjerker story engenders in unforgiving close-ups of himself and his unmade-up co-star. And aside from all that, he even cast his own dog in the film.
Like many Hollywood projects, including its predecessors, this one had a convoluted journey getting to this point. Plans were made originally in 2011 for Clint Eastwood to direct a new Staris Bornstarring Beyonce. Possible male stars considered were Tom Cruise, Leonardo DiCaprio, Christian Bale, and Will Smith. Obviously, none of that panned out. Cooper signed on and also got the director's chair in 2016, when Beyonce finally backed out, to be replaced by Gaga later in 2016. It certainly would have been an interesting film with Beyonce and Tom Cruise, directed by Eastwood. But it's hard to imagine it would have been better. This version of the film is worthy of its long history. Three Tennysons and half a Shakespeare for this one.
COMING REALLY SOON!
Jay Ruud's most recent novel, Lost in the Quagmire: The Quest of the Grail, will be available from the publisher on OCTOBER 15. You can preorder your copy direct from the publisher (Encircle Press) at http://encirclepub.com/product/lost-in-the-quagmire/You can also order an electronic version from Smashwords at https://www.smashwords.com/books/view/814922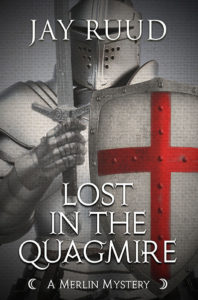 When Sir Galahad arrives in Camelot to fulfill his destiny, the presence of Lancelot's illegitimate son disturbs Queen Guinevere. But the young knight's vision of the Holy Grail at Pentecost inspires the entire fellowship of the Round Table to rush off in quest of Christendom's most holy relic. But as the quest gets under way, Sir Gawain and Sir Ywain are both seriously wounded, and Sir Safer and Sir Ironside are killed by a mysterious White Knight, who claims to impose rules upon the quest. And this is just the beginning. When knight after knight turns up dead or gravely wounded, sometimes at the hands of their fellow knights, Gildas and Merlin begin to suspect some sinister force behind the Grail madness, bent on nothing less than the destruction of Arthur and his table. They begin their own quest: to find the conspirator or conspirators behind the deaths of Arthur's good knights. Is it the king's enigmatic sister Morgan la Fay? Could it be Arthur's own bastard Sir Mordred, hoping to seize the throne for himself? Or is it some darker, older grievance against the king that cries out for vengeance? Before Merlin and Gildas are through, they are destined to lose a number of close comrades, and Gildas finds himself finally forced to prove his worth as a potential knight, facing down an armed and mounted enemy with nothing less than the lives of Merlin and his master Sir Gareth at stake.
Pre-Order from Amazon here: https://www.amazon.com/Lost-Quagmire-Quest-Merlin-Mystery/dp/1948338122
Pre-Order from Barnes and Noble here: https://www.barnesandnoble.com/w/lost-in-the-quagmire-jay-ruud/1128692499?ean=9781948338127
Comments
comments
http://jayruud.com/wp-content/uploads/2018/10/asib-1280-1536608446625_400w.jpg
225
400
Jay Ruud
http://jayruud.com/wp-content/uploads/2014/08/JayRuud.png
Jay Ruud
2018-10-09 19:45:49
2018-10-09 19:45:49
A Star Is Born