Review No. 120: Burge's Hickory Smoked Turkeys and Hams
405 East Dave Ward Drive
(501) 205-1926
57.1 percent finished reviewing Conway restaurants
The Situation
He Said:Alden Burge opened his original restaurant on the corner of Highways 29 and 82 in Lewisville, Arkansas, in 1962, selling barbecue, burgers and ice cream as well as smoked turkeys and hams, and chiefly by word of mouth Burge's became an Arkansas tradition.In 1977, Burge's opened a second location in the Heights neighborhood of Little Rock, and the franchise has been so successful there that (to the delight of many Conwegians) they announced in February 2017 that they would build a new store in Conway. Jeff Boyles, who purchased Burge's from the original family nine years ago, decided to open a new store in Conway, where he attended UCA. Delays postponed the opening of the Conway location to almost a year later than originally hoped, but Burge's is now open and Conwegians are flocking to it.
She Said: I wanted to flock to it myself after another week of post-vacation austerity measures of low-calorie and low-carb routines, and given the hullabaloo, I thought it might be a good place to sacrifice someof my progress. So, after I got off the treadmill for the 22ndday in a row, we scooted on down there before 11:30 a.m. to "beat the rush."
Ambience
He Said: It's a bright and cheery place, kind of a wide-open area with tables and then booths all along the walls. There are old signs for things like Coca Cola and S&H Green Stamps hanging on the walls like a lot of nostalgia-aiming places. But as I said, everything is in a big open space, so I wouldn't call it cozy. When you walk in, you have to wait in a line (at times quite a long line) moving from the door up to the counter, and to the side of the line, in your line of sight, is a large-screen TV which, when we were there, was tuned to a controversial news station that even without the sound on, would almost certainly alienate half the people walking into the restaurant. Why do restaurants persist in doing this, instead of tuning their televisions to sports or something less divisive?
She Said: I'm with you, Ruud. Travel channel and Animal Planet are also on 24/7, I think, so as we have previously noted in this space: Restaurants tune your tv to something pleasant for most. But, yes, I like the signage because it seems like it's actually old, not neo-nostalgic in design. The restaurant does seem profligate with space, but that means that table diners aren't going to feel like the next table is on top of them, and that's nice. The colors are bright and soundly Americana in vibe, which fits with the fare offered here. I was comfy, except that I felt a little faux, a little annoying Hipster wearing my overalls here, when actual overalls-wearing Arkansans were behind me in line.
Drinks
He Said:As I stood in the rather lengthy line waiting to order from the counter, I noticed in a cooler along the far wall a few bottled sodas, including a few bottles of IBC Root Beer. This is one of the better root beers out there (and uses actual sugar rather than corn syrup as a sweetener), and since I always prefer a bottle rather than a fountain drink, I opted for the IBC. And yes, it was delicious.
She Said:I got my usual unsweetened iced tea (when cocktails aren't available, as you know, dear readers), and it was good. There was a lot of ice, but it tasted well brewed. It was strong enough to give me a little heartburn later (that's just a weird me thing), but I thought it was tasty and went well with the food.
Food
He Said: Turkey has probably the lowest fat content of any fish, flesh or fowl you're likely to encounter in a normal restaurant, and so I was not worried about being able to find something that my pancreas could stomach; although, when I read the menu on the sign above the counter, I had a second thought or two: There were several turkey options but all of them involved combinations that coupled the turkey with something much more fatty, like cheese and bacon. And, in almost all cases, mayonnaise. Now I know that mayonnaise is a delicious condiment and enhances the taste of pretty much anything it comes into contact with, but it is essentially one big glob of fat. If you order anything and somebody says, "You want mayo on that?" translate that into "You want a 94 calorie 10-gram glob of fat on that?" because that's what it is. Per tablespoon.
But I digress. What I ordered was the smoked turkey sandwich, but asked them to substitute mustard (which has virtually no calories or grams of fat in the same tablespoon). The sandwich was very simple—it was on buttered toast with lettuce and, of course, my mustard, so it wasn't doctored up and essentially was just a way of presenting a very generous portion of smoked turkey. The turkey was delicious, and the smoked flavor gave it a special little kick.
For a side, I had barbecue beans. These came in a small styrofoam cup, and they were piping hot when they came out. These were OK. I wouldn't say they were better than a lot of other beans at some of the better barbecue places in Conway. They were more or less average. I had a kind of side-dish envy when I saw She Said's fries, which looked like they were done to perfection and which, when I stole one and tried it, tasted that way too.
She Said:I knew when we left the house that smoked-turkey salad was in my very near future, given the comments I'd seen about Burge's coming to Conway. I am a connoisseur of the chicken-salad croissant around town, so I was eager to try this unfamiliar concoction. Turkey! It's smoked! It's in a salad! On bread! The sandwiches here do not come with sides, though you can order as many as you like from the list of usual southern side suspects. I pondered the mustard potato salad but went with the fries (if it had been sour-cream potato salad, there would have been no pondering, and I'd have been 95 percent potato salad by the time I walked out of there).  I didn't see the pies on the menu, but southern fried fruit (or chocolate) pies were right by the cashier, and, again, for you, dear readers, I decided to indulge in an apple pie.
Appropriately for Burge's milieu, the smoked turkey salad comes on buttered toast, not a croissant, and everything arrives wrapped in white deli paper. I expected more of a Texas toast bread, but it was buttery and nicely browned. I picked up one half and took a bite: Mostly, I tasted smoke, as if I were standing by a campfire. It was overwhelming to me. Is this what y'all love about smoked meat, eating smoke? I couldn't really taste the turkey or salad components, but enjoyed the mix of textures of finely chopped meat, dressing and toast. Oh, I ate almost all of it, getting used to the smoky taste, the idea of it. If you like smoke, you'll love this. I may need some time to adapt. Regardless, all the ingredients tasted like quality foods.
The fries were delicious, especially with the mayo I dipped them in. The portion was reasonable (I'm so over these giant restaurant portions that are jacking up our sense of how much we're supposed to it!), and I had just enough to share with He Said to assuage his side-dish envy. I also enjoyed the pie, which wasn't greasy, though I've seen it billed elsewhere as fried. There was a nice brush of cinnamon and sugar on the crust, which was flaky, with warm apple filling inside that was not too sweet. This was the star of my show here at Burge's.
Service
He Said:The young woman taking our order was courteous, friendly, smiling and efficient. She was more than happy to substitute the mustard for the mayo on my sandwich. You order at a counter here, then go and sit down, and when your food is ready a server calls your name and then brings your food out to your table. This was done pretty quickly and efficiently.
She Said:Yes, we stood in line for a bit, but that gave us time to get our smoked meats in a row and order efficiently. Everyone was friendly, and I appreciated that when I asked our food runner where I could get some mayo for my fries, as I had forgotten to request it at the counter, he offered to bring me some and promptly did. Another touch to the service I appreciated is that they fill the drinks for you behind the counter right away, but you can refill them at a self-service station by the door.
What We Got and What We Paid: One turkey-salad sandwich with fries and an unsweetened iced tea. One fried apple pie. One smoked-turkey-sandwich with a side of BBQ beans and a bottled root beer. All for $24.66.
Elapsed Time from Our Arrival to Food Arrival: 16 minutes. This included time in line. We arrived at 11:20 a.m. to "beat the rush," and were not the only customers with this strategy. During our time eating, the line doubled in size.
Rating
He Said: This is a worthwhile place to go for a meal if you want a sandwich, fries and/or a fried pie or two. And you can get some good root beer here.
She Said (Or Was It Worth the Weight I Gained): I gained 1.4 pounds after my meal at Burge's, and I'd say it was worth up to one pound, but in the interest of fairness, I'll give that extra four-tenths up for my first meal of smoked turkey salad as a life experience (and the other pound goes for that pie and fries!).
So… He Said and She Said: Go here for quality Arkansas comfort food in a pleasant environment with friendly service, especially if you like to eat smoke… and pie!
NOW AVAILABLE:
If you like these reviews, you might enjoy Jay Ruud's most recent novel, now available from the publisher at https://encirclepub.com/product/the-bleak-and-empty-sea/. Also available from Amazon or Barnes and Noble.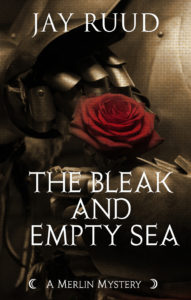 When word comes to Camelot that Sir Tristram has died in Brittany of wounds suffered in a skirmish, and that his longtime mistress, La Belle Isolde, Queen of Cornwall, has subsequently died herself of a broken heart, Queen Guinevere and her trusted lady Rosemounde immediately suspect that there is more to the story of the lovers' deaths than they are being told. It is up to Merlin and his faithful assistant, Gildas of Cornwall, to find the truth behind the myths and half-truths surrounding these untimely deaths. By the time they are finally able to uncover the truth, Gildas and Merlin have lost one companion and are in danger of losing their own lives.
Order from Amazon here: https://www.amazon.com/Bleak-Empty-Sea-Tristram-Mystery/dp/1893035735/ref=sr_1_1?s=books&ie=UTF8&qid=1503328086&sr=1-1&keywords=Bleak+and+Empty+Sea
Order from Barnes and Noble here: https://www.barnesandnoble.com/w/the-bleak-and-empty-sea-jay-ruud/1126958139?ean=9781893035737
Comments
comments
http://jayruud.com/wp-content/uploads/2018/08/IMG_5098.jpg
3024
4032
Jay Ruud
http://jayruud.com/wp-content/uploads/2014/08/JayRuud.png
Jay Ruud
2018-08-06 15:36:26
2018-08-06 15:36:26
Burge's Hickory Smoked Turkeys and Hams