Review No. 101: Christian Cafeteria at UCA
University of Central Arkansas campus
51.4 percent finished reviewing Conway restaurants
(501) 450-5000 (General UCA line)
The Situation
She Said: When we started this monster project, to review every single restaurant in Conway, several people mentioned to me that we shouldn't forget the campus cafeterias that welcome noncampus paying customers. He Said takes an art-history class at UCA, so we decided to start with its main cafeteria for lunch after his class one day in celebration of the students' return from spring break.
He Said: Yes, every restaurant in Conway means every restaurant in Conway, so this place is on the list. And, yes, you can eat here if you happen to be on campus for any reason. It's just going to cost you more if you are not a student, faculty or staff member.
The cafeteria, by the way, is named for a former UCA associate professor of Home Economics, Elizabeth L. Christian, who taught here back in he 1920s. Also good to know: if you know you might be coming here to eat, you can check out the menu on he cafeteria's online page, which also gives you calorie counts for the various choices.
Ambience
She Said: Well, thanks to He Said's "Retired" parking pass, we only had to park 5 minutes' walk from the building—for those relying on visitor parking, this could be a tougher place to access. But after a pleasant walk through UCA's pretty environs, we arrived at Christian Cafeteria. Recently, I complained a little about the all-business way Golden Corral greets customers, but Christian Cafeteria is friendlier, and we were greeted by friendly lunch ladies who took our payment and answered questions. I couldn't help but compare it to my experiences in Lincoln and Jerde dining halls at my undergraduate college in Aberdeen, S.D., and it did well by comparison. CC is a big space, accommodating lots of people and food stations, and yet I felt comfortable and cozy in our table by the windows. The cool colors are relaxing, and the traffic flow is manageable.
He Said:  They feed a lot of people in here every day. If you get here earlier, it's not too crowded. We arrived a little after 11 a.m., and since it doesn't start getting crowded until noon, we were pretty much OK, except for special stations where things take awhile, like the omelet station, as you will read about later. It is a cafeteria make no mistake, but if you get here early enough you can get a table pretty much to yourself. And there are so many choices here that it's not like you may remember—certainly not like I remember—of your college freshman days.
Drinks
She Said: Well, they obviously don't have wine, beer or a full bar, but I was happy with the fountain drinks and treated myself to a Diet Coke.
He Said: Coke products, hence Barq's, the Beer of the Root.
Food
She Said: Remembering the few times I had eaten here in the past, I strategized a lunch from the custom omelet station, because it would be low-carb and would be made according to my directions to satisfy my picky and food-freaky ways. But, while looking for it, I passed the pizza and French fry distribution centers. Still, I stuck to my plan and got in line. The line did not move very fast (or at all), and while I was waiting in it, I realized that some of it was "self-serve," which I took to mean some of the ingredients had to be gotten before you got in line (?), and since I'd been standing there without progressing for 5 minutes already and getting my stuff would mean going to the end of the growing number of omelet-wanters, I abandoned my plan and went straight for the pepperoni pizza and fries. To make myself feel better, I also made a salad and helped myself to a spoonful of green beans.
The salad bar was pretty good, and I most liked the mixed greens that included what seemed to be romaine with the iceberg (they also had fresh spinach), and a nice variety of fresh vegetables and dressings. The fries were the skinny kind and crispy, though not too warm, but I could have endless mayo for them in true cafeteria style. I was given a heaping helping of fries, of which I ate too many. The green beans were hot and nicely seasoned. As you know, dear reader, I am a pizza lover. I think about pizza 95 percent of the time. This pizza was flavorful, with lots of cheese and meat, but, while the crust may not be classified as "thick," it was too bready for my taste, as I like a thin and crispy crust. It is filling though, and I took too much, as in my hunger, I scooped up two pieces and then couldn't finish them.
He Said: There are many possibilities here. First, there is a salad bar, with a lot of choices (I had broccoli, carrots, beets and a few different greens mixed in with lettuce. There was also a wide choice of salad dressings, and a notice on the glass indicating how many calories were in each dressing. I chose a low-calorie dressing. It tasted fine, no complaints.
They had three choices for the main regular meal—vegetarian, fish, and beef—so several diet possibilities are covered. But aside from those featured main dishes, there were the omelet station, the pizza station, the hamburger/hot dog station, a panini sandwich station, and an Asian stir-fry station. I was very tempted by the stir-fry, but I opted for the fish on the featured menu. It was a kind of breaded haddock, topped with a bit of salsa, with rice on the side. I also grabbed a vegetable side, green beans. Frankly, I found the fish to be pretty bland, and the plain rice was even blander. So, I was sorry that I hadn't tried the stir-fry, which I now thought had looked tastier to begin with. But the choice was mine, and I had gone with bland because I wanted to go low on fat—though I believe the stir-fry would have been pretty low fat as well.
I didn't go low fat on the dessert. Well, it could have been worse. They have a dessert station with cookies, ice cream, brownies, all of which looked delicious. I had a chocolate brownie with chocolate icing, and yes, it was chocolatey. Very rich, and worth the fat splurge.
Service
She Said: I found everyone here very friendly and helpful. When we came in and He Said proffered up his debit card to pay for lunch, our greeter warned us that would cost more if we didn't use Bear Cards. She was looking out for us. The food service staffers were also friendly.
He Said: Yes, the lunch lady at the cash register was friendly and honest. And the server was pleasant as well. Nothing to complain of there.
What We Got and What We Paid: Two all-you-can-eat lunches for $24.14
Elapsed Time from Our Arrival to Food Arrival: 10 minutes
Rating
She Said: There is better food in Conway, perhaps for less, but if you're on UCA's campus and need a meal, Christian Cafeteria provides many options for many tastes and you can eat until you get full!
He Said: You have a lot of choices here. Choose wisely.
So… He Said and She Said: Go here for a college cafeteria experience with better than you remember from your own college days, but not as good as Mike's Place.
NOW AVAILABLE:
If you like these reviews, you might enjoy Jay Ruud's most recent novel, now available from the publisher at https://encirclepub.com/product/the-bleak-and-empty-sea/. Also available from Amazon or Barnes and Noble.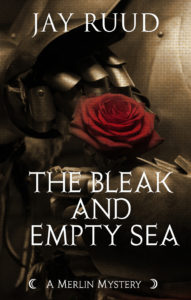 When word comes to Camelot that Sir Tristram has died in Brittany of wounds suffered in a skirmish, and that his longtime mistress, La Belle Isolde, Queen of Cornwall, has subsequently died herself of a broken heart, Queen Guinevere and her trusted lady Rosemounde immediately suspect that there is more to the story of the lovers' deaths than they are being told. It is up to Merlin and his faithful assistant, Gildas of Cornwall, to find the truth behind the myths and half-truths surrounding these untimely deaths. By the time they are finally able to uncover the truth, Gildas and Merlin have lost one companion and are in danger of losing their own lives.
Order from Amazon here: https://www.amazon.com/Bleak-Empty-Sea-Tristram-Mystery/dp/1893035735/ref=sr_1_1?s=books&ie=UTF8&qid=1503328086&sr=1-1&keywords=Bleak+and+Empty+Sea
Order from Barnes and Noble here: https://www.barnesandnoble.com/w/the-bleak-and-empty-sea-jay-ruud/1126958139?ean=9781893035737
Comments
comments
http://jayruud.com/wp-content/uploads/2018/04/IMG_8827.jpg
1780
3028
Jay Ruud
http://jayruud.com/wp-content/uploads/2014/08/JayRuud.png
Jay Ruud
2018-04-02 08:45:00
2018-04-02 08:45:00
Christian Cafeteria