Review No. 144: Cold Stone Creamery
1120 East. Oak Street, Suite 101
(501) 358-6800
66.0 percent finished reviewing Conway restaurants
The Situation
She Said: We'd noticed this new sweet-treat purveyor had opened not far from our neighborhood, so ice cream had been on our minds. I had a long run for my half-marathon training the next day, so I figured that was just as good a fuel as any to help me make it through my 7 miler.
He Said: Yeah, I'd seen the new little shop during a morning walk with my older Borzoi, and she seemed to want to head in for a scoop of vanilla herself, but that was not to be, so I went with my wife instead.
Cold Stone Creamery opened its first store in Tempe, Arizona, in 1988, and now is one of the largest ice cream chains in the word, with locations in at least 27 countries in addition to the United States. Its headquarters are still located in Scottsdale, Arizona, and it has become famous for making the ice cream on site, creamy but not "soft-serve," and containing12–14% butterfat, mixed to order on a marble slab.
Ambience:
She Said: The façade is very pretty, but inside it's rather fast-food: bright and clean, but the tables aren't particularly cozy or welcoming. There is a patio for warmer weather, and there were some people out there, though I didn't see many (or any?) stay inside at a table and eat their treats as we did.
He Said: Oh, I think there were one or two groups sitting at the tables, but most were picking up and taking away. And there was plenty of traffic for late afternoon on a Saturday. It is fast-foody inside, so not terribly inviting, though the outside looks like a little Swiss chocolate shop in the Alps. And She Said was wearing her Mt. Pilatus sweatshirt from Lucerne, so it all fit together.
Drinks
She Said: We did not get drinks. We were single-minded in our mission: ICE CREAM.
He Said: According to their menu, they do have shakes, smoothies and frappés here. But those are the kinds of things you get insteadof ice cream. So we didn't.
Food
She Said: There are many indulgent offerings you can choose in cones or bowls, for which Cold Stone Creamery has put together all the toppings for utmost enjoyment. But even though I was down with ice cream, I wasn't crazy. I 7-mile run only burns about 800 to 900 calories, after all, so I checked out the sizes for the basic ice-cream offerings, which were cute: Like It, Love It and Gotta Have It. I went with a Like-It (small) sized coffee ice cream. One "mix-in" ingredient is included, so I chose Heath Bar. (You can get more mix-ins for about $1 each, which seems like a lot of money for a square of candy bar or some sprinkles.) These were a great combination. The ice cream, which they mix with your choice of topping on a cold-stone slab—get it?—was very rich and creamy and the coffee was strong enough to create a nice pairing with the Heath Bar and the sweetness of the main delight. I will definitely eat this again…maybe I'll run to Cold Stone and run home!
He Said: My problem here, as regular readers will obviously already have guessed, is that 12-14 percent butterfat content in the ice cream. So Jones, in your small scoop of coffee ice cream, for example, there were 21 grams of fat, an amount probably doubled by the addition of the Heath bar. A large ("Gotta Have It") scoop would have given you 49 grams of fat. Plus any extras you might have in the toppings. These are not numbers likely to make for a happy pancreas.
The answer for me could be frozen yogurt, and to my great relief and joy, Cold Stone Creamery had one flavor of frozen yogurt—a Salted Caramel. I chose this and asked for a Kit-Kat bar to be mashed up in a small portion of the caramel yogurt on the Cold Stone slab. And it really was delicious, a smooth and creamy blast of caramel, salt and Kit-Kat sliding all over my taste buds. And the yogurt had only .5 gram of fat. The Kit-Kat, of course, added probably another 21 grams, but 21.5 fat grams in dessert did save my diet, while a 60-gram binge, which would have been not only possible but likely if I'd had the actual ice cream, would have been a problem.
I do have a bone to pick with Conway's Cold Stone Creamery, though: According to the online menu, there are apparently some 41 different flavors of frozen yogurt available at Cold Stone Creameries. So why does the Conway location have only one? Obviously, since the ice creams are mixed at the store locations, each store can choose what it puts out. And putting out only one flavor of yogurt provides a pretty limited choice. Two or three other flavors would be awfully welcome, to me and anyone else who, like me, needs a low-fat diet.
Service
She Said: In the interest of full disclosure, I will point out that I was waited on by a friend of ours, who was very friendly and helpful (and asked about our dogs). I noticed that everyone gets greeted as they enter and there is a happy attitude among the staff for the patrons. They prepare your ice cream with your extras as you watch, a la Subway assembly line. It's fun.
He Said: There are a few other ice-cream places in town that have this "mix it up on a slab of marble" approach, so the place is not unique in that. But the servers are friendly. I suspect ours would have been friendly even if she didn't already have a relationship with our dogs.
What We Got and What We Paid: One Like It-sized coffee ice cream with Heath Bar mix-in and one Like It-sized Salted Caramel yogurt with a Kit-Kat bar all for $10.87.
Elapsed Time from Our Arrival to Food Arrival:4 minutes
Rating:
She Said (or is it worth the weight I gained): I didn't weigh, but it certainly did help fuel my run, though perhaps I should have had a bigger size; I might not have been dying by Mile 6. It was very tasty and is nearby, so I'm sure I'll be back, even when I'm not in training.
He Said:I'd go back again for the caramel, but I'd love it if I could go back and find they had a chocolate frozen yogurt. I might cut down on the topping, and just have some sprinkles in that case.
Is Cold Stone Creamery Good At What It's Good For? Yes, though it is a bit expensive; however, the ice cream is tasty and the mix-ins make it that much more delightful.
NOW AVAILABLE!!!
Jay Ruud's most recent novel, Lost in the Quagmire: The Quest of the Grail, IS NOW available. You can order your copy direct from the publisher (Encircle Press) at http://encirclepub.com/product/lost-in-the-quagmire/You can also order an electronic version from Smashwords at https://www.smashwords.com/books/view/814922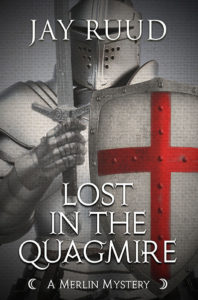 When Sir Galahad arrives in Camelot to fulfill his destiny, the presence of Lancelot's illegitimate son disturbs Queen Guinevere. But the young knight's vision of the Holy Grail at Pentecost inspires the entire fellowship of the Round Table to rush off in quest of Christendom's most holy relic. But as the quest gets under way, Sir Gawain and Sir Ywain are both seriously wounded, and Sir Safer and Sir Ironside are killed by a mysterious White Knight, who claims to impose rules upon the quest. And this is just the beginning. When knight after knight turns up dead or gravely wounded, sometimes at the hands of their fellow knights, Gildas and Merlin begin to suspect some sinister force behind the Grail madness, bent on nothing less than the destruction of Arthur and his table. They begin their own quest: to find the conspirator or conspirators behind the deaths of Arthur's good knights. Is it the king's enigmatic sister Morgan la Fay? Could it be Arthur's own bastard Sir Mordred, hoping to seize the throne for himself? Or is it some darker, older grievance against the king that cries out for vengeance? Before Merlin and Gildas are through, they are destined to lose a number of close comrades, and Gildas finds himself finally forced to prove his worth as a potential knight, facing down an armed and mounted enemy with nothing less than the lives of Merlin and his master Sir Gareth at stake.
Order from Amazon here: https://www.amazon.com/Lost-Quagmire-Quest-Merlin-Mystery/dp/1948338122
Order from Barnes and Noble here: https://www.barnesandnoble.com/w/lost-in-the-quagmire-jay-ruud/1128692499?ean=9781948338127
Comments
comments
http://jayruud.com/wp-content/uploads/2019/02/IMG_1414.jpg
4032
3024
Jay Ruud
http://jayruud.com/wp-content/uploads/2014/08/JayRuud.png
Jay Ruud
2019-02-04 14:28:34
2019-02-04 14:28:34
Cold Stone Creamery