Review No. 125: Colton's Steakhouse and Grill
120 Oak Street
(501) 329-6454
57.1 percent finished reviewing Conway restaurants
The Situation
She Said: One of life's little treats is going out for Sunday dinner when your mom is in town. My Mom likes to eat healthy (she's into quinoa, etc.), and she's definitely a meat-eater. We don't cook much meat at home besides fish and occasionally poultry, so it seemed like a good time to go out somewhere with lots of meaty options on the menu, and that meant it was time for us to make our first trip to Colton's in the 15 years we've been living in Conway. We arrived around noon-15 on a Sunday, and I expected a wait, though we were seated right away. When we left after 1 p.m., there was a wait.
He Said: Yes, Colton's Steakhouse has been sitting there on Oak Street since we moved to Conway, yet we've never even discussed paying it a visit, I suppose in part because we just didn't have any interest in visiting a chain steak joint, having memories of others in the past whose quality didn't really measure up. Add to that my current problem of finding low-fat meals to eat while dining out, and Colton's has never seemed a top possibility. This current project of visiting every restaurant in Conway does force us to enter doors that we'd never thought of coming through before.
Colton's restaurants have been in existence since 1996, and they are currently in eight states, none of which is Texas, though they are supposedly named after some Texas Ranger, which explains the western theme in the décor. The largest number of those restaurants, 15, are in Arkansas. And to my surprise, I learned that the very first Colton's steakhouse was opened right here in Conway. So I guess we had hit the motherlode, so to speak, in eating here.
Ambience
She Said: The interior designer busted out Western Steakhouse No. 1 on this décor, and it hits all the usual notes, wood-paneled walls, dark leather booths, small windows and artificially lit interior. It looks like the meat-and-potatoes joint you've come to for Texas cuisine. What is not as much in the restaurant's control is how loud the large party is next to you: Occupying two tables and calling back and forth to each other, walking about, and pulling chairs out to sit between them, this group dominated the whole room we were in and was so loud we could not talk to each other—heck, I couldn't even think, because everything they yelled crowded out every thought in my mind. The areas with smaller tables and four-top booths looked more pleasant than where we were seated, but we had to wait for these people to leave before we could hold a conversation without screaming and adding to the problem. It was very unpleasant.
He Said: We've commented before on how loud American restaurants tend to be. Sometimes the restaurant itself contributes to this problem, as when they play background music at a high volume. In this case the restaurant was not responsible for this pack of barbarians, though it might have been possible for the manager of the place to ask them to quiet down a bit. There were three other tables in this back room, and none of the customers seated at those tables seemed to be enjoying themselves much. I will say that the single waitress who had charge of this area worked diligently and quickly to get that party's food and check to them ASAP. But I do wish people could be a bit more courteous when let out in public. This was a restaurant at a Sunday lunch, catering, for the most part, to the after-church crowd. It was not a sports bar on a Saturday night. Colton's doesn't even have a liquor license.
She Said: I was at a restaurant in Little Rock—the Fold—where the waitress asked me if a loud party was bothering me and told them to pipe down when I said they were. That would have been nice in this situation.
Drinks
She Said:When there's no bar, I almost always go with unsweetened iced tea, and Colton's was tasty, though a bit strong. There was plenty of ice, so it became more mild and delicious. Our waitress brought me a refill before I needed to ask, and it went well with the meal.
He Said: They have Coke products here, but they also have Iron Horse Root Beer in a bottle. This is mighty good stuff. I recommend it highly to other Root Beer connoisseurs out there. Fountain drinks, including She Said's iced tea, get free refills here. Not so the Iron Horse. And that's a sad story.
Food
She Said:When we were seated, a big bucket of peanuts and an empty bucket for shells was settled on the table among us, so My Mom and I snacked on these whilst choosing our meals. The menu has some variety but is controlled enough to allow newbies like us to get a good grasp of the offerings and not feel like I'm missing the perfect entrée because it's buried among hundreds of possibilities. I was tempted by a few of the appetizers—fried green beans and fried pickles—but we decided to skip sharing fried things in favor of something sweet later on, if there was room.
I looked at some things that really called out to me, the Lonesome Burger (which is your basic burger and fixin's), the fried catfish and the filet mignon, which comes with two sides. When He Said decided on a salmon, I nixed the fish, and when My Mom chose a pork chop, I decided to go with the restaurant's raison d'être and selected the filet. It's listed as eight ounces of bacon wrapped meat, with two basic sides or $1 more for each premium side. I chose a Caesar salad and fries, and avoided the additional charge, though an eight-ounce filet mignon for $20.99 is a reasonable asking price. As our dear readers know, I ordered that steak "veryrare," and hoped it would indeed be that. While I waited to find out, we were brought the honey-butter rolls, which were a lot like bread crack to me. I had one and then tore off part of another one, and I'd probably have eaten all of what was left, if my food hadn't started to arrive.
The salad arrived first as its own course. I do love a Caesar salad, and will often enjoy one with shrimp or chicken as a main course. The dressing on this one was too vinegary and put me off quickly. I set it aside and went back to the peanuts until the main course was put in front of me. I cut into the steak and it was so rare and tender, it fell away from my knife. It wasn't the thickest, richest, marble-y-est steak I've ever had, but it was tasty and very rare (it was warm in the middle, but still dark red throughout most of the cut. I ate about five ounces of it and gave the rest to My Mom to put in her to-go box so she could take it home and over-cook it to her heart's content. Neither of us wanted to waste it.
The steak fries that accompanied it were definitely a highlight of the meal. The outside was golden and crispy, and the potato inside was light, fluffy and delicious. I had mine with mayonnaise (in little packets—not my favorite delivery device), and sharing one with He Said so he could try them was a real sacrifice only my love for him could ever motivate.
We also shared dessert, and I'll let He Said describe the "Ultimate Brownie Sin-Sation."
He Said: I did mean to look at the menu online before we came, but the church service got in the way, so I was coming in blind. I hate to do that with a chain restaurant because often some of the things they offer that seem safe from the point of view of a low-fat diet actually turn out to be surprisingly fat-filled. So I was quite pleased to find grilled salmon on the menu here, as well as a side of steamed vegetables.
At a steakhouse like this, where seafood is sometimes an afterthought on the menu, salmon is often—nay, almost invariably—overdone. I asked for the salmon to be cooked "medium," and what I got was not medium, but was not bad (though I did wonder how done it would have been if I hadn'tasked for it "medium"). It had a kind of rub on it that was a bit salty, which came as a bit of a surprise, but was actually a rather pleasant flavor once I got used to it. On the side was what I believe was a raspberry chipotle sauce that I've seen on Colton's online menu, and this was also a very unusual sweet taste with a kick, and I added that to some of the bites of salmon I had. Again, it was an unusual but pleasant flavor, sweet but with a surprise. Overall, it was a pretty good salmon experience, far better than I had anticipated, and I would definitely order it again there.
The steamed veggies were mostly broccoli, and that's fine with me. The veggies were fresh and not terribly soggy and were a nice fatless complement to the salmon. Also, I have to agree with She Said about the honey butter rolls—they came warm and you definitely don't want to miss them if you go to Colton's.
Now about that Ultimate Brownie Sin-Sation: According to online nutrition reports, there are 480 calories in this dessert, which is basically a giant chocolate brownie with some chocolate syrup topped with ice cream with more syrup and some whipped cream. However, it apparently has only ten grams of fat, which I felt was definitely worth the risk. Also, just to be safe, I ate very little of the ice cream. It was a truly heavenly experience eating that thing, "sin sation" or not. I recommend it highly.
Service
She Said:Sure, I love a friendly server, but the main attribute I value is efficiency and effectiveness, and our Colton's waitress was a machine! She managed that huge (loud) party, as well as several other tables around us quickly and professionally. We got everything we needed, her check-ins were well timed: We weren't rushed and we never felt impatient. This woman should teach classes.
He Said: Yes. She had no small talk and wasn't interested in jocular bantering, but she was quick, professional, and got everything right. She was a gem.
What My Mom Thought: She really liked her pork chop, saying it was the best one she'd had since she stopped making them at home for herself (she's almost 93). She thought the steamed broccoli and cauliflower (there was only one carrot, she noted) were perfectly cooked without being mushy, and she loved the fried onions that came with the chop. She made some faces about the noise, which is notable, since she is not a complainer and rarely has her feathers ruffled by things around her.
What We Got and What We Paid: One filet mignon (including two regular sides of salad and fries), one pork-chop entrée with steamed vegetables, one salmon entrée with steamed veggie side, one unsweetened tea, one bottled root beer and one "Ultimate Brownie Sin-Sation" for $62.50 (three meals).
Elapsed Time from Our Arrival to Food Arrival: 31 minutes from arrival to entrée delivery.
Rating
She Said (Or Was It Worth the Weight I Gained): I gained 0.8 pounds, which was definitely worth it, given the carby-deliciousness of the rolls and fries, and the steak was satisfying. I don't eat this kind of food often for a lot of reasons, but I would consider a follow up visit if it could be quieter. A slower time of day or day of the week might pull me back there for another go.
He Said: The food was surprisingly good, and the service was excellent. The atmosphere of the place was unpleasant for reasons beyond the restaurant's control, but I'm willing to give it another try.
So… He Said and She Said:Go here for Americana-food classics, but watch the timing and where your table is if you want to actually hear each other talk (or yourself think). 
COMING SOON!
Jay Ruud's most recent novel, Lost in the Quagmire: The Quest of the Grail, will be available from the publisher on OCTOBER 15. You can preorder your copy direct from the publisher (Encircle Press) at http://encirclepub.com/product/lost-in-the-quagmire/You can also order an electronic version from Smashwords at https://www.smashwords.com/books/view/814922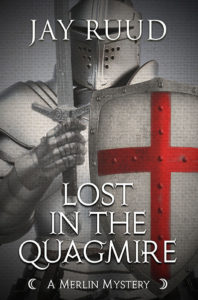 When Sir Galahad arrives in Camelot to fulfill his destiny, the presence of Lancelot's illegitimate son disturbs Queen Guinevere. But the young knight's vision of the Holy Grail at Pentecost inspires the entire fellowship of the Round Table to rush off in quest of Christendom's most holy relic. But as the quest gets under way, Sir Gawain and Sir Ywain are both seriously wounded, and Sir Safer and Sir Ironside are killed by a mysterious White Knight, who claims to impose rules upon the quest. And this is just the beginning. When knight after knight turns up dead or gravely wounded, sometimes at the hands of their fellow knights, Gildas and Merlin begin to suspect some sinister force behind the Grail madness, bent on nothing less than the destruction of Arthur and his table. They begin their own quest: to find the conspirator or conspirators behind the deaths of Arthur's good knights. Is it the king's enigmatic sister Morgan la Fay? Could it be Arthur's own bastard Sir Mordred, hoping to seize the throne for himself? Or is it some darker, older grievance against the king that cries out for vengeance? Before Merlin and Gildas are through, they are destined to lose a number of close comrades, and Gildas finds himself finally forced to prove his worth as a potential knight, facing down an armed and mounted enemy with nothing less than the lives of Merlin and his master Sir Gareth at stake.
Pre-Order from Amazon here: https://www.amazon.com/Lost-Quagmire-Quest-Merlin-Mystery/dp/1948338122
Pre-Order from Barnes and Noble here: https://www.barnesandnoble.com/w/lost-in-the-quagmire-jay-ruud/1128692499?ean=9781948338127
Comments
comments
http://jayruud.com/wp-content/uploads/2018/09/IMG_5774.jpg
2468
3222
Jay Ruud
http://jayruud.com/wp-content/uploads/2014/08/JayRuud.png
Jay Ruud
2018-09-10 07:48:55
2018-09-10 07:48:55
Colton's Steakhouse and Grill