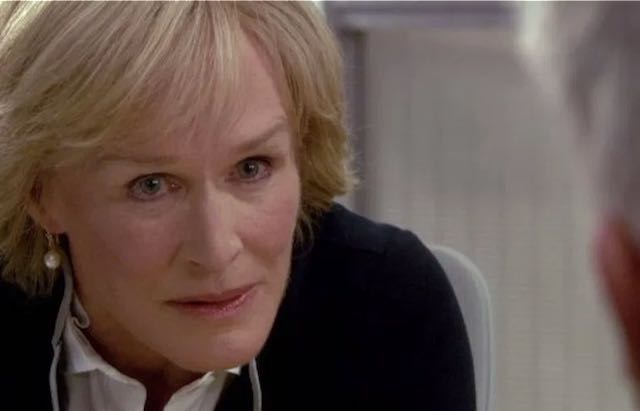 Damages (season one)
Todd and Glenn Kessler with Daniel Zellman (2007)
Facts for You:
Where to Watch: Originally on FX, now streaming on Hulu
Length: Thirteen 1-hour episodes in the first season
Names You Might Know: Glenn Close, Rose Byrne, Ted Danson, Željko Ivanek
Language: English
He Said: If you were disappointed last month to see Glenn Close fail once again to receive an Oscar in her eighth nomination (for Hillbilly Elegy), you might think about watching her in her most acclaimed role, in the TV series Damages, for which she received four Emmy nominations as Best Actress and won two of them. One of those wins was for the first season of the show, which aired on FX in 2007.
You may want to binge this classic show particularly if you missed it when it first aired, back when it was more unusual for newer cable networks—other than HBO and Showtime—to gain a niche among the viewing public. I freely admit that I, for one, essentially ignored this show's existence at the time, despite its six Emmy nominations that year. I was busy watching The Sopranos, thanks, and didn't have time for these fringe network shows.
Speaking of which, one of the creators of Damages, Todd Kessler, was a writer and producer on the second and third seasons of The Sopranos, so the Sopranos-like quality that underscores every episode of this first season of damages has its source in that show. This season is memorable for being one of the first TV legal crime drams to spend an entire season dealing with a single case. It is remarkable, as well, for telling its story in a dual timeline: We see our main protagonist Ellen Parsons (Rose Byrne of Bridesmaids) arrested for the murder of her fiancé, then cut to a time several months earlier when Ellen is hired at her first legal job. The season continues moving back and forth in time to develop both timelines until they ultimately connect in the final episode.
The outline of the first season is this: Ellen is recruited for the law firm Hewes & Associates by Patty Hewes (Close), who is known to be a no-holds-barred litigator. She has hired Ellen to help with a huge case—a class-action lawsuit brought against billionaire Arthur Frobisher (Ted Danson) by his 5,000 former employees who lost all of their pensions when his company went belly-up the day after he sold all his own stock. Patty, representing the plaintiffs, is trying to get Katie Connor (Anastasia Griffith of TV's Trauma) and O'Connor's one-time lover Gregory Malina (Peter Facinelli of TV's Nurse Jackie) to testify to what they know about Frobisher's contact with a shadowy fellow conspirator in Florida. Katie happen to be the sister of Ellen's fiancé David Connor (Noah Bean of TV's Nikita), and Ellen's relationships with both siblings become strained through her job. Meanwhile Frobisher's attorney Ray Fiske (Željko Ivanek of TV's Madame Secretary) keeps trying to settle the case out of court, but finds Patty unwilling to settle—it is as if she has a vendetta against Frobisher for some reason we aren't made privy to. At the same time, Fiske has a very suspicious relationship going on with potential witness Malina. Summed up this way it sounds like a fairly generic legal thriller. But the dual narrative shakes up the storytelling a bit, and to tell you the truth, both sides in this litigation are so abominable—and are so perfectly willing to kill somebody if it advances their agenda, that this show takes things, as they say, to a whole new level.
The performances on all levels in this season are top notch, which probably explains why the show won the Emmy for "casting." Danson and Ivanek were both nominated for Emmys for "Best Supporting Actor," with Ivanek walking off with the prize. And of course Close won both the Emmy and the golden Globe for Best Actress in a Drama Series for this first season. So Jones, all this being said, what did you think of this season? Was there anything you didn't think was well-done?
She Said: I think this is a top-notch legal/crimey drama show, for sure, and from the era before streaming, too. I got interested in it when I heard Todd Kessler on a recent episode of the Talking Sopranos podcast, and he spoke of wanting to write a project that dealt with toxic personalities in leadership after working with David Chase (and getting fired) on The Sopranos. (Burn!) I'm an amateur psychologist when it comes to narcissists, so I put it on the streaming list, and from the get-go, I was all in. I wouldn't have wanted to watch this as appointment television, honestly, because I think bingeing it serves its somewhat soapy, hyperbolic drama very well.
That's because it's not as good as The Sopranos (there are a few—very few—series that are). It feels a little over the top at times in a way the mob show felt like we were getting a real peek inside a closed community. At one point I commented that it was insane how much had happened, since we were only on the second episode.
But the cast is stellar, with some of my favorite people. Aside from Close we have Philip Bosco (Working Girl), Tate Donovan (Argo, Manchester by the Sea) and Byrne, upon whom I have a real "girl crush." I'm definitely ready to binge Season 2… after we finish bingeing Mare of Eastttown, season 9,000 of Inspector Lewis and season 5 of Shetland. Did you find the drama as realistic as shows like The Sopranos, Mad Men and early Breaking Bad?
He Said: You're right, some of it does seem over the top, almost paranoid, almost melodrama. There are lots of twists and turns but it seems the only way the two adversaries—Frobisher and Hewes (and by extension the writers)—have of resolving an issue is to bump somebody off. I also was a little annoyed at the use of one character throughout the season who turns out to be essentially a red herring, and particularly annoyed by another issue that the last episodes seemed to imply was the source of Patty's vendetta against Frobisher but that in the end never actually made the connection. Maybe that's for season two, but it's hard to see why it would be as relevant there.
All in all, though, it's a well-acted, well-directed and well-filmed TV series, and I too look forward to season 2. I'm gonna go with three Soderberghs and half a Hitchcock on this.
She Said: I'm just going to stick with three Soderberghs without the Hitchcock half.
We Watched It And You Should Too
She Said: Operation:Varsity Blues on Netflix
Hot Take: This well dramatized documentary of the college admissions scandal uses actors, like Matthew Modine, to play out the dialog captured in the wire taps used to bring charges against some big names in Hollywood and beyond. Modine plays the "master mind" behind the bribery and fraud in rich people's desires to secure spots at some of America's most selective colleges and universities for their pampered kiddos. If the scandal enraged you when it broke, be prepared for more rage, as well as other attendant emotions as the story is fleshed out on screen.
NOW AVAILABLE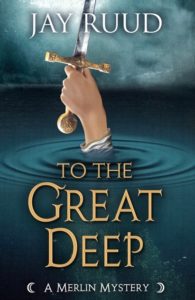 To the Great Deep, the sixth and final novel in my Merlin Mysteries series, is now available from the publisher, Encircle Publishing, at http://encirclepub.com/product/to-the-great-deep/
You can also order from Amazon (a Kindle edition is available) at https://www.amazon.com/Jay-Ruud/e/B001JS9L1Q?ref=sr_ntt_srch_lnk_1&qid=1594229242&sr=8-1
Here's what the book is about:
When Sir Agravain leads a dozen knights to arrest Lancelot in the queen's chamber, he kills them all in his own defense-all except the villainous Mordred, who pushes the king to make war on the escaped Lancelot, and to burn the queen for treason. On the morning of the queen's execution, Lancelot leads an army of his supporters to scatter King Arthur's knights and rescue Guinevere from the flames, leaving several of Arthur's knights dead in their wake, including Sir Gawain's favorite brother Gareth. Gawain, chief of what is left of the Round Table knights, insists that the king besiege Lancelot and Guinevere at the castle of Joyous Gard, goading Lancelot to come and fight him in single combat.
However, Merlin, examining the bodies on the battlefield, realizes that Gareth and three other knights were killed not by Lancelot's mounted army but by someone on the ground who attacked them from behind during the melee. Once again it is up to Merlin and Gildas to find the real killer of Sir Gareth before Arthur's reign is brought down completely by the warring knights, and by the machinations of Mordred, who has been left behind to rule in the king's stead.
Comments
comments
http://jayruud.com/wp-content/uploads/2021/05/damages-s1-1.jpg.jpeg
411
640
Jay Ruud
http://jayruud.com/wp-content/uploads/2014/08/JayRuud.png
Jay Ruud
2021-05-25 15:55:21
2021-05-25 15:55:23
Damages (season one)